An "Urban Bohemian" New Orleans Loft Is Bursting With Books and Art
We
independently
select these products—if you buy from one of our links, we may earn a commission. All prices were accurate at the time of publishing.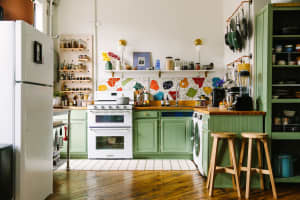 Can't-Miss House Tours Straight to Your Inbox
Keep up with our latest house tours each weekday with our House Tour of the Day newsletter
Name: Nathalie Simon
Location: Bywater — New Orleans, Louisiana
Size: 1,350 square feet
Years lived in: 1 year, renting
When Nathalie returned home to New Orleans five years ago, she settled into a life she loved in the French Quarter. She walked everywhere, knew all of her neighbors, and felt like she was a part of a community. "It was like living in New York City or Paris. Each 'neighborhood'—even two blocks over—had its own characteristics and culture," she says.
And then she woke up one day a year ago and decided she needed more light. "It was as simple as that," she explains. So she moved into a quiet apartment building—a converted warehouse that was once home to the largest rice mill in North America—overlooking the Mississippi River. "Thank God I did," she says of the move, "because the light in this place and the view of the river has brought me such peace and inspiration."
The building has a modern, minimal style with concrete floors, white walls, sleek cabinetry, and sliding glass bedroom doors. While this seems like an unlikely home for a romantic with a love of French antiques—a collector of books, art, vintage clothing, and objects found in nature—Nathalie fell in love with the "expansiveness of the walls" and the giant windows overlooking the Mississippi.

"I am a collector. I don't have an ounce of minimalism in me," Nathalie says, "I wish I were one of those people that could own just five plates and five forks, but I walk into those kind of homes and it's almost as if they don't feel lived-in or it could be a stage set-up for a furniture catalog."

The spacious two-bedroom apartment offers the perfect balance to Nathalie's poetic sensibilities. Stacks upon stacks of art books and novels are gathered in little clusters throughout the space. Collections of various beloved objects—antlers, ceramics, shells, art supplies, candlesticks—are neatly displayed atop tables, trunks, and antique dressers. Artwork leans casually against the walls. While all of these things could easily become a mess of clutter in some homes, Nathalie pulls it off in a way that feels effortlessly chic, like a Parisian pied-à-terre.
Apartment Therapy Survey:
My Style: Hmmmmmm. Urban Bohemian.
Inspiration: I am not sure I have a true "inspiration." Everything pretty much inspires me. I grew up in a family that enjoyed reading, art, and traveling—those were valued as experiences. So if I wanted a pair of jeans, my parents would say absolutely not, but if I wanted a book or to take an art class, they would say yes without blinking. If anything, I am inspired by words, art, nature, and traveling. My home reflects the places I have been and I always try to buy a piece of art on my travels.
Favorite Element: I love the art I have collected over the years. I rotate pieces in and out of my guest room closet. Lately, I have really been enjoying them on the floor leaning against the wall. After living in the French Quarter for years, I loved the expansiveness of the walls in the loft and hanging paintings on them seemed to psychologically collapse them for me. I have a dream of putting all of my art in storage and just living with one gigantic piece that makes me smile every day. I also love nature and always have. The older I get I find myself needing to be in it a lot more to get grounded. I have a lot of elements at home that remind me of what I love about the outdoors—life, essentially. And the view of the river reminds me of that daily.
Biggest Challenge: Books. I live in my books and they are everywhere. I have several stacks near my bed and my friends call them my "stairs." I try to edit them now and then by selling at Beckham's Books on the weekends or giving them away, but it's difficult. I get separation anxiety even from my Kate Chopin books that I read in high school. I have a system—they are separated by interest or subject matter. I also have a "favorites" pile and a "can't live without" pile, and so on…
What Friends Say: I think what I hear most often is "you have the most kid un-friendly house, but kids love coming here." They also say "your place is like a boutique."
Biggest Embarrassment: Probably my books again. I have several vintage trunks in which I keep a bunch so they are at least out of sight. I also dabble around in art so I have supplies everywhere.
Proudest DIY: I am great at hanging art.
Biggest Indulgence: Art. Period. But I am unapologetic about it. It satiates me in so many ways.
Best Advice: Whatever makes you happiest, put those things in a room in which you spend a lot of time. I keep a "happy wall." I hang pictures, notes, drawings, or items that each reminds me of a time that made me exceptionally happy at some point in my life. I have picture of my aunt's pool in Haiti where I spent so much time as a kid, to notes from my ex-husband, to pictures of redwoods from my times in Santa Cruz, to wrapping paper a friend made for me with a Who is John Galt graffiti on it. So whenever I look at the wall, it's really fulfilling no matter how bad the day or moment I am having.
Dream Sources: Locally: anything from the Sunday Shop, Nadine Blake, Dop Antiques, The Stacks Bookstore, Seasoned, Hal Barnett Gallery, Oleander on Royal Gallery, Gallery Orange, St. Claude Social Club, Beckhams's Books, NOLA Bark Market for art supplies, Bambi Deville's Vintage, The Rubber Library & Flower Bodega, and any thrift store.
Other than local: Marche aux Puces (Paris); Shakespeare & Company (Paris); Pages of Hackney (London); Strand Bookstore (NYC); Kinokuniya (NYC); Galerie Marassa (Haiti); Rubell Family Museum & Collection (Miami); Communitie (Marfa); Marfa Book Company (Marfa); The Get Go (Marfa); any thrift or second hand store in small beach towns.
ENTRY
Large Orange Painting of Woman Leaning on Wall – Shelby Little via Oleander on Royal
Cruiser Bicycle – Alex's Bikes
Vintage Fire Side Chair – Sterling Provisions
Antique French Bench
Black & White Photo – Jose Fernandes

LIVING ROOM
Antique Mirror – Dop Antiques
Vintage Moroccan Table – My aunt gave it to my parents in the late '60s when she practiced medicine in Morocco and Algeria
Mr & Mrs Asian Family – My mother got these for me in China
Vintage Chairs – Thrift shop in Florida
Vintage Sofa – Renaissance Interiors
Cow Rugs – The Cowhide Company
Cow Rug – Renaissance Interiors
Wooden and Metal Table Against Brick Wall – The Bank Architectural Antiques
Egg Paintings – Jason Horton. I have a thing for anything related to birds. It reminds me of one of my favorite quotes from Turkish writer Mehmet Murat İldan: "Wherever there are birds, there is hope."
Ostrich Egg – Estate sale
Cow Painting – Local artist Melissa Kay Turner
Large Painting Against Brick Wall — Anthony Liggins
Small Painting of Young Girl – Antique Store Uzès, France
Small Drawing – Retroactive (When it was owned by Joe when it was on Magazine; he has since sold the business and moved to Mexico)
Large Frida Kahlo Print – Nathalie Simon reprint with encaustic paint
Stones on Wooden and Metal Table Against Brick Wall – Galerie Marassa Haiti
Vintage Crystal Decanters – Hand-me-down from my mother
Fear Not Painting on Floor – Bruce Lee Webb
Black and White Photograph of Boy and Girl – Keba Konte (San Francisco-based artist)
Encaustic Painting of Bus – Nathalie Simon
Vintage Record Collection – Thrift, travels, and garage sales
Green Antique French Chest – Auction
Crystal candle holders – Wedding gifts
Crystal vases – Hand-me-downs from my mother
Wooden Cow – Haiti
Prayer Book – Gift from Nepal
Mezuzah – Gift from Israel
Head Sculpture on Floor – "Blu" by local artist and one of my favorite humans Babette Rittenberg
Felt Bowls – I get these from my friend Kelly Mccartney; she is a great stylist and jewelry designer, but her mother makes these. Every year I go to her pop ups and stock up on her mother's felt bowls. I use them for keeping jewelry, ink, paper clips, anything really. Instagram @kellyamccartney and A Little Happy In New Orleans
Haitian Voodoo Pillows – I collect handmade voodoo pillows; whenever I am in Haiti I get them from a local artisan named Elizé and I make them into pillows. The truly antique ones I usually frame.
Colorful Painting above Green Antique French Chest – Len Yurovsky; he is an artist from Kiev who I met in Rome. I loved him and his use of color—this is a depiction of Provence in the south of France. His father was a famous Russian painter, Yuri Yurovsky.
Ukrainian Vintage Ceramic Vase – I got this from Margaret Sche, who has the best eye ever. I also bought from her the vintage horse collar in the hallway. She is co-owner of Saint Claude Social Club. I really wish she would continue to curate household wares. I buy their jewelry and clothes—it's such a happy and dangerous place for my bank account—but I really covet all of the lamps and other household items in there.
Indian Scissors Family (large, small, medium) – I am obsessed with these hand-made scissors from India. I bought them at Nadine Blake, Instagram @shopnadineblake. I literally go there to clear my head on the weekends. I love that place and her.

DINING ROOM
Dining Room Table – Dop Antiques
Dining Room Chairs – Auction Company in New Orleans I forget which
Large Painting on Wall –Anthony Liggins
Small Vintage Mason Jars – Seasoned
Small Ceramic Vases – Alexandria Cummings Ceramics / Instagram @alexandriacummingsceramics or the Sunday Shop in New Orleans / Instagram @sundayshop.co
Vintage Ceramic Vases and Bowls – Garage sales, estate sales, second hand stores
Small Ceramic Yellow and Rust Bowls – Birdie's Pottery
KITCHEN
Collage Painting on Stove – Nathalie Simon
Voodoo Candles – Gifts from friends during hurricane season
Nina Simone Candle – Oleander on Royal
Cow Skull – Garage sale somewhere in Georgia
Large Antique French Jug – Estate sale
Vintage Ceramic Bowls – I collect these, mostly at thrift or vintage stores, but one of these I got at the Sunday Shop. I have a thing for vintage bowls. I pick them up at Seasoned, too.
Large photo montage on wood painting – This is called "Jumping Over Places I'd Rather Not Be." It's by Keba Konte, a San Francisco-based photographer and artist. I used to live there and miss the terrain.
White eight-piece Candle Holder – By local artist and one of my favorite humans Babette Rittenberg. I have a narrow dining room table so for dinner parties I place flowers in the each of the candle holders so folks can see each other. I really hate obnoxious center pieces where you can't see the person sitting across from you. This is perfect—simple, elegant, and organic, just like Babs.
Small Bird family x2 (stone one and wooden one) – I picked these up on various trips to Haiti. I have a thing for birds. It reminds me of one of my favorite quotes from Turkish writer Mehmet Murat İldan: "Wherever there are birds, there is hope."
Large White Vase – Kappa Horn made these. I love her ceramic work. I tell her that every time I see her. Most people like her food—she owns several restaurants—I like her ceramics.
Vintage Hand Woven Prayer Rug – I picked this up from a street vendor on one of my trips abroad.
Cookbooks – I love to cook, but mostly, I love to read cookbooks. My friend Jenn and I get together and just go through them one by one and talk about what would we would change, what would make the recipe better, and make fun of any recipe that has more than four ingredients. I mostly shop for these at second-hand bookstores. Seasoned always has great old cookbooks—they had a vintage James Beard one recently which is fantastic. If I read about a new cookbook and want to order new I buy local and always ask Emilie at The Stacks Bookstore to order it for me. Instagram @thestacksbookstore. They have a really well-curated collection of cookbooks as well.
MASTER BEDROOM
Bed Frame – One Kings Lane
Vintage Table – Vintage Store in Atlanta
Antique Fireside Chair – Sterling Provisions
Small Painting on Wall above Fireside Chair – Pascale Monnin (Haiti)
Vintage Mirror on Wall – Estate Sale Georgia
Large "What Should I Say to You" Painting on Wall – Nathalie Simon
Antique Spanish Bench – Dop Antiques
Ex-Husband's Hat – Somewhere in Portofino, Italy
Black and White Photography – Keba Konte (San Francisco-based artist)
Yellow Painting Above Chest – Leroy Miranda via Oleander on Royal
The Music of the Spheres Painting – Bruce Lee Webb via Wrong Marfa
Tea Time Painting – Bruce Lee Webb via Wrong Marfa
Vintage Boot Collection – Various thrift stores when I travel
Vintage Clothes – An obsession; I go thrifting wherever I travel; my favorite is little beach towns like Pebble Beach or Palm Beach
Cow Rug — The Cow Hide Company
Voodoo Pillows – I collect handmade voodoo flags; whenever I am in Haiti I get them from a local artisan named Elizé and I make them into pillows. I see him every year and he knows what I like and reserves them for me. The truly vintage ones I usually frame. They are truly pieces of art.
GUEST BEDROOM
Antique Bed Frame – Antique Store
Down Pillows – Gift from a friend
Blush Linen Sheets – Parachute Home
Vintage Trunk – Estate Sale
Paintings on Wall – Santa Fe based artist Gigi Mills via Gallery Orange
Bird Painting on Wall – Joseph Bradley via Gallery Orange
Woman Painting on Wall – Arijac Haitian Artist from Jacmel, Haiti
Black and White Painting of John Boutte in Indian Costume and Susan Scott – Nathalie Simon
Small Painting of Woman on Floor – Haitian Artist Ralph Allen
Sunflower Collage Painting above desk – Nathalie Simon
BATHROOM
Black and White Photograph – Eddie Lanieri via Contemporary Arts Center's Sweet Arts Gala Silent Auction