An NYC Reno Has Charming Architecture and Custom Built-Ins
We independently select these products—if you buy from one of our links, we may earn a commission. All prices were accurate at the time of publishing.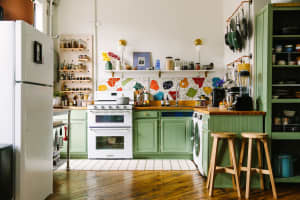 Can't-Miss House Tours Straight to Your Inbox
Keep up with our latest house tours each weekday with our House Tour of the Day newsletter
Name: Chris McGovern
Location: NoMad — Manhattan, New York
Size: 925 square feet
Years lived in: 1.5 years, owned
In a city full of high-rises often with floors of identical apartments, Chris was keen to find a space that was both architecturally unique and required some renovation to put his own touch on it. He gravitated towards loft spaces throughout his search. In 2017, he purchased a loft in Manhattan on the border between Chelsea and NoMad. It has oversized floor-to-ceiling, arched windows that provide an abundance of light and an original tin ceiling that was in rough shape but salvageable. Even after the full renovation, these are still two of Chris' favorite aspects of the apartment.
At the time, Chris was working on Wall Street with pretty late hours and a fairly full travel schedule. He made most of his design decisions in the wee hours of the morning or on weekends and was pretty efficient in his decision-making process by necessity. The project was truly one of passion for Chris; he designed and project-managed the apartment but also relied on the input of friends. While this wasn't Chris' first apartment renovation in Manhattan, it also won't be his last. This past summer, Chris left a successful career to launch McGovern Project, a full-service interior design and renovation services business in Manhattan.
Chris is most happy with the added functionality. He's hosted out-of-towners and entertained often since the project wrapped and the space functions as intended.
Apartment Therapy Survey:
My Style: Homes should be a reflection of the individual(s) that live there, while paying homage to its location and architectural history. Personally, I tend to have an eclectic style, which incorporates industrial elements in the furnishings while also attempting to keep the more permanent design decisions timeless, classic, and maybe even a little preppy.
Living in New York City, we have become accustomed to smaller spaces and want to maximize use and function within them. I studied engineering in undergrad before working in finance, and have always loved the challenge of finding solutions for problems of form, function, usability, and efficiency.
Inspiration: From a design perspective, I love the approach of Emily Henderson, designer, stylist, and blogger extraordinaire. She promotes an approachable and attainable design aesthetic while not being too rigid with any steadfast design rules. She doesn't take herself too seriously and makes design fun.
From a career perspective, I've long admired Joe Farrell. Twenty-five years ago, he left his successful career on Wall Street behind to follow his passion for building, design, and architecture and now has one of the most successful custom home-building companies in the Hamptons, Farrell Building Co. Now at a similar place in my career and having just left my job at Wall Street firm Moelis and Co., I draw inspiration from his decision to blaze a new path and follow his passion.
Favorite Element: It's the one element I had no role in creating; the arched windows with the original wood paneling steal the show in my place, and I'm 100 percent okay with that.
What is your favorite room and why? I love the dining/ guest room/ now start-up office for its multi-function versatility. With such a small space, I have to make each square foot count. I worked with my contractor (Mark Brady Contracting) to design and build custom built-in shelving, which also conceals a Murphy bed. The alcove also contains a foldable partition wall and closet, for when guests stay with me. These days, the dining table serves as my primary work surface.
If you could magically change something about your home, what would it be? I would have loved to make the bathroom accessible from the common space, but the older plumbing wouldn't allow it. Sometimes you have to accept limitations and work around them.
Biggest Embarrassment: I wouldn't say embarrassment, but it certainly comes up when guests are visiting. Due to the old plumbing, the wall-mounted toilet had to be mounted higher than standard. I'm 6'3″ so people always assume it was intentional, but I have certainly had guests mention its awkward height!
What do friends say? It feels "homey." When I travel I tend to pick up small prints or objects that are easy to throw in my duffel bag. At 35, I've amassed quite a collection from my travels and the result is a space that is reflective of me and my travels.
Others would also ask who I hired to design it. I suppose I never spoke much about my renovations, so it was always a bit of surprise when people saw a somewhat pulled-together place. It was the small but significant side comments that collectively gave me the confidence to try my hand at this full-time.
My interest in design was cultivated over a long period of time. I've always loved any projects around the house. In fact, I think I had my own power drill since I was in third grade and was troubleshooting how to hang pictures in our home's old plaster walls. To this day, no trip home is complete without my mother and I rearranging furniture in a room. I joke that despite her slight frame, her strength is Herculean when determined to move the heaviest piece.
Biggest Challenge: The constant struggle in NY (and really anywhere) is space vs. location. I initially wanted a two-bedroom apartment (who wouldn't?!). I wanted not only the space, but a place for guests to stay. However, I also wanted to be in the NoMad neighborhood and have a loft-style space. But understanding my budget, and falling in love with this space, I needed to figure out how to accommodate that desired functionality with the realities of living in a 925-square-foot apartment. I think the dining/home office/guest room really exceeds even my own initial speculation. Every piece of the room really works together and functions seamlessly. It took a lot of planning to make it work, and in hindsight, I really enjoyed the challenge.
Proudest DIY: My bedroom doesn't get a ton of natural light, so I wanted to make the entrance as large as possible to let the light from the living room in, but also have the option to close it for privacy. I found an oversized door that was over 9′ tall and 4′ wide from Big ReUse, a salvage store in Brooklyn, that would cover the opening. I painstakingly stripped off the layers (and layers) of old paint. (Almost!—there is one panel on the backside that still has the original paint. One of these days, I'll finish it.)
Biggest Indulgence: The bathroom tile floor from Artistic Tile. I had initially sourced an Escher cubic style porcelain tile that looked like natural stone, but it was backordered. I sourced this Duomo tile from Artistic tile, comprised of three different types of natural stone. I am very happy with the result and feel okay about the splurge.
Best Advice: Renovating an apartment is a unique opportunity to design a space that works exactly as you need it to, particularly in New York where space comes at a premium. Well before the renovation started, I began a running list on my phone of things that lacked in the current space and that I appreciated in hotels or friends' apartments. A common topic of conversation at a party or dinner was "What's one thing you wish you could change about your current apartment?" This input enabled me to be more thoughtful with the location of electrical switches and outlets. I was able to ensure I had a spot to charge my phone, plug in my laptop on the kitchen peninsula, and added an extra outlet for a Sonos speaker in the bathroom. I even had extra towel bars installed in my laundry area to dry out sweaty gym clothes.
I recommend deciding how long you'll be in your new place. I opted to pick materials that would have mass appeal for resale. I injected my personal style in paint color, light fixtures, and furnishings, all of which can be easily changed. I considered large cobalt blue subway tile in the bathroom but feared the next owners may not. Instead I painted a navy accent wall in my bedroom with brass accents, and kept a brighter, more neutral palette on the bathroom and kitchen hard surfaces.
I also leveraged the expertise of many local vendors. I spent most of my Saturday and Sunday afternoons during the renovation process at tile showrooms, kitchen stores, and lighting stores on the Bowery. Local vendors have great customer service and are very knowledgeable. It can be a fun process, but if it's not your cup of tea, then hire someone to help you through the process.
Lastly pick surfaces that work for how you live. I love the look of natural stone but it's not in my nature to worry about the maintenance. I opted for the maintenance-free quartz, so those red wine rings can be cleaned up the next morning.
PAINT & COLORS
All paint colors by Benjamin Moore
White Wisp – All walls, unless otherwise noted
Newbury Port Blue — Accent Wall in Bedroom (behind bed)
Grey Owl – Private Entrance Foyer
Chantilly lace – All ceilings (flat); All trimwork and built-ins (semi-gloss)
LIVING ROOM
Sofa – Room & Board (discontinued)
Callan Chair – Room & Board
Patchwork Oriental Rug – ABC Carpet & Home
Media Console (Bedroom Dresser) – Vintage Store
Pair of Wegner Style Chairs – Poly & Bark