Here's Why Millennials Are Leaving New York (and Where They're Headed Instead)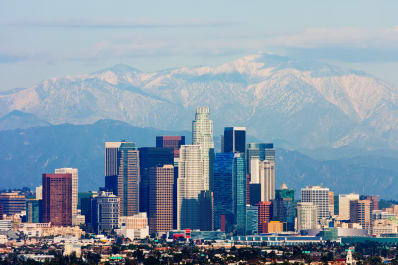 (Image credit: Andrew Zarivny/Shutterstock/Shutterstock)
Don't get me wrong— I love New York City. The caliber of cuisine, the convenience of cabs, the irreplaceable energy of eight million pavement-pounders who are craving to shake up their industries. But after living there for years what I wanted more than designer sample sales or expertly crafted cocktails or spontaneous adventures in the city that never sleeps is, well, sleep. I was tired of the town and ready to relocate.
So I recently gave up the concrete jungle and settled down in the sprawl of Los Angeles, a comparable metropolis that has its own booming business districts and arts scenes, but offers a much more laid-back lifestyle. And it seems like I'm not the only one who has been heading West—according to a new study by StreetEasy, the Los Angeles area is the most popular destination for New Yorkers who are not moving to nearby suburbs in New York and New Jersey. In particular, it's the top destination for exiting Brooklynites, and the third-most popular region for migrating Manhattanites (after Westchester and Hudson counties).
Why do people leave NYC specifically for LA? "There are a lot of things I miss about New York City—and if we are being honest, I do still believe it's objectively a better city," says Neha Gandhi, the 36-year-old EIC and COO of Girlboss who left the Big Apple behind after 13 years. "I just don't think it's a better city for me, right now." I caught up with a few former New Yorkers to find out why exactly Los Angeles is the place they currently prefer.
1. West Coast Weather
New York is a city of severe seasons, ones that change drastically at the drop of a winter hat. And with that come stalled subways, delayed flights and mayor-mandated street closures. "One of my favorite things about living in LA is the weather—or, the predictability of it," says Richard Chou, a 36-year-old lawyer who moved to West Hollywood after five years in Manhattan. "It's nice to be able to plan events without worrying about rain or snow ruining plans. In New York, I would cancel a day trip (by car) due to a hurricane warning."
2. Adjacent to Nature
It's not just weather that's wonderful, but also the city's proximity to all kinds of nature: Hiking, surfing and doing any kind of outdoor workout are popular weekend hobbies enjoyed year-round, and getaways to places like Ojai, Big Sur, Joshua Tree, Monterey and Mammoth are just a drive away. "What's great about LA is that it has both the ocean and the hills often as part of the same horizon," says Kanika Punwani, a 31-year-old freelance writer and editor who moved to Marina del Rey after three years in Jersey City. "I'm on the Westside and I really do love being by the ocean and beaches. My husband and I live right on the marina, and something about being able to see water through the day is very peaceful. Getting that in New York was tough."
3. Anxiety Eased, Finally
It isn't just the constant threat of snowstorms or summer humidity that's overwhelms those on the East Coast. "New York has an ever-present and persistent feeling of existential dread that kind of lingers over you at all hours of the day," explains Leila Brillson, a 33-year-old member of Netflix's editorial team. After living in Brooklyn for ten years, she's now in Los Feliz and has noticed that "LA translates the existential dread to existential ennui! You trade anxiety for kind of... blankness. LA doesn't give you those chops New Yorkers have, but I think it is absolutely the easier of the two to survive in."
4. Clean Living, Literally
Plenty of people in both New York and Los Angeles already practice clean eating, but only the latter experience clean living—in an eco-friendly sense, but also just literally. "I'm happy to be rid of hard-partying neighbors, 24/7 street noise and vermin," says Michael Traynor, a 30-year-old marketing manager who mostly lived in Manhattan for twelve years. "I once lived in an apartment in the Financial District that I discovered had been the site for a documentary on rat overpopulation—I definitely got out of there!"
5. Family-Friendly Fare
New York City is truly a playground for adults. "For people in their 20s and early 30s who don't yet have kids, NYC is their town—there's a nearly endless variety of places to go while one still has the stamina to brave the weather," says Marc Wilhite, a 46-year-old technical artist at Sony Playstation who lived in Brooklyn for two years and now resides in Playa Vista. "LA is friendlier for raising a family because there are lots of playgrounds, beaches, amusements parks and kid-friendly museums. My daughter loves it here. There are places for her to play practically everywhere."
6. Some Serious Space
Most New Yorkers surveyed by StreetEasy cited the city's high cost of living as a top reason for leaving. "One of my favorite things about LA is having a lot more space, and being able to really start my day with intention, ritual and time. I naturally wake up earlier on the West Coast, and I love being able to walk into the living room, open all the shutters, let the light stream in (and the quality of the light here is just different: better, warmer), meditate for ten minutes, make a cup of coffee and enjoy it for a full half hour before I start doing work or looking at work email," explains Gandhi. Though she and her husband loved their home in Carroll Gardens, Brooklyn, "It's fully half the size of the place where we landed in Hancock Park, so the idea of padding about and getting all that light just wasn't the same in Brooklyn."