A Perfectly Imperfect, Colorful New Zealand Home
We independently select these products—if you buy from one of our links, we may earn a commission. All prices were accurate at the time of publishing.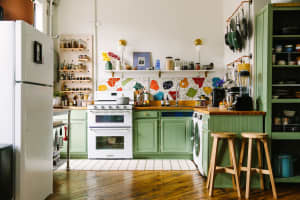 Can't-Miss House Tours Straight to Your Inbox
Keep up with our latest house tours each weekday with our House Tour of the Day newsletter
Name: Amanda Holland, Mike Brunel, daughters Millicent and Eva
Location: Wellington, New Zealand
Size: 230 square metres (approximately 2,476 square feet)
Years Lived In: 11 years, owned
Interior stylist and design/lifestyle store owner Amanda Holland (of Small Acorns) lives in Wellington with her husband and their two daughters Milly and Eva. The couple bought this home 11 years ago when it was really run down and had no one living in it for two years. "Think lots of swagged curtains, lots of stenciling and paint effects, lots of faux pillars everywhere from the kitchen to the living room to the marble monolithic bathroom fixtures," Amanda tells me. They removed all the fake wood paneling in the hall, and moved the walls around, and these changes gave the family exactly the room layout and size that they needed; they even managed to create a fourth bedroom/study.
Since their renovation, Amanda has filled their home with beautiful objects from all around the world. Like the vintage chai tea tray that she found in India (which she now uses to display her flowers on the dining table) when she was there sourcing pieces of old vintage furniture to sell in her store.
"When I am lucky enough to travel to distant shores, I like nothing better than to bring a little souvenir or two home with me. Something that instantly transports me back to a time and a place, and makes me smile at the memory. Simple memorabilia like beautiful cards, labels, tags, empty soft drink bottles, paper treasures and tickets, are a given—things that are a part of everyday life in a foreign land, but which become instantly exotic when transported to distant shores. Collections of beautiful moments."
But taking stuff home isn't always easy, Amanda confesses. "Though I have been known to stagger back from some trips with mementos that truly weren't so easy to get home, (cue what must surely be the second largest rug ever made in Turkey, or a complete hand-painted Italian dinner set, to mention but a few of my least travel-friendly travelling companions), I have never for a moment forgotten the adventure in acquiring them or regretted the pain in getting them home to New Zealand."
This is definitely not a minimalist home. It is a home full of books, vintage items, handmade treasures, ceramic pieces, old pharmaceutical bottles. Things that come with stories—there for a reason. "My collections have grown organically, over time. I can't think of any particular piece where I would have consciously set out to buy it. As in 'I'm going to go and buy some old kokeshi dolls today.' Collecting isn't like supermarket shopping or buying from a store that sells mass-produced items, and that sort of thinking just sets you up for a neverending quest for something that you may or may not come across. Instead, you must always be ready for when fortune strikes. When you see a particular piece that you love, seize the day, and buy it. Budget allowing of course. Vintage pieces, handmade pieces, antiques, artwork—by their very nature these are one-off items. You won't see it again. He who hesitates is lost. Isn't that how the saying goes? It's true. And, a collection can be many or it can start and end at one!"
Apartment Therapy Survey:
My Style: Very eclectic. I'm known for my use of color and pattern, and for my use of new and vintage furniture, and in particular in the way that I mix everything together. Contemporary with Vintage. Industrial with Handmade. Upcycled with Upmarket. Also, I'm an obsessive collector… of things, and definitely not a minimalist. I call it perfectly imperfect living. I believe there is beauty in imperfection, and that something chippy and old will add soul to something shiny and new. Our home is a melting pot of everything I love—eclectic vintage pieces, personal treasures that have a story, beautiful fabrics, and contemporary design, infused with color, a touch of whimsy, and always flowers. And it's a constant work in progress. How boring it would be if it were ever 'done!'
Inspiration: We love living where we do because we're right in the middle of the city with easy access to the waterfront and the greenery of the town belt, fantastic views and all day sun. Yet we're in a quiet street where we know all our neighbors, and can (and do) pop over the fence or down the road for a get together—in fact, down the road a little, there is a little table built in to the roadside fence. That's the drinks table for neighborhood 'drinks on the fence'—a regular 5 p.m. Sunday occurrence. Don't tell the council!
Favorite Element: The view. Especially because as you walk up to the house you have your back to it, so it isn't until you enter the house and turn to face it that you realize quite how special it is—you feel as if you're just sitting above the boats and the harbor and the city. No matter the weather, it is compelling. My favorite spot to sit is in the living area, facing the view with a coffee or glass of wine.
Biggest Challenge: The house itself was built in 1900, but had undergone several unsympathetic renovations over the years, which pretty much removed any of its lovely old character. When we purchased it no one had lived in it for two years, and it was stuck in the '80s and fairly sad! We purchased it in 2006, and lived in it for almost five years before renovating.
Then of course there was the challenge of living in the house throughout the entire renovation, camping in one bedroom until the builders moved us on to the next room. Each night we'd come home to find our camp stove in a different place, and got used to cooking one-pot wonders while wearing a coat and scarf because it was absolutely freezing with no front on the house, just tarpaulin, and large holes everywhere else. The girls and the dog thought it was great us all being in the one bedroom together. Mike and I weren't so sure! The bulk of the renovations took nine months, and at the end of a year we finally farewelled our builders. Now that the house has been put back together, it's hard to believe that only one exterior wall escaped the renovation or need for repair.
What Friends Say: They're always wondering what I might have changed or rearranged between visits.
Biggest Embarrassment: I made the light fittings that sit over the dining table. When we were installing them I was adamant that I wanted five meters of electric cable for each shade, so that I could tie them in knots and swag them all around the ceiling. Halfway through the install, when I had electricians in knots on ladders all around the room, I had to concede that it looked like a giant spider web, and just wasn't my greatest idea. The next day we regrouped, took it all down, chopped the cable back to around two meters, and the result was much better!
Proudest DIY: The giant blackboard calendar in the kitchen keeps family life on track! I had the blackboard colors especially mixed by Porters Paints. Then I think it took me at least a week to paint, by the time I carefully measured and marked everything out, and then gradually painted each color.
Biggest Indulgence: The huge steel frame at the front of the house, which allowed us to remove all the structural things that were blocking the view and open the house up to it. It was fairly major to implement, and required a crane to lift it in to place from the road down below, but all the hiccups were minor compared to the results once it was in.
Best Advice: I think it is always important to be true to yourself, and the things that you love. Personally I have never been a slave to so-called decorating trends. By nature my homes are eclectic and evolve over time as I add and subtract and recolor and rearrange. I like a little edge to my aesthetic, and I'm always prepared to experiment with a wild card or two. However, one can't be immune to industry or magazine or retail or social media influences, and sometimes staying true to yourself isn't easy. If you love something, truly love it—even if at the same time, you are a little unsure about why you love it or where it will go; or even, if you're unsure if it will go with your things, then embrace it because it will go, simply because you love it. Truly great style is about owning your own sense of style.
Dream Sources: Endlessly inspired by the beautiful color palette and fabrics by Designers Guild. Magazines and interior books are an endless source of visual inspiration. And flowers—just like Monet—I must have flowers always and always, or as my favorite floral quote says "a flowerless room is a soulless room, but even one solitary living flower may redeem it." So true.
ENTRY
Gallery Wall – A mix of artists including Rachel Castle, Tracey Tawhiao, Otis Frizzell and my girls, Milly and Eva.
Rug – Vintage, purchased in an auction
Console – Vintage Indian water holder, repurposed
Collections of Observer Books, Ceramic House Village by Amanda Banham, Small Artworks by Jacqui Colley, Large by Piera McArthur
LIVING ROOM
Sofas – Small Acorns, upholstered in Designers Guild fabrics
Cobalt & Black Rug – Designers Guild
Persian Rug – Purchased in an auction
Ottoman – Small Acorns, upholstered in Designers Guild floral velvet
Cushions – All from Small Acorns, a mix of Designers Guild fabric, Bonnie and Neil and Cushions made from vintage textiles
Wooden Coffee Tables – Vintage
DINING ROOM
Dining Table – Commissioned
Chairs – Emeco 'Navy' 1006 chair
Pendant Light Fitting – Designed by Amanda, Small Acorns
Sofa – Small Acorns
Magazine Palette Table – Upcycled palette, homemade
Suzani used as Sofa Cover – Vintage
Cushions – Bonnie and Neil, Designers Guild
Table Runner – Bonnie and Neil
Flower Vessel – Vintage Indian chai tray
Gray Shelves – Vintage mail sorter found via a charity store with new powdercoat
KITCHEN
Charcoal Metal Cupboard – French industrial vintage
Bespoke Kitchen Cabinetry
Pendant Lights – Industrial vintage with new powdercoat
Stools – French industrial vintage via The Vitrine
Bertoia Side Chair – Vintage
Back Living Room
Sofa – Small Acorns, upholstered in Designers Guild
Curtains – A mix of Designers Guild fabrics – Pandora floral, Saraille and Brera Colorato
Cushions – Small Acorns
Side Table – Vintage Indian via Small Acorns
Artwork above Fireplace – Shona McFarlane
Wallpaper – Designers Guild
Artwork – Jai Vasicek for Ahoy Trader, Zana Lokmer, Angus Wardlaw, Tracey Tawhiao
MASTER BEDROOM
Bedlinen – Vida white linen duvet, Small Acorns
Pillowcases – Castle
Wallpaper – Designers Guild
Suzani – Vintage
Pink bedside cabinet – vintage Indian via Small Acorns
Artwork – vintage, Sophie Klerk, Kari Herer, Jacqui Colley
EVA'S BEDROOM
Bedlinen – all by Castle
Kantha Quilt – Vintage
Wallpaper – Rabarber by Borastapeter
Shelves – Vintage Indian via Small Acorns and upcycled soft drink crates on wall
BATHROOM
Wallpaper – Rosa Rugosa by Designers Guild (now a discontinued design)
Light Pendant – Vintage ball mason jars made by Amanda
Wall Lights – Kartell
Artwork – Vintage photograph
AMANDA'S STUDY
Desk – Kartell
Desk Lamp – Vintage
Artwork – Rachel Castle