Nicole's "Mixed-and-Matched" Loft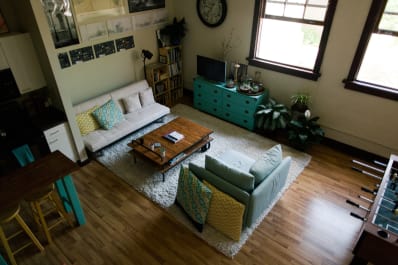 (Image credit: Submitted by Nicole)
Name: Nicole
Location: East Downtown — Albuquerque, New Mexico
Located in the former Main Hall of the historic 1914 built Albuquerque High School, this loft apartment occupies a former administration room. As a designer, the architecture, detail and character of the campus drew me in, and the space itself provides a perfect canvas for creativity.
(Image credit: Submitted by Nicole)
Three things that inspire me are light, life, and color. The North facing windows provide beautiful soft light throughout the space; and even enough for plant life to flourish. I picked some of my favorite of-the-moment colors to use as a base (teal and coral), and mixed-and-matched everything from there using things I found at thrift stores and on Craigslist. I also love to reuse and repurposing because it's sustainable (both environmentally and economically), and because I love the idea of continuing a story. Thrifted items have already had a life and purpose; they created a unique space for a different person somewhere else and were once a part of their distinct life story, now they are a part of mine.
(Image credit: Submitted by Nicole)
(Image credit: Submitted by Nicole)
My plants really seem to make the space. They add softness, depth, life, and freshness, and create a natural environment within the built environment. I also love the windows, high ceilings, my shag rug, and my closet.
(Image credit: Submitted by Nicole)
I built my "industrial cart" coffee table using free wood I found on Craigslist. A local store was selling a similar table for $700; I was able to finish mine for $150.
Thanks, Nicole!
• Interested in sharing your home with Apartment Therapy? Contact the editors through our House Tour & House Call Submission Form.