This Shelf Replaced My Nightstand and Saved My Small Bedroom
We independently select these products—if you buy from one of our links, we may earn a commission. All prices were accurate at the time of publishing.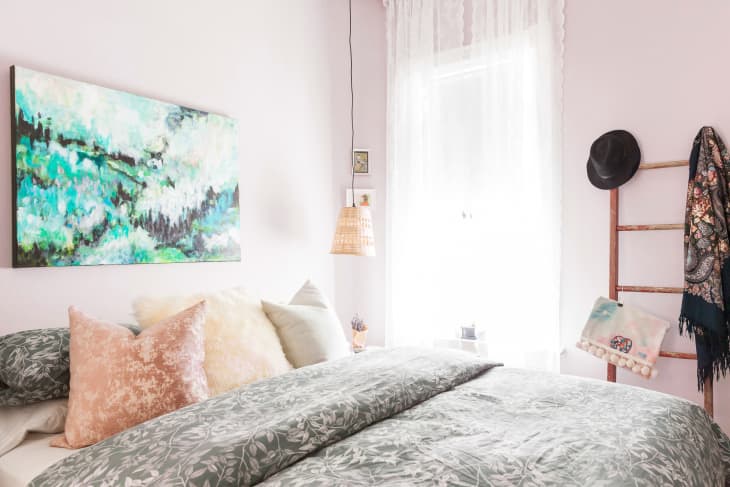 February is Bedroom Month on Apartment Therapy! We're sharing stories all month about bedrooms — from how to decorate them, to the fascinating history of them, and so much more. Head over here to see them all!
Follow Topics for more like this
Follow for more stories like this
Before moving into my new Brooklyn bedroom, I was overambitious about the space. While I hadn't physically seen it, I had seen photos and videos of it, and the new roommate I met online assured me that the room could "easily" fit a queen bed. Excited about a chance to start fresh in a new place, I ordered a bed frame and matching nightstand. When move-in day finally came, I discovered that my tiny room did fit a queen-sized bed — but that was about it aside from a dresser. I begrudgingly returned the nightstand and slowly began to realize how much I needed a surface near my sleeping quarters.
There were a few things that especially frustrated me. First, I was sleeping with my water bottle in bed, which was sometimes prone to leaking if I didn't cap it correctly. Second, I had to charge my devices on the floor across the room, which was not only unsightly with all the cords but annoying for me when I woke up. Third, I couldn't comfortably sip my morning coffee in bed, as I would have to rest my cup on the floor or reach across from my bed to my dresser and risk some spillage. 
I began looking at small nightstand alternatives, including floating shelves and a shelf that would tuck under my bed. Both options felt like they would take up too much space or require more handiwork than I wanted. I finally stumbled upon the BedShelfie, which is essentially a shelf you attach to your bed frame, and it was the perfect thing for my small space. 
I purchased the original size in a natural bamboo finish, which almost identically matches my bed frame, so it fits right in with my decor. At about 10 by 14 inches and able to withstand up to 15 pounds, it's the perfect size to hold my charging station (my cords are hidden behind my bed now and there's a notch in the shelf that the cord fits in), my coffee mug, and my water bottle, essentially solving all my nightstand-less woes. Attaching it was easy, too — all I had to do was slide the BedShelfie on the side of my bed frame, crank the clasps in place, and I had a sturdy side table.
While I don't put too much weight on it, the BedShelfie hasn't budged, keeping my precious liquids from spilling, and when I do need to remove it to get my pesky fitted sheet on, taking it on and off isn't too much of a hassle. I also wipe it down every few weeks to keep it nice and tidy, so the upkeep isn't too much of a challenge. 
The BedShelfie is also available in other finishes to best match your bedroom aesthetic, including white, gray, and charcoal. It comes with other customizations as well, including a version with lower edging, another with a cupholder, and one that's longer than the original. There's also a model that slides under the mattress if there's no rail to clamp onto.
I'd recommend this simple solution to anyone with a small space who has nightstand struggles like I did. I wish I had something like this when I slept in a lofted bed in college — it would have made everything from charging my phone to drinking water so much easier. It has already just made my small bedroom life so much better.