This Innovative Tool Is a Dream for Anyone Who Hates Ironing — and It's On Sale for Cyber Monday
We
independently
select these products—if you buy from one of our links, we may earn a commission. All prices were accurate at the time of publishing.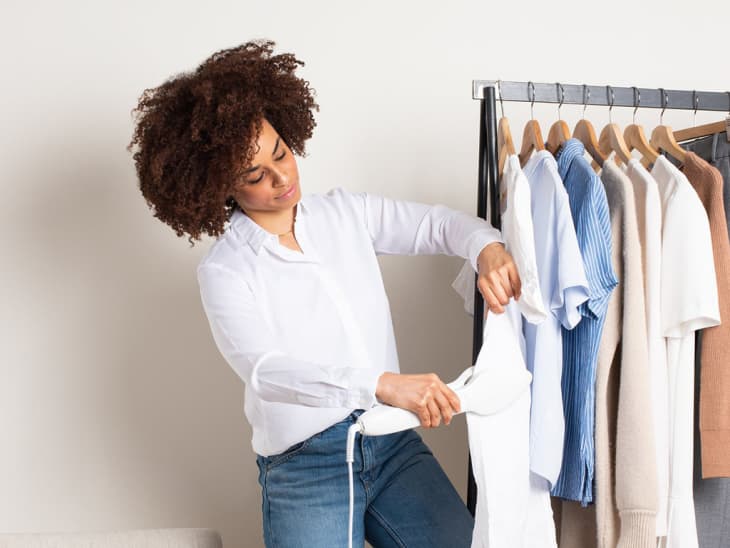 While scrolling through Instagram one day, I came across a product that I dreamed about some 15 years ago. Picture it: I'm sitting in front of my TV, Razor flip-phone in hand as my best friend and I live text each other our reactions to the latest episode of MTV's The Hills (it was 2006, give me a break). Then, it happens. While getting ready for a night out, Lauren Conrad notices a wrinkle in her dress and opts to get it out… with her hair straightener. "Well, it's a flat iron," she quips as she smooths out her dress and completely blows my mind. I immediately texted my friend, "Oh. My. God. Why can't we iron with a flat iron?" One burnt skirt later and I tossed that dream to the side. Fast forward to today and there's finally an item on the market that has not only run with this idea but perfected it: Say hello to the Nori Press.
Upon first glance, the Nori Press looks like, well, a slightly larger-than-average hair straightener. But upon closer inspection, you'll notice that it's anything but. When you turn the device on, you're immediately invited to choose between six fabric-specific heat settings (poly, silk, wool, cotton, denim, and linen), allowing you to customize the heat setting per garment to prevent any possible damage. And where a traditional iron features one hot plate, The Nori is made with two aluminum iron plates so you can simultaneously press both sides of your garment, all without the use of an ironing board. To top it off, it also has a steamer function. Simply fill the reservoir with water (or the brand's Fabric Facial solution), select the steamer setting, and you're ready to go.
Why I Love the Nori Press
Now, I should probably let you know that I'm someone who loathes the chore of traditional ironing. The bulky iron, the creaky, space-grubbing ironing board — it's just not for me. In fact, I'll resort to any and every other wrinkle-eliminating solution (be it a garment steamer, a spray, or leaving the piece in a steamy bathroom) before I pick up an iron. But ever since testing out the Nori, I find myself gravitating more and more towards actually ironing my clothes (a statement I'm sure my mother never thought she'd hear coming from me.)
When using the device, there are two ways you can position your garment: You can lay it on a flat surface (like your bed) or hang the piece and get to work. I personally prefer to hang my garment as I feel I have more control this way. Next, simply choose your setting, give it about three minutes to heat up, and start pressing. That's it. I've used it on everything from cotton tops to silky dresses to jeans with ease. I've also found that this iron has been especially nice on small, tricky areas like collars and hems, smoothing them in one quick press. One thing I will say is that when it comes to bigger pieces (like tablecloths and duvet covers), using this device is a bit trickier, as the fabric can bunch a bit in the handle. Regardless, having something I can quickly whip out (and put away just as quickly) to smooth or steam my clothing has been life-changing; you won't catch me with a traditional iron anytime soon. (I mean it — this guy's so small he's coming in my carry-on, too.)
Now available in seven fun colors (white, blue, pink, green, hunter green, black, and navy) and $84 during the brand's extended Black Friday Sale (be sure to use the code HOTHOLIDAYS at checkout!), the Nori Press is definitely an investment, but as someone living in a small studio apartment, giving up precious storage space to house an iron and ironing board is just not something I'm willing — or, frankly, able — to do. At just 14-inches long and weighing in at a comfortable 1.4 pounds, this compact iron is lightweight and neatly fits onto a shelf on my cleaning cart for easy storage, something I know wouldn't be possible with a traditional iron. So if you're looking for a small space solution to your ironing woes (and want to channel your inner LC the right way) the Nori Press might just be the best thing you pick up this year — Lord knows it's mine.