This Brilliant 2-in-1 Kitchen Tool Is a Must-Have for Coffee Lovers (It's Only $11!)
We
independently
select these products—if you buy from one of our links, we may earn a commission. All prices were accurate at the time of publishing.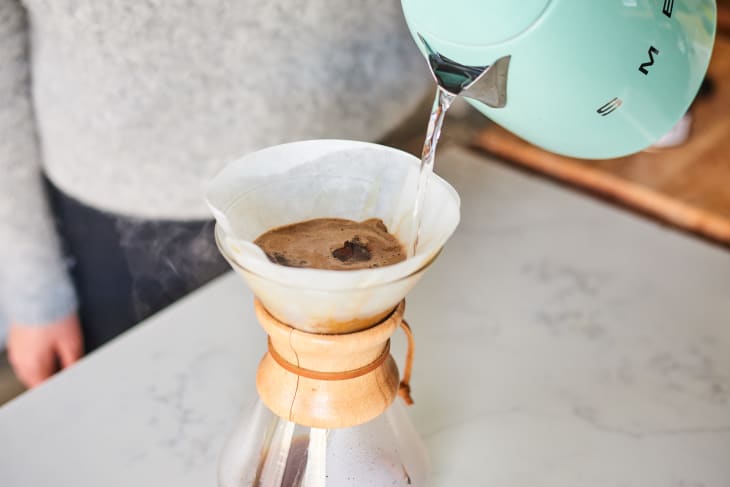 During my last apartment move, I lost the tiny black plastic spoon I used for scooping coffee grounds. You know the kind of spoon I'm talking about, it's the one that comes with literally every coffee maker ever and is perfect for getting grounds out of a bag and into the brewing apparatus of your choice. I was a bit dismayed at first, but I moved on to using a regular spoon and just tried to forget about my long-lost scoopy friend.
Fortunately — or unfortunately — I could never completely forget. Whenever I would accidentally spill grounds because my metal spoon is too shallow or run out of clean spoons and have to wash and dry one just to scoop coffee, I would remember how much better things were when I had a dedicated coffee-grounds spoon. So, I seized the opportunity to shop for an item that I had never had to seek out before and pretty quickly found one design that surpassed the rest. Not only does this spoon do things I didn't think spoons could do, it's more durable and stylish than my old plastic scoop, and right now it's on sale for $9. Meet the coffee bag clip and scoop combo. 
A spoon that doubles as a bag clip may not be a groundbreaking invention. It seems like the result of someone playing Mad Libs with kitchen tools. But, it is a more thoughtful and useful tool than many other combination gadgets, partly because it doesn't overextend itself. The handle is long enough to let you reach the bottom of your coffee bag and the head is a decent size for scooping out beans or grounds. When you're done, you can clip the stainless-steel spoon onto your coffee bag for safe keeping and to keep the bag closed. I always end up having trouble with the closure devices on my coffee bags, so I was excited to find a simple tool that is more reliable than those flimsy wire ties.
Back in the old days when I had my cheap plastic scoop, I would leave the scoop inside the coffee bag in order to avoid losing it. Although this worked, I never really liked digging through coffee grounds every morning to extract the scoop. Having the option to clip my spoon on the outside of the bag would be a nice upgrade, and it would make my brew process a tiny bit faster (which makes a difference when I'm rushing in the morning).
If you need to measure your beans or grounds super precisely, there is one caveat to keep in mind. While the manufacturer lists the spoon size as being 1.5 tablespoons, some Amazon reviewers claim that the actual size may be closer to 1.35 tablespoons or even 1 tablespoon when packed firmly below the rim. For me, this wouldn't be an issue (the only time I've ever measured coffee grounds was the summer I worked at a cafe pulling espresso shots) but it's something to keep in mind if accuracy is even more important to you than convenience.
This two-in-one tool may be labeled a coffee spoon, but it would be just as helpful to keep clipped on bags of loose leaf tea, bags of dried legumes, and bags of finely ground ingredients such as cornstarch or powdered sugar. I already use binder clips to close these kinds of bags, so a built-in spoon would be a welcome addition. If you're looking for an upgrade to your coffee scoop or just prefer the look of stainless steel kitchen tools, check out this clip-on spoon. It's much more stylish than a clip-on tie and far more useful.