A Textile Company Founder's Cozy Fifth Floor Walk-up Is Full of Indian Handicrafts
We
independently
select these products—if you buy from one of our links, we may earn a commission. All prices were accurate at the time of publishing.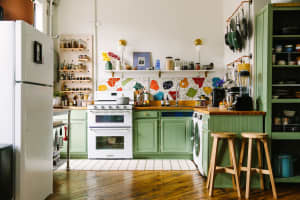 Can't-Miss House Tours Straight to Your Inbox
Keep up with our latest house tours each weekday with our House Tour of the Day newsletter
Name: Nisha Mirani and Brendan Kramer
Location: Upper West Side — New York, NY
Size: 500 square feet
Years Lived In: 9 months, renting
We recently moved to New York from Los Angeles to be closer to family and to live a car-free lifestyle. I work full time on Sunday/Monday from home and Brendan helps on nights and weekends, so our apartment search was as much of a studio search as an apartment hunt. We weren't even looking in this neighborhood, but I found the apartment in a Craigslist search and we loved the high ceilings and vertical storage space above the closets. It being two blocks from Central Park doesn't hurt either; we had no idea that this area could even be an option for us! We love how quiet it is up on the fifth floor of our 113-year-old Brownstone. We also enjoy taking care of our plants, cooking for friends, and playing with our energetic two-and-a-half- year-old cat, Layla.
We launched our textile company Sunday/Monday with a collection of hand-woven wool rugs made in Kutch, a desert region of Gujarat, India. I grew up visiting my family in Gujarat and my parents made a point of exposing me to the rich and varied tradition of handicrafts there. Textiles in particular have had a significant role in defining national identity in India, serving as an important part of the freedom movement and playing a major role in the country's economy.
When visiting in 2016, I met the weavers we work with now and they voiced their concern about the future of their craft and livelihood. Over hot cups of chai, this evolved into a larger discussion about a mutual interest in bringing Kutchi textiles to a larger global market. As someone with Indian heritage, it is extremely important to me to help preserve traditional crafts as well as indigenous motifs that are often lost when foreigners work with Indian artisans. Our textiles are a mix of patterns designed by the weavers themselves and our own designs inspired by traditional motifs. More recently, we've expanded our products to include block-printed pillows and table napkins that we've designed.
We love that our home is full of handicrafts from our travels in India. They remind of us of why we started our business in the first place, serve as inspiration for our designs, and also bring back happy memories of our trips to India. For instance, we love our vintage Rabari wedding shawl hanging on the wall next to our sofa. The women of the nomadic Rabari tribe are known for their vibrant colorful embroidery and all the colors and elements of the shawl have meaning and purpose. Our shawl is made from hand-loomed Gujarati wool using traditional techniques including tie-dyeing, embroidery, and mirror work. These shawls are collaborations between a mother and her daughter for the daughter's wedding and can take up to six months to make.
Our Kali painting serves as a statement piece above our sofa and is by Gurupada Chtirakar. I bought it directly from the traditional folk painter (and singer!) from a craft fair in Ahmedabad, Gujarat. Whenever possible, we like to buy pieces directly from the artist so we can ensure the artist is fully compensated for his or her work and we also get to learn more about the materials, process, and history of the piece. The hand-embroidered pillows on our sofa are from Kala Raksha, a trust dedicated to preserving traditional arts of the Kutch region.
Apartment Therapy Survey:
Our Style: Eclectic, bright, and cozy
Inspiration: A combination of our travels to India and our time living in California. The plants, colors, and architecture in both places inspire us. The diversity of cultures and styles in New York are also exciting and inspiring.
Favorite Element: Natural light. We lived in Los Angeles for five years and the thing we miss most there is the abundance of natural light. There are so many railroad style apartments in New York with no windows in the living room, so to find south-facing windows in our living room felt like quite an accomplishment. Brendan is also a huge plant nerd and while we don't have an outdoor space here, the plants love all the light. Our cat Layla also loves to sit by the windows and sunbathe (luckily she has no interest in the plants!). For us, lots of light equals a happy home.
Biggest Challenge: We love how the open floor plan of our apartment makes it feel bigger, but it was challenging to create defined areas for living and dining. We obviously love rugs so we used our favorite Sunday/Monday rugs to visually divide the space. By mixing and matching only black and white pieces, the spaces are clearly defined but still cohesive.
Proudest DIY: Our textiles. We've had trouble finding ethically made yet affordable textiles for our space so it is really satisfying to design products that we would want to buy for ourselves and our friends.
Biggest Indulgence: Our pink sofa from Article. We knew we wanted a velvet sofa since we have a cat, but we didn't want something too dark that would weigh down the room. The Matrix sofa complements all of our Sunday/Monday rugs and it's usually the first thing people comment on when visiting because the color is so unexpected.
Best Advice: Live in a fifth floor walk-up! No really, you'll be forced to think about how much you really want or need an item for your home because you have to carry it up or pay for delivery. Everything we have in our home now is something intentional and loved. Also, we've been able to afford some of the nicer pieces we have by searching and waiting for sales/discount codes online. Patience is key!
LIVING ROOM
Matrix Blush Pink Sofa — Article
Embroidered Pillows – India
Throw Blanket – Nube Green
Kali Painting – India
Bird Drawing – India
Vintage Postcards – Rosebowl Flea Market
Coffee Table — Target
Prong Fruit Bowl — Virginia Sin
Ashley Hardy Pleated + Belted Vase – Homecoming
Modern Media Console – West Elm
Kuran Rug – Sunday/Monday
Arrows in Ivory Runner – Sunday/Monday
Tall Stairway Bookshelf – CB2|
Vintage Rabari Wedding Shawl – India
Green Plant Stand – Rosebowl Flea Market
Euphorbia Plant – UWS Farmer's Market
Mainstay Storage Basket — Homecoming
White Plant Stand – Vintage
Fiddle Leaf Fig Tree – Lowes
Staghorn Fern Plant – Home Depot
Himmeli Planter – Hemleva
Airplants – Rainforest Flora
Brass Bells – India
Three-Legged End Table – Amazon
Modernist Table Lamp – West Elm
Rattle Snake Calathea Plant – The Sill
Gold Lacquered Plant Pot – Anthropologie
Philodendron Plant — Home Depot
Brass Plant Pot – Urban Outfitters
Rattan side Table — Vintage
Nissedal Mirror — Ikea
Kittycentric Cozy Cat Cave Bed – Amazon
Thanks, Nisha and Brendan!