Old TVs Are Randomly Showing Up On People's Doorsteps, and We Have Questions
We independently select these products—if you buy from one of our links, we may earn a commission. All prices were accurate at the time of publishing.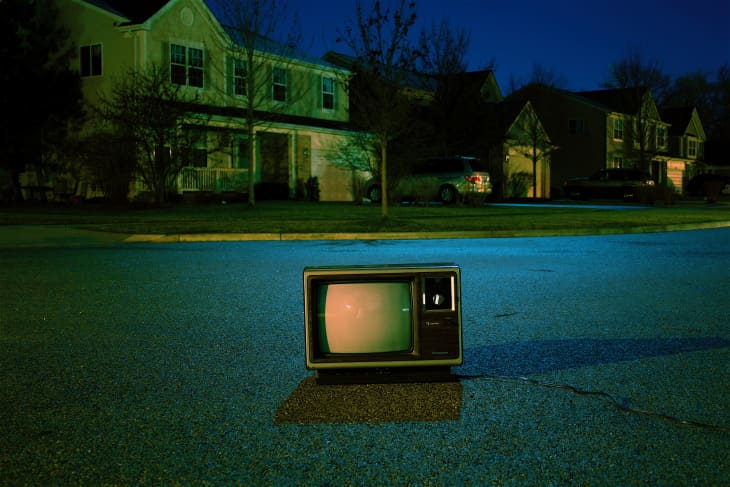 Forget playing ding dong ditch. In this Virginia community, someone is leaving vintage TV sets on doorsteps. 
Follow Topics for more like this
Follow for more stories like this
More than fifty TV sets landed on doorsteps and walkways of homes in the Hampshire neighborhood of Henrico County, Virginia last weekend. When residents woke up the next morning, they found the old-school TVs sitting around as if they had just been dropped off by Amazon. (Sans box, of course.)
Police in Henrico County started receiving phone calls by early Sunday from citizens who got the special deliveries, perplexed whether they were victims of a practical joke or an accidental drop off. Soon, they were flooded with calls. 
Matt Pecka, a Lieutenant with the Henrico Police, told news station WTVR that more than one person "wearing a mask resembling a television" delivered the TVs to "the majority of homes throughout the community."
"Many residents were alerted by their security devices of these unwanted deliveries," said Pecka.
There has been a few clues into the identity of the culprit, thanks to a security camera at one home that caught a clear view of deliveries being made. According to the Washington Post, the person making the deliveries was a man dressed in a blue jumpsuit, black gloves, and brown hiking-style boots. Naturally, his face was disguised by the TV set on his shoulders. An accomplice, a man in a white jumpsuit who also wore a TV on his head, was also spotted, according to authorities. 
While it may be a bit creepy, Pecka says there's no threat to anyone's livelihood. 
"We determined there was no credible threat to residents and that this was strictly an inconvenience,: Pecka told the Washington Post. "It was… unique."
The TV sets were collected by the county's Solid Waste department, and are headed off to be recycled. But if they do discover who is making the drop-offs, Pecka says there most likely won't be any charges filed.
 "One TV neatly placed on the front doorstep of each resident… It wasn't done in a malicious manner," said Pecka. 
However, it seems this isn't the first time the special delivery spree has hit Henrico County. Last year, residents in nearby Grey Oaks found themselves in the same situation when more than 20 televisions were left on doorsteps.