Before & After: A Couple Turned Their Chicago Living Room Into a Multi-Functional Marvel
We independently select these products—if you buy from one of our links, we may earn a commission. All prices were accurate at the time of publishing.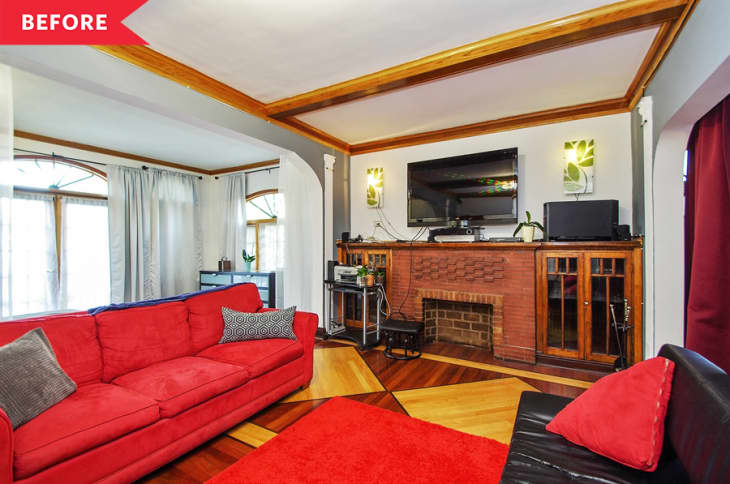 September is Transformation Month at Apartment Therapy! That means every day, we're sharing a new before & after to show the power of transformations at home. Head over here to see them all!
Follow Topics for more like this
Follow for more stories like this
Makeover by:  Jessika and Justin Savage
Location:  Chicago, Illinois
The house was originally constructed in 1905 and looked completely different than it does today. It's a shotgun-style house, running the whole length of the property, but it's much less compartmentalized than most Chicago flats. About 18 years ago, the previous owner did a massive renovation on both the exterior and interior. 
To say this living room needed a lot of work would be an understatement. The previous tenants had decided to divide the living room into two spaces by hanging a giant curtain and used the front room as an additional bedroom. The central part of the room had odd decorative pillars glued to the walls, weird 90's sconces above the fireplace, and the floors and woodwork were all in need of some TLC.
A lot of living had to be able to happen in this space. We love to entertain and wanted to create a space where we could gather all of our friends and have room for everyone to be having different conversations, but still feel as if we were all together. It also needed to function as a cozy space to watch movies and listen to records during the cold Chicago winters. And lastly, I needed to carve out a bit of space for my home office. 
The first thing we did before we even moved in was getting the floors refinished. They have this beautiful inlaid wood patterning of red and white oak with black walnut accents, but it was stained in some very dated colors and needed to be repaired after years of rental wear and tear.  We had them sanded down and then refinished with more of a dark Jacobean stain, which pulled down some of the extreme contrast in the tonality of the different wood types while still highlighting their natural beauty. 
The rest consisted of simple updates such as new lighting fixtures, paint, accent wall, and, of course, pulling down those pillars. We went through the entire place and painted the trim to give it a cleaner look.
We've sectioned up the space to have an entertainment area in the front, with the TV and stereo system tucked away in a midcentury credenza. There was this empty space between the living room and dining room, with a beautiful brick fireplace with antique built-in's that we wanted to bring focus to We created more of a salon-style sitting room in that space, free of screen distraction to just enjoy a nice glass of wine and catch up with a friend. 
And since the space was really large, the nook next to the front door was perfect for putting a desk for me to work from, which conveniently doubles as a great place to drop off mail, grocery bags, or a set of keys.
I like for every furnishing to serve a purpose: Our sitting room table is an old trunk that we can stow keepsakes in for easy access, old suitcases hold board games, the credenza hides our entertainment center and extra records. We also have a bench seat for when extra guests come over that opens up and stores extra linens for anyone who needs to crash overnight.
The front room was the most logical spot for our entertainment center, but we hate having the TV on display. We painted the media wall a deep emerald, which helps make the TV disappear in the room. The hue also gives an amazing pop of color that creates a different vibe depending on the time of day and how the light hits it. 
We also made sure that all of the seating in the room can be easily moved whenever we're hosting a large group. These things allow us to keep the space flexible for entertaining, which is really important to us. 
Find a balance between form and function; making sure that a larger piece of furniture serves your needs in as many ways as possible is really key. For example, old suitcases not only look cool as decor, but they also make excellent storage space for extra throw blankets or board games. 
Lastly, don't try to collect everything at once to decorate your space.  Ours feels more special because I waited for my treasure to come find me, and each piece is connected with a great memory. 
Are you interested in sharing a decorating or renovation project with Apartment Therapy readers? Contact the editors through our Makeover Project Submission Form.