The One Thing You Should Always Part With, According to Real Estate Agents
We independently select these products—if you buy from one of our links, we may earn a commission. All prices were accurate at the time of publishing.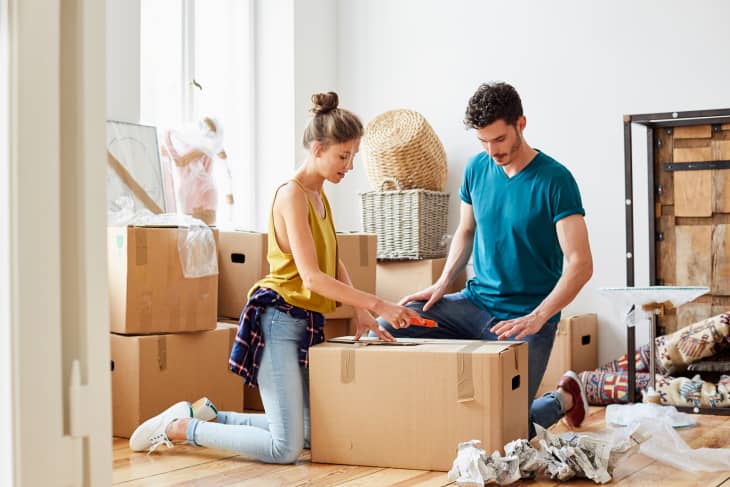 Should it stay or should it go? When it comes to moving, it can be challenging to know. And depending on if you're shuffling down the street or across the country, the answer might vary based on the cost, weight, and sentimental value of something. 
Follow Topics for more like this
Follow for more stories like this
According to Drew Coleman, an Oregon-based Realtor® and founder of Opt Real Estate, the things that should be left behind often fall into one of three basic categories: items that you don't use, want, or need anymore; items that would take a ton of work to move, especially heavy or bulky ones; and items that might help you increase the marketability of your current place. For example, those old papers you've been lugging around from house to house? Scan them for safekeeping and then toss or shred 'em. The antifreeze and bug spray from 2010 that's in the garage? It's OK to part with those, too. 
But for larger and more sentimental items, the process should begin by chatting with your agent, says Joe Piasecki, a Los Angeles-based Realtor® with The Cunningham Group at Keller Williams Advisors. He says it's important that homebuyers consult with their real estate agents to decide which pieces should be included in the purchase agreement. The one thing to keep in mind? "The general rule of thumb is if it's a fixture, it stays," he says. "But you can't be too careful." 
Here are three tips on what you should always part with before the big move — and what you might consider taking along with you.
If it's fixed to the wall, it should stay. 
Some of the items that most often become a sticking point? Piasecki says it's often bathroom mirrors and light fixtures. "Anything nailed, screwed, or glued to the property is generally a fixture, and expected to be left to the new owners," says Coleman. "If you have something that fits that bill, the best practice is to remove the item and replace it with something you'd be comfortable leaving behind before you put the property on the market."
The same goes for TV wall mounts and fixtures outdoors. If it's in the ground, it isn't your property anymore, Coleman says. Some items that might fit this description are garden benches, playground equipment, mailboxes, birdhouses, and sheds, whereas potted plants might be up for discussion if you'd like to take them with you.
If an old item is too big, it's gotta stay.
Piasecki says you should also talk to your agent about the possibility of having "informational access" to your new home before closing, in case you'd like to check if your dining room table or sectional sofa will fit in your new space. If a large item is too tight of a squeeze, it makes more sense to part with it when you move. 
Plus, if you're moving to a home with a different style than your previous one, your old furniture likely won't "go" with it, and can often be difficult to relocate, says Coleman. If the condition of the furniture is still good, you might consider donating them to a local charity instead. 
Another nice gesture is to leave any paint or extra tiles that match the home you're leaving behind for the new owners, if ever they need to make their own touch-ups.
You may have to part with certain smart home items.
Love your fancy Nest or Ecobee thermostat? Don't get too attached just yet. These items, along with any other hardwired security systems or cameras, are typically expected to be left behind, says Piasecki. You'll want to make sure to factory reset the thermostat and cameras so that none of your personal details or account information remains, and if you pay for a subscription for monitoring, make sure to let both the company and the new owners know. 
And speaking of the new owners, it's always nice to leave a little something, such as wine, a doormat, or a gift basket as a way to welcome them. "These things make a difference and keep good feelings going for a place you once called home," Coleman says.