There's a Better Way to Order Real Estate Listing Photos, According to a New Study
We
independently
select these products—if you buy from one of our links, we may earn a commission. All prices were accurate at the time of publishing.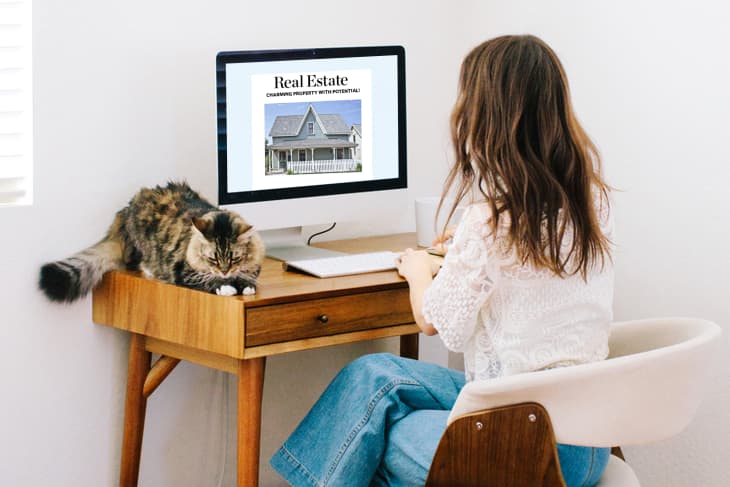 As a real estate writer, browsing online home listings is part of my job. Every now and then as I'm scrolling through single-family homes for sale, I'll see an outlier listing: Instead of the normal exterior shot that usually starts off the listing, there will be a photo of a living room or a kitchen instead.
Each time, I check my search filters. Was I looking at a condo or a co-op? In that case, it'd make sense not to have an exterior shot front and center, because buyers would have no control over the curb appeal of a building. But no, I was looking at a house, and I assumed it had to be ugly, right? Aside from user error on the part of the real estate agent uploading photos in the wrong order to the listing, what other reason could there be than a distinct lack of curb appeal? At last, toward the end of the long list of photos, I saw a photo of a perfectly lovely home with no good reason that I could see for it to be hidden. Interesting…
Soon after, I caught wind of a recent study from real estate photography and video firm HomeJab. It surveyed more than 14,000 photos from a random group of around 600 homes on the market in June. The data analysis (which was done in partnership with Restb.ai, an artificial intelligence firm) found that the most popular real estate listing photo for home buyers isn't the exterior shot. In fact, the front exterior was actually fifth on the list. Here are the photos that made the top 10 most popular photos:
Bedroom (11.92 percent)
Kitchen (11.90 percent)
Living room (10.79 percent)
Bathroom (9.75 percent)
Front exterior (8.7 percent)
Dining area (4.48 percent) 
Aerial (4.32 percent)
Yard (3 percent)
Back exterior (2.48 percent)
Patio terrace (2.10 percent)
It was starting to make more sense. If the exterior of a home isn't as much of a hit with buyers, why lead with it in a listing? Sure enough, the more I continued to scroll online listings, the fewer listings I saw that opened with the exterior of the home, regardless of how pretty (or not) it was. 
Is it the end of an era? Has curb appeal been kicked to the curb? I asked a few pros for their input.
A Real Estate Photographer Weighs In
I reached out to Rob Moreno, a Boston-based real estate photographer who has taken countless photos of properties for sale and discussed listing strategies with real estate agents. 
"[Real estate agents] claim that if you don't lead with a front elevation photo of the house, buyers might think that something is wrong with the house," Moreno says, such as the exterior is in shambles or it's in an undesirable part of the neighborhood. 
That's in line with my reaction to those listings I shared earlier. To be fair, not seeing an exterior photo at the start doesn't stop me from clicking through until I find it. Sometimes my suspicions are confirmed — the exterior is indeed hideous or in some state of disarray. Sometimes the home is actually quite attractive, and I'm perplexed as to why it's buried at the end of a long list of photos that I actually took the time to click through one by one…
Oh. Well played, real estate agents. Well played.
The Strategy of Savvy Real Estate Agents
Real estate agents have revamped the way they use online listings, likely due in large part to those early months of the pandemic when all in-person events — including open houses — were shut down. Though open houses are indeed back in action, agents continue to rely on online listings and virtual tours that allow more people to peek inside a home. And they're pretty savvy about what they want you peeking at first.
"Photos are the most important part of making a great first impression on buyers," says Kimberly Jay, a broker with Compass in New York. "Agents need to show the best aspects of the home in the first picture." She notes that she usually lists the living room first — especially if it has a great view — followed by other photos in the order in which a buyer might walk through the unit.
Mihal Gartenberg, an agent with Coldwell Banker Warburg, agrees. "The first photo that an agent lists should be the most jaw-dropping and unique," she says. In her listings, after the wow factor of that one room — sometimes it is indeed an outdoor space — she'll show the common areas, followed by the bedrooms, then the kitchen, and then the bathrooms. Again, if there's a room that's spectacular, she's going to show it earlier, regardless of order. 
Beauty is in the eye of the beholder, of course. That's why it helps to work with a real estate agent who knows what buyers are looking for in your area. Selling your home on your own? Follow this guideline by Jane Katz, another agent with Coldwell Banker Warburg when uploading photos to your listing.
"The rooms should follow in the order of most attractive, most renovated first, and less gorgeous last," she says. In general, this means public rooms like the living room go first, followed by the kitchen and then each bedroom followed by the bathrooms (include ensuite bathrooms with each respective bedroom, if that applies to your home). 
Got an unattractive room that's in dire need of a makeover? Leave that photo out of the listing, says Katz. "In this case, less is more," she says.