This Australian Home Is Earthy Natural Style Meets Modern Minimalism, Perfected
We independently select these products—if you buy from one of our links, we may earn a commission. All prices were accurate at the time of publishing.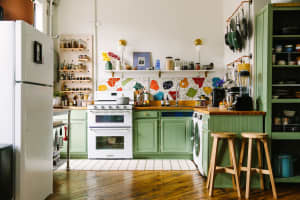 Can't-Miss House Tours Straight to Your Inbox
Keep up with our latest house tours each weekday with our House Tour of the Day newsletter
Name: Dorothea and Stevie
Location: The Yarra Valley, Victoria, Australia
Size: 1/3 Acre
Years lived in: 14 years
The most wonderful garden surrounds the cozy country home of Dorothea and her daughter. Situated in the Yarra Valley outside of Healesville–approximately one hour's drive from Melbourne–the house is surrounded by farm land and sits on 1/3 of an acre, with pet ducks and chickens and an obligatory working dog wandering around. It's a peaceful setting that's mimicked inside the house, where natural textures and colors blend beautifully for an organic modern look.
Dorothea made the move from the city to the country about 14 years ago, and in that time she's filled their home with found treasures, work from local artists and makers, and second hand finds. The result is one of those effortlessly casual, comfortable homes that's also incredibly elegant. Paired with the lovely natural light that pours in to the home, nearly every room looks like a still life painting.
It's not all vintage and second hand, though. The most recent addition to the house's design is the renovated kitchen, which features modern lines, cast concrete countertops, and sleek custom black cabinetry by Chris Cabinets.
Apartment Therapy Survey:
Our Style: Eclectic, usually dusty, mostly reused/ pre-loved, makeshift, and sometimes dangerous (sit on old stools at your own risk).
Inspiration: Good, solid hard rubbish.
Favorite Element: I love the back windows that look out into the garden. Actually, I love that the garden is everywhere when looking out of every window. I often think I would prefer to live outside! Also, I watch a mob of kangaroos from my kitchen window, which makes doing the dishes almost pleasurable.
Biggest Challenge: Dealing with tradies when we were renovating: who displayed various degrees of skills, creativity, willingness, time management, effective and ineffective communicative skills, misogyny, and respect.
"Comfortable and unpretentious, tonally harmonious, this house dawns on you slowly: so busy feeling relaxed and cared for, you've only just noticed the collected artworks, the tended garden, the silver spoons, and the designer taps. It's delicious." – SS
"Home synonymous with its owner in both style and goodness." – NW
"Country oasis where nature meets chic! Earthy, natural, kitchen to die for. Think: cosy, socks, books on the couch." – LM
"Feminist lair with artist's flair." – LP
"Something of interest to ponder over at every turn and nook. Everything feels as though it has a wonderful story behind it." – DB
"Classic country escape with a garden that's a whole other story of its own. You could spend days on end pottering around this old country property that has been given a make over to make you want to keep coming back." – CM
"THE go to place of the can-do girl." – CB
Biggest Embarrassment: That these photos depict a very neat and tidy house that I barely recognize! It is usually full of washing, cubby houses made out of blankets, a kelpie licking dropped food from the floor, and sometimes baby ducks preening in front of the fire (with their poo and water everywhere). It's usually chaotic.
Proudest DIY: Hammering down the roof in a storm.
Biggest Indulgence: Solar panels to run the split system heater/ air conditioner. No more chopping wood desperately in the rain and the wind. Anyone who relies on wood fires for heating will appreciate this.
Best Advice: "Bite off more than you can chew, and then chew like buggery!" – RD
Dream Sources:
Go to shops:
Morris et al in Healesville: @morrisetal
The Maker in Hobart: @themakerhobart
Local artist inspiration:
@valley_maker for botanically dyed yarn
@freetofalltextiles for hand printed linen goods
@sanctuary.precinct for metal work and ginkgo leaves
@clarejamesartist for lots of stuff!
@swing.maker.kate for hand made swings
@netti_wagner for dress up as your favourite feminist inspiration
@mountainclay for clay coffee cups
@amanda_ruck for clouds
@heidiromano for botanical prints
Nests- abandoned and found in my garden, plus one made from my daughter
Bark chair studies by my grandmother, Dorothy
Heidi Romano 'Late Summer', 2009 from the Tales of Light project
Julie Tucker Hughes 'Sunrise Over Country', 2009, from the Vulkathunha-Gammon Ranges in South Australia, belonging to the Adnyamathanha people
Clare James, Untitled
Woven fish trap, artist unknown, from Buku-Larrnggay Mulka Centre in Arnhem Land, Northern Territory, Yirrkala.com
Elaine Wanatjura Lane (basket on wall with feather detail) from Papulankutja Community for Tjanpi Desert Weavers, who are the dynamic arts employment project of the NPY women's council. Tjanpi (meaning dry grass) supports Aboriginal women living in remote central and western desert communities to create contemporary fibre art. @tjanpidesertweavers
Vintage chairs in original condition. They belonged to my grandparents and I have a photo of me sitting on them when I was 12 months old!
Nest on wall- original work from my daughter. Work created at @clarejamesartist workshop on nests
Photo by me
Bird detail gifted by @marrymedee
Artwork: Clare James, Untitled. @clarejamesartist
Cabinetry: Chris Hempel, Lilydale. @chris.cabinets
Tapware- Wood Melbourne, @shop.woodmelbourne
Giant Queen Palm seed pod found in Mildura
Heidi Romano, Untitled. @heidiromano
Sarah Elliot, Untitled. @elliotmydear
Jacqui Stockdale, The Offering, 2016 (not original print) @jacquistockdale
Dress detail by my mum
Tap ware – Wood Melbourne
Shower head- Wood Melbourne
Thanks, Dorothea and Stevie!