Oscar's Well-Preserved DC Rowhouse
We
independently
select these products—if you buy from one of our links, we may earn a commission. All prices were accurate at the time of publishing.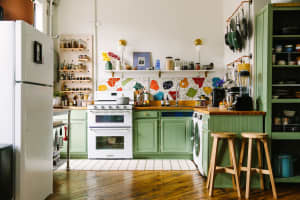 Can't-Miss House Tours Straight to Your Inbox
Keep up with our latest house tours each weekday with our House Tour of the Day newsletter
Name: Oscar Beisert
Location: Grant Circle (Petworth); Washington, DC
Size: 1,200 square feet
Years lived in: 2 years; Own
When I first entered the home of Oscar Beisert, I thought for sure he had inherited it from an 90-year-old retired art historian who redecorated as a side hobby. Each wall in his sprawling two-story, three-bedroom home was chock full of carefully placed framed paintings, filled with portraits of historical characters both related and non-related to Oscar. Worn velvet sofas (vintage) and Turkish rugs (handmade) dotted the living room, and I just knew there was a story behind each purchase that was as grand as the item itself.
A finely curated and exhibited showing of furniture and historical art is what one would expect from an art historian. "I'm a firm believer in preserving the original house, yet modernizing the amenities, wiring, etc where necessary," Oscar tells me, his all-black ensemble and vintage black boots suited perfectly to the Victorian meets risqué style of his home. At first hesitant in knowing exactly why I wanted to photograph his home, he quickly lights up at each opportunity to relive the story of his purchases, detailing their history and former uses as well as schooling me on the artist movement each piece represents. Though the furniture appears lavish and more appropriate for a 19th century mansion than renovated DC row house, Oscar manages to make everything work and feel inviting.
The living room features mahogany furniture, ornate details carved into the mahogany wood to proudly display the era from which it was born. And Oscar know his furniture periods like the back of his hand.

In the middle of the darker Victorian-era furniture, ornate wood carvings, and suggestive art, there is a room reserved for Airbnb guests that features more whimsical, light-hearted décor. The guest bathroom is awash in light that streams across white tiled floors and everyone's favorite: a vintage claw foot tub. The self-described "opportunist collector" says that when he buys a painting, it's less about how it will fit into his home's decor and more about the painting itself.
Apartment Therapy Survey:
My Style/Inspiration: Upon purchase of my 1916 corner house in Grant Circle, once the Petworth home of Admiral John Newport from 1917-53, I found a bastardized, but understandable early 20th century interior. There had been "improvements," yet remained the doors, floors, trim—hell, even the walls, of a time when things were built to last. Unlike most of the local development today, I chose to enhance and restore the original, modernizing beneath the surface. My green renovation is actually green, even the light fixtures are period (though rewired). Without my furniture, the house would have its own 1910s aesthetic (with two additional bathrooms and a modern, yet period appearing kitchen, etc.).
The topical environment is its own world. One thing to understand about my environment is that while I have created a definitive aesthetic, this is achieved through an interest in objects. First and foremost, I collect art. Second, I collect quality and/or unique items. Third, I collect physical remnants of the past and the decorative arts. Will this painting fit; will it match my sofa—this is not me. While Victorian might be your first thought, the arrangement of things in most case is its own achievement.
If I had to summarize my two-fold explanation, I would say that work to create and preserve beauty.
Favorite Element: Also, two-fold. First, my character studies and portraits are very important to me as an art collector. Quality portraits, insightful studies and even untrained bravado are appealing to me in art. As for the house, my doors are so much better than yours… A classic door hoarder, the core of this Colonial Revival-inspired building is its simplistic detail. Finding incredible doors that are interesting yet also quiet is a challenge, but I do feel that I have accomplished this successfully. My favorite door is a completely superfluous door between the kitchen and the laundry room—a louvered double-wide oak saloon door, this $50 investment gives me incredible pleasure.
Biggest Challenge: Two-fold, again. First, being a gay man in today's world of condo-worship and minimalism with my collections and eccentric taste (a marriage proposal is something like, "could you live with my collections?"). The other, finding a contractor who can repair rather than replace.
What Friends Say: Let's go by Airbnb: 40 reviews that reference the amazing art, the bathrooms, etc. Four reviews of the offended—the erotic overtones of some pieces were just too much; one person even seemed put off by the Edison bulbs. As for my friends, most of them just think I'm crazy—or they make hints at the paintings they want…
Biggest Embarrassment: Unfinished projects are my lot in life. This is a trait that I inherit from my father—it's a man thing, maybe? If ninety percent of the work is done, its still an "A"… Right?
Proudest DIY: The house was in rough shape at purchase and much of the topical work was completed by me (with some help from my best friend, John LaRue). As for my aesthetic, almost all of the paintings were found in bad condition—filthy pictures at the least. One has to have an eye. Cleaning and restoration were made possible by Sevilla and Tony at the Georgetown Flea Market.
Biggest Indulgence: The whole house is indulgent, wouldn't you agree? Hmm, my range in the kitchen is semi-professional—oops. And, the rosewood veneer on my Grecian plain style couch made in New York City by Duncan Phyfe in the 1840s was over a grand to restore. Not bad when you paid $400.
Best Advice: Sadly, even in the age of photography, most people don't really see things. My best advice would be: Try to see things beyond how they appear at first glance—look at something for what it is, the quality of it—whether a house or a painting, yellow brick or a simple period door.
Dream Sources: The Philadelphia Museum of Art?!
The myriad of items were collected from many eclectic locations, but primarily thrifted via flea markets and thrift stores. Oscar is happy to answer where specific frames, rugs, or hardware was found in the comments section below.
• HOUSE TOUR ARCHIVE: Check out past house tours here.
• Interested in sharing your home with Apartment Therapy? Contact the editors through our House Tour Submission Form.
• Are you a designer/architect/decorator interested in sharing a residential project with Apartment Therapy readers? Contact the editors through our Professional Submission Form.
Updated daily with fresh tours full of photos for you to pin & enjoy!