This Viral Beach Chair Will Make Summer Reading a Breeze
We independently select these products—if you buy from one of our links, we may earn a commission. All prices were accurate at the time of publishing.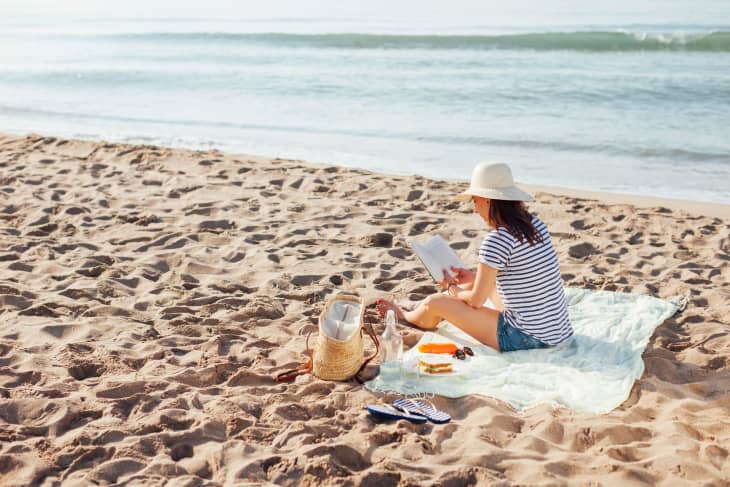 If you're a beach reader, you'll know the struggles of finding the ideal position that's comfy AND great for tanning. Lay on your back; your arms will ache from holding the book up. Lay on your side; uneven tan. So the best solution would be laying on your stomach, right? It may not be all that comfortable on your regular beach chair, but TikTok has discovered a lounger that will solve all of your problems.
The Ostrich Lounge Chaise has become a viral sensation, taking TikTokers by storm thanks to its rather bizarre (but super innovative) design. It has a hole cut out for your face that will make reading and napping a breeze. You can open or close it as desired, and when it's open there's a pillow around the edges and arm slots on the side for ultimate comfort.
"The chair making another tiktok appearance" TikTok user @yentruoc95 captioned the video, which has racked up 1.5 million likes and 21 million views at the time of writing.
She demonstrated how the chair works, reading her book before lifting up the flap and closing the face hole. Her followers were seriously impressed with the lounger, taking to the comments to share their thoughts on the summer game-changer.
"Where can I buy this ingenious product?" one person wrote.
"This is revolutionary" said another.
A third commented: "I have never wanted anything more in my life".
The Ostrich Lounge Chaise with Face Hole can be purchased from Amazon and currently retails for $59.99. It's available in six colorways—Blue, Blue and White Striped, Neon Green, Pink, Red, and Teal—and is made from a breathable, quick-dry fabric. It's lightweight and easy to transport, making it the perfect pick for summer travels or pool days.
If the TikTok video alone hasn't convinced you to pick one up for summer, there are over 6,300 five-star reviews on the Amazon listing.
"Feels really sturdy! Is super comfortable!" one person wrote.
"It's sturdy, quality, functional and has a carry strap. Do I need more? I'm considering buying a second in case I can't get one in the future. Also, I never write reviews so this trifold really must have impressed me. Thank you, Ostrich!" said another.