I've Been Using the Our Place Perfect Pot For a Month and It's Even Better Than I Imagined
We independently select these products—if you buy from one of our links, we may earn a commission. All prices were accurate at the time of publishing.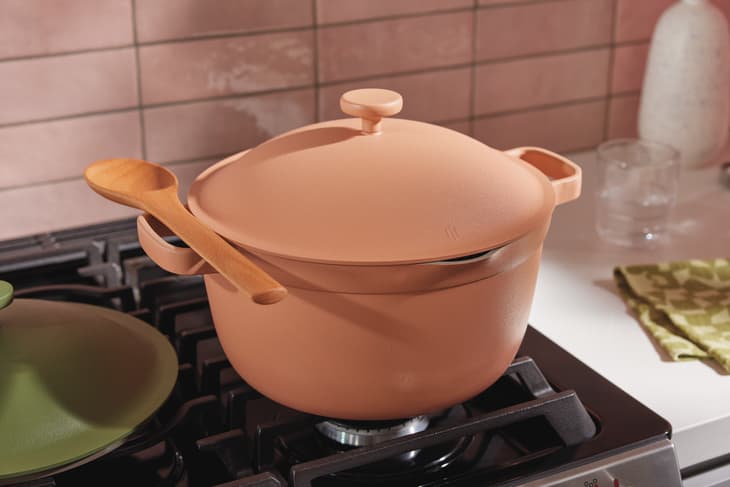 I'm not a betting person, but if I had to wager whether or not a piece of cookware could inspire a 30,000-person waitlist, I would've definitely lost. Because that's exactly what the Our Place Always Pan did … and continues to do. It keeps selling out, flooding our Instagram feeds, and inspiring legions of fans (including celebrities!) with its space-saving, nonstick promise.
Follow Topics for more like this
Follow for more stories like this
But let me back up. What is the Always Pan, you ask? It combines eight tools (a fry pan, sauté pan, steamer, skillet, saucier, saucepan, nonstick pan, spatula, and spoon rest). So, you can simmer, sear, braise, sauté, boil, and steam in one convenient, beautiful pan.
Of course, if you're looking to build a versatile cookware collection, the natural complement to a skillet is a pot. Which is why it made total sense when, last month, Our Place released the Perfect Pot.
And I had to try it … immediately. After cooking in it for a couple of weeks, here's my honest review of the Perfect Pot.
The Perfect Pot comes with a pot (obviously), a lid, a roasting rack (that doubles as a steamer), and a wooden spoon that has notches on the back of it to easily rest on the pot's handle. The Pot is meant to combine a "stockpot, Dutch oven, sauce pot, roasting rack, steamer, strainer, braiser, and spoon rest," Our Place says.
To get a good handle on the pot, I've used it to steam dumplings, sear and then simmer meatballs in tomato sauce, make rice, boil water, and roast a whole chicken. Here's an honest list of the pot's pros and cons.
It's lightweight, clocking in at about 4.5 pounds with the lid on.
It's 5.5 quarts, which is big enough for most recipes that serve four or to cook a pound of pasta.
The spoon nests easily on the pot's handle.
It's compatible with all kinds of stovetops, including induction.
It sears evenly, producing nicely browned all-over meatballs.
It has a "modular" lid that you can twist to allow steam to vet or lock when you want to say, cook, rice.
It has a handy pour spout.
Its roasting/steamer rack is also nonstick and easily accommodates an entire an entire bag of Trader Joe's frozen dumplings.
It has wide, looped handles that make it easy to lift the pot into and out of the oven.
Its lid's handle is large and raised, making it easy to grip.
It's oven-safe to 425°F (the Always Pan is not oven-safe).
Its ceramic nonstick coating makes for easy cleanup — way easier than, say, an enameled cast iron Dutch oven.
It's pretty and currently available in four, fun matte shades (which the Always Pan also comes in, in case you want to match).
While it is oven-safe to 425°F, this is not a high enough temperature to make, say,

no-knead bread

, which is something a Dutch oven's commonly used for.

The roasting/steamer rack lacks handles.
Nonstick cookware usually has a 5-year lifespan, so the Pot won't last for forever.
At $165, it's an investment (and more expensive than one of my favorite Dutch ovens).
Well, clearly there are way more pros than cons! If you're already a fan of the Our Place Always Pan, I think you'll really like the Perfect Pot. While the Pan is really best for two to three people, the Pot is bigger and can accommodate recipes the Pan can't (i.e., ones that serve four, soups, stews, stovetop-to-oven recipes). It's also lightweight, which is a huge bonus for those who struggle to lift heavy cookware.
Because of the Pot's nonstick constriction and oven temperature restriction, it won't last as long and can't accommodate high-temperature recipes like an enameled cast-iron Dutch oven can. However, for those looking for a good nonstick pot that works well, is easy to use, a cinch to clean, and certainly looks good, the Perfect Pot more than fits the bill.
Do you have a question about the Perfect Pot? Leave it in the comments below!