I Live in a 500-Square-Foot Apartment. Here's How My Family Stores Our Kayaks, Camping Gear, and More
We independently select these products—if you buy from one of our links, we may earn a commission. All prices were accurate at the time of publishing.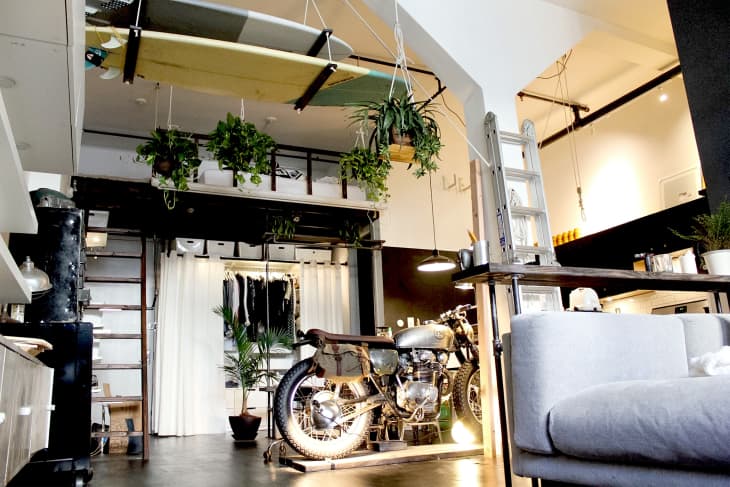 After a year of continuously finding new pandemic-friendly activities, more and more people are finding themselves outside and looking to venture further than a picnic in the park (though there's nothing wrong with that). Camping, hiking, boating, and biking are all fantastic options, but where do you keep your gear if you're living in a tiny apartment?
Follow Topics for more like this
Follow for more stories like this
That was a question I asked myself about 1,000 times after my husband and I moved to a 500-square foot apartment in Long Beach, California, with a two-year-old mid-pandemic. With both of us growing up hiking and camping with our families, continuing the tradition with our own son was important to us, and we wanted to take advantage of Southern California's weather by exploring our surroundings as much as possible. I immediately began researching the best mountain bikes, boats, and accessories to maximize our leisure time but delayed clicking "add to cart" on anything with the fear we wouldn't have anywhere to store the gear. 
But it turns out you don't need a fleet of canoes to be "outdoorsy." You can have big days out by finding adventures right on your doorstep. With just a few thoughtful pieces, a little bit of creativity, and a few hacks you can turn your home into the ultimate outdoor basecamp, no matter how small it may be. Here are six tips and tricks that worked for me:
Transform your hallway closet into a bike shop
Riding bikes as much as possible is a no-brainer for us because of the distinct lack of hills in our area, so we turned to our hallway closet as an easy storage space. (Coats and bags are nearly always easier to relocate than bicycles and tools!) We reimagined the space we had indoors by creating a superb bike storage room by adding a couple of vertical wall mounts, some gear hooks, and an easy-access gear bin. 
We store our helmets on a study shelf above where coats would traditionally hang, and added a pegboard on one of the walls to keep my husband's waterproof jacket and some bike tools. Having our bikes so close to our living quarters has really encouraged us to ride them as much as possible, and has reduced the amount of weather and environmental damage they would have sustained being chained up in the courtyard. It's also fun for our two-year-old, who enjoys opening the closet to demand bike rides whenever the mood takes him.
Deep into a dark night early pandemic, I was trying to drum up reasons my husband and I should give up our parking space (something incredibly hard to come by in our city) in order to store a full-size canoe. Luckily, I came to my senses, our car still has a home, and we found the world of folding gear instead. 
After deciding on individual kayaks instead of bigger, bulkier rafts, we invested in boats that break down small enough to store under our bed. Knowing we can be out the door and on the water in less than 15 minutes motivates us to take advantage of our vessels as much as possible, something I'm not sure we'd do as much if our boats were stored in the back of a dark garage.
If water isn't easy to come by where you live, there are also fantastic collapsable bike options available for most budgets. Is camping more your speed? Outfit your whole camp kitchen with collapsible gear to make storage a breeze without compromising on function or quality.
Invest in cute, and practical, shoe baskets 
Shoes have a tendency to end up everywhere: under the table, in the bathroom (why), next to the bed. This may be ok for day-to-day slip ons, but you don't want to leave mud-crusted hiking boots littering your clean floors. Instead of splurging on shoe racks, opt for easy-to-look-at, easy-to-clean baskets which you can either categorize by family member or by activity. Keep them in a conspicuous space by the front door if you can. I've found the closer to our exit and entry they are, the more they are used (especially by unruly toddlers and always-in-a-rush partners). Ours live by the foot of the couch, but under entryway tables or coat racks are other good options to encourage use.
Although a simple hack, adding a couple of shoe bins to our living space has decreased the clutter exponentially (you can also throw hats, gloves and general accessories in there), made locating the right pair a breeze, and also reduced piles of sand and mud that build up indoors in a tight space after a day exploring. Plus, they look super cute. On cleaning day, simply dump out the dirt and the sand, and start again.
Stay packed with portable, stackable outdoor bins
Camping is one of my family's favorite pastimes, but lugging around all the necessary equipment is not. (This task is made that much more cumbersome if you have kids who seem to require their weight in extra "stuff" wherever you go.) Instead of re-packing for every trip, sort and stash your gear in reusable tubs. It's worth investing in the kind that is built for weather and durability so you can use them time and time again, and designed to stack so you can maximize floor space. 
Before we saw the light and created this system, we almost always forgot something we needed for a trip. Sometimes it was something we could figure out a replacement for, but one time it was the rain cover for our tent on a very wet weekend. After spending the night huddled under one of our coats layed on top of our shelter, we swore we'd never make the same mistake again and bought tubs as soon as we got back.
Our tubs are organized by bedding, kitchen, and "toys." When not in use, we keep them towered up in our storage unit conveniently located close to our car. Being able to grab-and-go has cut what feels like hours off loading time on travel day. On the other end of our trips, we simply break down camp and pack items back where we found them, pre-organizing all our gear for whenever our next adventure will be. You can also use this method for other categories of gear, like beach toys and picnic-at-the-park essentials.
After moving to the beach, I decided I was going to embrace ocean life by taking up surfing. I was gifted a surfboard early on, but figuring out where to store my new-to-me eight-foot board was a much harder decision. After taking inspiration from some local skate shops, my board ended up hanging on the wall of our hallway. It's easy to access, and the cool blues of the design really speak to the rest of our decor. 
Luckily, most adventure gear these days features colorful, bright graphics that are nice to look at, and hanging options are endless. Choose from premium, hand-sanded oak options to give your space a unique look, to nearly invisible, lower-profile mounts. You can also invest in ceiling hoists for bicycles — and even boats — if that's gear you can't live without.
For the days we don't wake up with massive amounts of energy, my family and I still like to find micro-adventures at our local park, beach, or botanical gardens to blow off some steam. To motivate us to get out the door, we keep a landing spot for daily essentials in a corner of our kitchen. Although essentials will look different depending on what kind of outdoor pursuit you lean towards, we always use our HydroFlask water bottles, reusable snack pots, and sunscreen. Hand sanitizer and an extra pack of baby wipes are also heavily featured in our COVID-edition go-bag.
By keeping these items right at hand instead of lost in the back of a kitchen cabinet, it provides us with a visual reminder of how easy it can be to get out and explore. We also keep a foldable pack hung discreetly behind a cabinet door. Knowing it's there with items to fill it prompts spontaneous walks and park picnics. That and our Australian Shepherd. She's a great prompt too.