This TikToker Found a Brilliant Way to Fit a Drying Rack in a Small Space
We
independently
select these products—if you buy from one of our links, we may earn a commission. All prices were accurate at the time of publishing.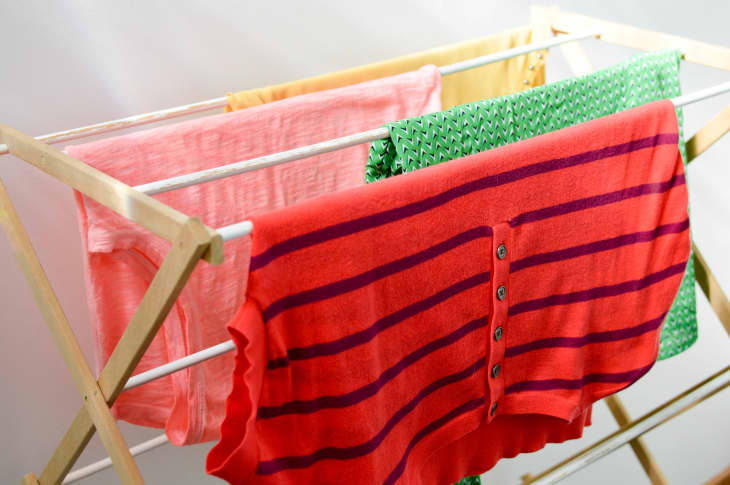 Clothes drying racks, which are also sometimes known as clothes horses, can be super useful for delicate items that can't go through a machine — or in the event that you only have access to a washer.

But these racks can be real eyesores, particularly if they're in view throughout the day. And not to mention, they can also be a hazard if you accidentally bump into one. 

With this in mind, signage and home goods company George and Willy (@georgeandwilly) created a space- and toe-saving solution that was recently showcased in a TikTok video. 
It starts with a screen that reads, "POV: you never have to stub your toes on your ugly plastic clothes horse ever again," as the first notes of "Ain't No Mountain High Enough" by Marvin Gaye and Tammi Terrell play.

The rest of the video shows a sleek drying rack on a pulley system, in which a person demonstrates lowering the rack to their waist, hanging laundry on it to dry, and then pulling the rack up and out of the way. The video ends on a shot of the handle that holds the pulley in place. 

"RIP to all the baby toes out there that have been destroyed by bad laundry racks," the video's caption reads. 

This overhead drying rack is super functional for a small space, and promises that this chore won't lead to foot injuries. Storing the clothes closer to the ceiling where the air is warmer also shortens drying time, and for those purely interested in looks, this system sure is stylish. For those who are on the fence about making permanent additions to their spaces, we're also fans of over-the-door hangers that give you the same functionality.
But George and Willy aren't the first ones to come up with this type of drying rack, according to the comments. "They use these in Brazil," wrote one TikTok user. "Yeah it was pretty common here in Poland to have something similar over the bath (so the water also drops into the bath)," another noted. 

Regardless of who started it, this rack can be a game-changer for those who are unfamiliar. "A gorgeous solution," commented one TikToker. Another quipped, "I need this just for the pile of 'functionally still wearable' clothes on my chair … " If you want this drying rack for your very own, you're in luck. George and Willy offer the ceiling hanging drying rack on their website for $360.