Is This The New Must-Have Water Bottle? TikTok Thinks So — Here Are My Thoughts
We
independently
select these products—if you buy from one of our links, we may earn a commission. All prices were accurate at the time of publishing.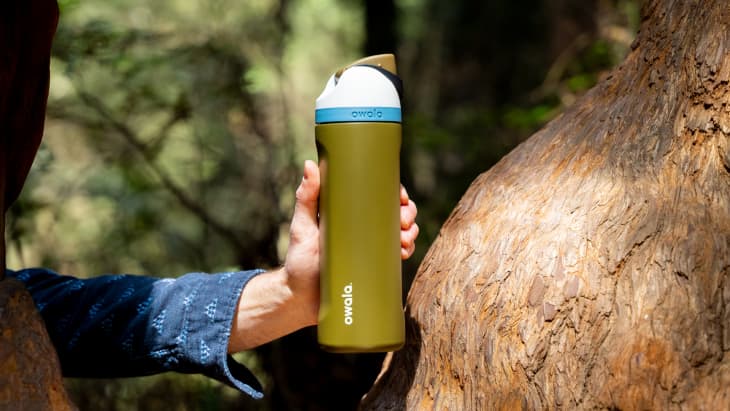 If there's one thing I've come to learn about TikTok, it's that when it comes to trendy products, TikTokers are always one step ahead of everyone else. Earlier this year while partaking in my nightly scroll through the app, I came across a video from a creator who dubbed the Owala FreeSip water bottle the next "it" water bottle, saying, "When you see Owala's everywhere, come back to me!" As someone who rarely leaves the house without her emotional support water bottle, I made a mental note of this and sure enough, I began seeing Owala bottles everywhere. From TikTok and Instagram to the water bottle aisles of my favorite stores, once again TikTok was right. So, I did what any water bottle devotee would do: I cleared a space in my cabinet for the Owala and put it to the test. But what is it about this water bottle that has people buzzing, and is it all noise or is this really the next must-have water bottle? Let's talk about the Owala FreeSip water bottle.
A quick look at the Owala and you might see a regular ol' water bottle, albeit one of the more stylish ones — but you would be mistaken. The genius of this water bottle lies within its design. The FreeSip features a patented spout that allows you to drink in not one but two ways: through the built-in straw or through the wide-mouth opening, giving you the option to sip or swig. This bottle also offers other features including a hygienic flip-top opening, triple-layered vacuum insulation to keep your water ice cold, a hinged loop for easy carrying, and a leakproof design so you can toss it in your bag with confidence. But perhaps the most popular feature? Its many color options! In fact, Owala frequently hosts new color drops on their website, with limited-edition colors that sell out in record time.
So what do I think about this water bottle? Well, surprise surprise, I love it (I wouldn't waste your time with this story if I didn't). For a little context, before this, my go-to water bottles were the Zojirushi and the Hydracy half-gallon — the Owala has now all but replaced them (I still reach for my Zojirushi when it comes to hot drinks; Owala recommends sticking to cold drinks with this bottle). My favorite thing about this bottle? Aside from its excellent temperature retention, I've noticed that I've been drinking more, something that I attribute to the FreeSip top. You see, some days I prefer a straw, and some days I prefer to sip, but with this bottle, I never have to choose an ultimatum or change my bottle. J'adore. So, yes, dear reader, after a couple of weeks with this bad boy I can definitively say, the Owala more than lives up to the hype — it surpasses it.
You can get your hands on an Owala FreeSip water bottle for just under $30. Available in three sizes and 15 colors, the brand also offers a Twist version, a Flip version, and a kids Flip version (not to mention limited-edition collaborations including one with Harry Potter and one with Star Wars). So make way, because just like TikTok predicted, the Owala is here to stay.