After Testing Tons of Electric Kettles, This One Is My Favorite—and It's on Sale Right Now
We
independently
select these products—if you buy from one of our links, we may earn a commission. All prices were accurate at the time of publishing.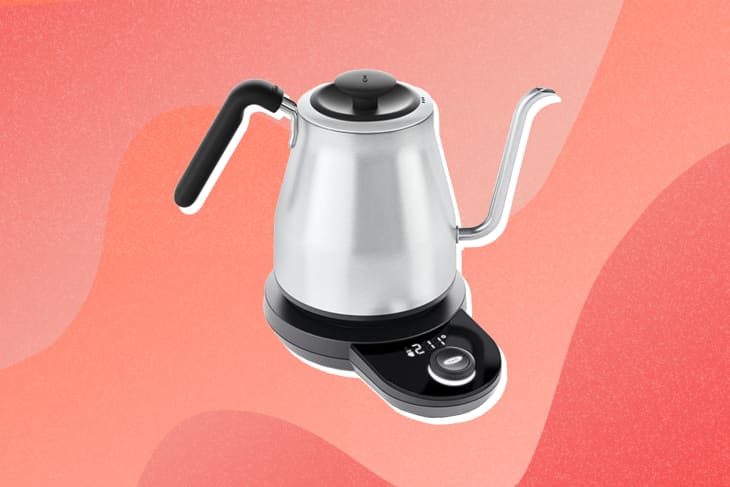 One fun fact I have listed on my dating app profiles is that I don't drink coffee. I didn't think this was a huge deal—I needed a conversation starter and that was what came to mind after a few moments of thought. And yet, it is the prompt that gets the most engagement on Hinge. Brooklyn-based 20-something men love to respond to it with declarations of awe and suspicion. "But how?" they ask, presumably with a caffeine drip injected straight into their veins. The answer is, in my opinion, not very shocking: I simply prefer tea. No, I don't abstain from caffeine (good lord, can you imagine?), I just enjoy a nice cup or two of English Breakfast in the morning. "Oh," say the dating app men, clearly disappointed in my ordinariness.
Anyway. The real point of that little spiel is that I love tea and the entire process of making and drinking tea. It's a ritual that requires you to take a few minutes out of your busy day to focus on something else that's just for you. When I first started drinking tea in college (I was late to the game), I warmed my tea up in the microwave (shudder). Since then I've experimented with both electric and stovetop kettles, and I'm a full convert to the electric kettle life. Haters will say that stovetop models are more "authentic", but I'm here to tell you that electric kettles are faster, safer, and more convenient, and they are the standard in Europe, per this Reddit thread.
First of all, it's fast. Boil time is 3:45 (yes, I counted) and even faster if you're not using the entire liter capacity. It's also pretty cute and compact, taking up very little space on your countertop. It has a goose neck, so it automatically looks more sophisticated than a standard kettle, but take note that that does make it wider than other models. It's small, but double check to make sure it'll work in really tight spots. The goose neck is a revelation to me. I always thought of the goose neck style as unnecessary unless you're a coffee drinker, but I've found that I really like the lighter pour for my tea. And if you're someone who drinks both coffee and tea, well, this is THE kettle for you. Other goose necks I've tried have a much slower pour, but don't worry: This one pours at a normal speed.
But here's the best part: You have complete control over the temperature. No, this isn't necessary, but it is very nice if you're a control freak like myself. I may not be able to control any part of my life in 2020, but dammit, I will control the temperature of my tea. I'm embarrassed to admit that I never knew different teas are best at different temperatures, but now I know and it's all very exciting. Now when I brew black tea in the morning, I set the temperature to 200 degrees instead of 212, because that is what my OXO kettle tells me is best.
If you want the temperature control but don't love the goose neck style (or want something a little bigger), OXO has an Adjustable Temperature Kettle that's a combination of the Cordless Glass Kettle and the Pour-Over Kettle. And I have great news: Right now, all of OXO's coffee and tea gear are 20 percent off for Black Friday! That means the Pour-Over can be yours for $20 less—or if you're feeling really generous, you can buy it as a gift for your tea-drinking loved one. I guarantee they'll love it, even if the dudes on Hinge don't understand.