The One Thing You're Probably Forgetting When Choosing a Wall Color
We independently select these products—if you buy from one of our links, we may earn a commission. All prices were accurate at the time of publishing.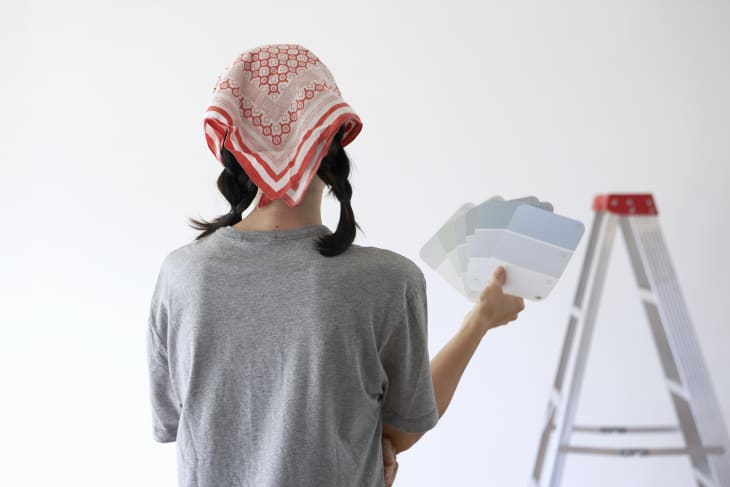 Painting a space a whole new color offers one of the best work-to-payoff ratios of any home project. With just a few hours of labor, and usually just a gallon or two of paint, you can completely revamp a room's look. And if you're like me, there are some pro tips that you've learned the hard way (but hopefully more that you've been lucky enough to learn through someone else sharing their lessons) — you know, things like always cut in first and paint second, remember to stir your paint, and check your samples on every wall of a room. 
I'm here to let you in on a tip that I, unfortunately, had to learn the hard way. Admittedly, I should have known better, since I've lost count of how many rooms I've transformed through paint. But there are always new things to learn, and this bit caught me by surprise: When you're choosing a paint color, you should always test it by painting a swatch next to your existing trim.
Follow Topics for more like this
Follow for more stories like this
If you're like me, then you probably do your paint swatches in the middle of the wall. While that's a great way to see the color, it's not a great way to compare it to the color of your trim — meaning you could be in for a rude surprise after the walls are painted.
Want to know how I learned this? After several years with a dark gray foyer in my 1887 home, I decided to lighten things up with my latest obsession: super pale pinks that are basically just white with the faintest whisper of pink. I settled on Benjamin Moore's Gardenia, which the description noted was "a bright white scented with soft pink undertones." Perfect! 
Enter my first mistake: I didn't get a sample pot. I didn't even get the big square-foot-sized swatches! I just held the paint chip up in the room and thought it looked great. A contractor painted the room while my husband and I were on vacation. I couldn't wait to get home and see the results! Drumroll, please …
The paint color turned out beautiful. It's white in some lights, pale pink in others, and dramatically brightened the room. It also lent a more contemporary feel to the walls that helps battle the gloominess inherent in Victorian-era homes.
But the glossy white trim that we'd had painted a few years ago? That looked crisp and clean against the gray walls? Now it just looked… sad. In my quest to update the walls, I actually created a much bigger project for myself. So where did I go wrong? I called up Sam Ross of Nailed It Contracting to ask him for advice for anyone else in my shoes.
The Best Way to Choose a Paint Color Takes Your Trim into Account
Here's the trouble, Ross says: I never even thought about the trim in choosing the wall color. Especially considering that I was putting almost-white by another white, that was a giant error. So if you're about to paint a room, Ross has a must-do. 
"Instead of putting the swatch in the middle of the wall, put it next to the casing or the door," he says. Not only that, but put it up high and down low, and see it in all the lighting options (think: morning, evening, artificial). 
It's amazing how differently you can perceive a color based on what's next to it. But any apparent dinginess may not be caused by the colors themselves, Ross shares. "I always caution people that when you paint the walls and freshen them up, period, that sometimes can make your trim just look dingy," he says. While the freshly painted walls will "look really really nice, if you haven't painted your woodwork or trim, in a few years, [the contrast] is going to make it look faded or worn."
A Pro Painter's Trick for Brightening up Dull Trim 
Yes, you can fix the problem by repainting trim, but that's an awful lot of work. Ross's secret, though? Your solution may not actually involve paint at all. Especially if your trim was originally done with oil-based paint, which should last decades before yellowing, it may just need cleaning! If it's not too bad, the scouring action of a Magic Eraser can work wonders, Ross says, but his secret weapon is a product pros use called Dirtex. This is some heavy duty stuff that you can find at paint stores; pros often reach for it to clean surfaces before painting to ensure proper adherence. But Ross has also used it to save customers from even needing to paint when it turned out the only problem with their old paint was a buildup of surface grime in high-traffic areas.
In the case of my room makeover, a Magic Eraser helped clean things up a bit to make the trim look a little less gray against the wall color… but ultimately, I think the trim will need a re-paint that I hadn't initially planned for. (I'm thinking of using the same color that I used on the walls.)
The moral of the story? Next time I paint a room, I'll do a heavy-duty clean of the trim first, then check the swatch or sample right next to it. If it turns out the trim doesn't look great with my chosen color, better to know that going in — that way, I can plan to paint the trim, too, or simply pivot to a wall color that's a little more harmonious.