The One Kitchen Upgrade You Should Never Do Before Selling, According to Real Estate Agents
We independently select these products—if you buy from one of our links, we may earn a commission. All prices were accurate at the time of publishing.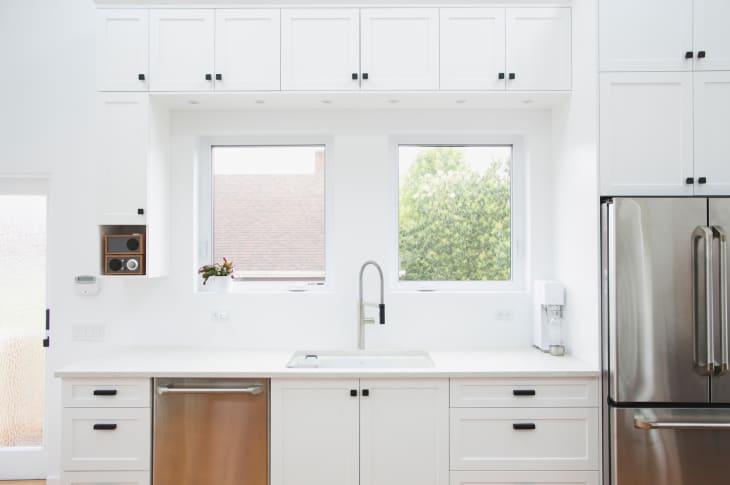 Thinking about adding a pop of color to your kitchen and modernizing it by painting over those honey-toned wood cabinets before you sell? 
Follow Topics for more like this
Follow for more stories like this
While it's true that minor kitchen remodels are among the projects that yield the highest return on investment when it comes to selling your home, there are always exceptions to the rule. In this case, real estate agents warn that you shouldn't take a DIY approach and paint your kitchen cabinets before you put your home on the market (or, worse, while it's listed).
This may seem confusing, because some of the most magazine-worthy kitchens have beautiful cabinetry in shades of earthy greens, navy blues, or warm beige-grays. But real estate agents say that it's a time-consuming DIY task that's just not worth it and, all too often, can go wrong. 
"Buyers may have their own preferences when it comes to the color and style of the cabinets in a home," says Amarilys Sanchez, a real estate agent with Keller Williams Miami Beach. "They may want to repaint the cabinets themselves to match their own personal tastes, which means that the work and expense of painting the cabinets before putting the home on the market would ultimately be for nothing."
If you were to hire painters, you're looking at paying between $890 to $1,500, but it could cost up to $4,000 depending on how many cabinets you have, according to the Thumbtack. Many real estate agents agree that it's not worth the money or time — and won't move the needle much when it comes to bids.
Theresa Raymond, a real estate broker in Sevierville, Tennessee, says painting kitchen cabinets requires several coats of paint and considerable drying time in between those coats. It could take up to six weeks to complete the project, she says, which could delay the time it takes to get your home on the market — and put your kitchen out of commission in the process.
On top of all that, painting cabinets can be a difficult task for amateur DIYers. The surfaces of current cabinets available for use in the market were all created to be easy to clean and stain-resistant. To get a new finish to stick to a wood-based cabinet, it takes some intensive prep work, says Martin Carreon, broker at SoCo Wine Country Properties in Santa Rosa, California. So, the prep work requires using strong degreasers, hand-sanding nooks and crannies, and stripping and replacing hardware components, he says.
Also, painting cabinets may look great the first time you do it, but over time, the paint will wear off and expose other layers that you're trying to cover up, says Michael Bondi, a Las Vegas-based Realtor. He suggests an easier touch-up: Orange Glo usually gives wood cabinets a nice deep shine that helps make older wood look refreshed. 
"I usually tell my selling clients not to overthink putting a lot of money into their home unless it is really needed," Bondi says. "Most buyers are aware that they are buying a used home."