Farrow & Ball's Unusual Paint Names Include One You're Probably Mispronouncing
We independently select these products—if you buy from one of our links, we may earn a commission. All prices were accurate at the time of publishing.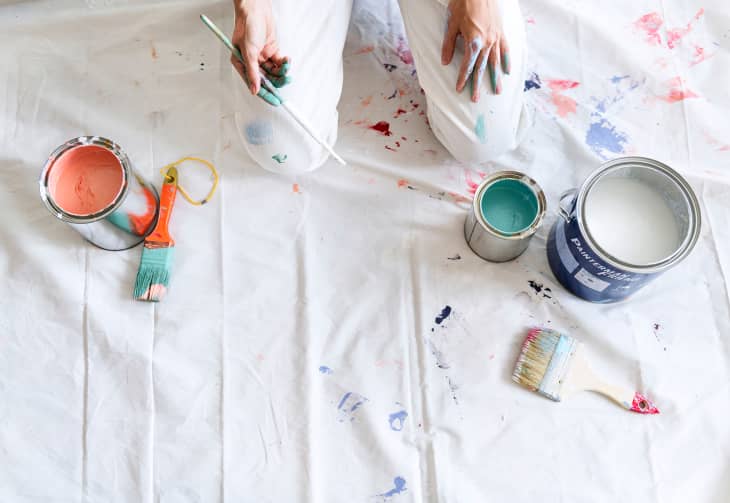 With paint colors like Broccoli Brown, Mole's Breath, and Salon Drab, one has to imagine there must be a tortured soul behind the naming of Farrow & Ball's array of paint colors. However, Joa Studholme, Farrow & Ball's color curator, is actually just having a bit of fun on the job. Domino talked to Studholme about how she comes up with the quirky color names, and unsurprisingly, each has its own story to share.
Follow Topics for more like this
Follow for more stories like this
"It's radically low-tech," Studholme said regarding the naming process. She's been with the company for over two decades. "There isn't an exact science to it in any way. It comes pretty much straight out of my head."
Studholme is both keenly aware of the yearly color trends, as well as what colors are most beautiful in nature. Every few years she comes up with a collection of nine to twelve new colors, and pairs each with a name that sets it apart from the crowd of potential similar shades.
"To me, naming a paint can be as important as the color itself," she said.
For example, one of Farrow & Ball's most appreciated and laughed-at color names is Dead Salmon, which is much more beautiful than its name suggests.
"Dead Salmon has a terrible connotation, but it's derived from an old painter's invoice that the team found at a historic hall in England," Studholme told Domino. "It's from 1805. Salmon is the color, and dead refers to the matte paint finish; it has nothing to do with the fish being dead, but put together, it's amusing."
Similarly, Sulking Room Pink sounds as though it may be quite the depressing shade. But it's far from that.
"In my head, I had it as the pink you'd find on an old kitchen dresser from the 1920s, but when I showed it to our head of creative, she said, 'Oh, it's a sort of boudoir color,'" Studholme said of Sulking Room Pink. "However, 'boudoir pink' is definitely not a Farrow & Ball name, so we tossed it around for quite some time, finally looking into why a boudoir was called a boudoir. It's from the French bouder, meaning 'to sulk.'"
And chances are, you've been saying Stiffkey Blue wrong.
"I like to make names that are difficult to say or have an intrigue to them…because it sticks in people's minds," she told Domino. "For example, Stiffkey Blue: Everyone pronounces it 'stiff key,' but it's actually 'stew key.' It's titled after a beach in Norfolk that I took my children to when they were little."  
Check out more of Studholme's insights over on Domino, and you can browse the multitude of colors she and her predecessors have come up with for Farrow & Ball here. Not only will you get some serious interior decor inspiration, but you'll also give yourself a little chuckle in the process.