This TikToker Shows That Painting Your Kitchen Counters Can Actually Look Great
We independently select these products—if you buy from one of our links, we may earn a commission. All prices were accurate at the time of publishing.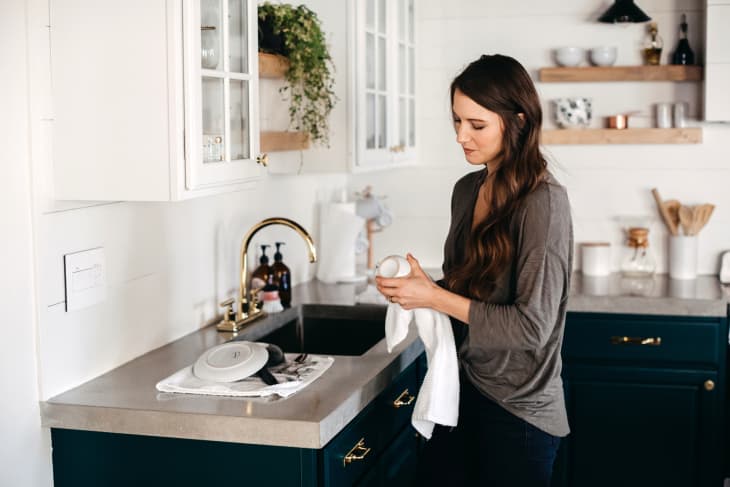 When it's time to do a kitchen renovation, the countertops are often the first thing on the list of things that need to be changed — and doing so is often one of the most costly parts of a kitchen makeover. But your existing countertops may actually be enough. One TikToker just painted her kitchen countertops, and before you have a flashback to that one bathroom makeover, this paint job was done right.
Follow Topics for more like this
Follow for more stories like this
"I painted my countertops because for some reason I have this idea in my head that everything is figure out-able and that if I watch enough YouTube videos I can do whatever I want," TikTok user Kilee from @rainbowkilee said in a March video. "I've never lived in a house with countertops that I actually liked, so I figured why not give it a go?"
She said that she got her paint kit off of Amazon "and it had a mix of reviews both from people who said it was amazing and people insisting they followed the directions but clearly did not. So just to be safe I read the directions three times."
First came three coats of white paint, then the veining to make the countertops look like real marble, and then the whole thing was topped off with a resin epoxy to prevent chips.
One person commented on Kilee's post, "I painted mine too and they held up for 10 years in a rental," so when done right, paint can actually work and work well.
Other TikTokers have used the same kit to redo their kitchen countertops, too, all with great success. The veining on Sierra's final product looks so much like the real thing, you'd have to do a triple take to see that it's just paint.
It even works over existing stone, not just laminate, as Nicole found out.
So before you make arrangements and shell out the cash to get your countertops replaced, try out this paint kit first. You may find yourself with a fresh new kitchen and money in your pocket.