Turns Out, the Era of Zoom Calls Has Helped Declutter Homes
We independently select these products—if you buy from one of our links, we may earn a commission. All prices were accurate at the time of publishing.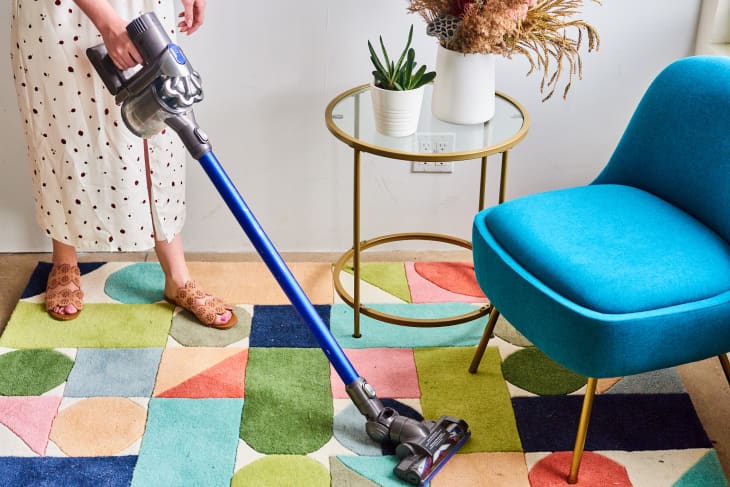 Follow Topics for more like this
Follow for more stories like this
Cinch surveyed over 1,000 Americans about their cleaning and decluttering habits during the pandemic to get a sense of how these habits differed from pre-coronavirus times, how respondents are decluttering, and the overall benefits of cleaning, if any. The key findings? 64 percent of respondents reported intentionally cutting back on purchases to help keep their spaces decluttered (Kondo would be so proud), while 70 percent reported going on a cleaning spree since the beginning of the pandemic in early 2020.
In terms of the current state of their spaces compared to pre-pandemic times, 44.8 percent of respondents said their spaces were much cleaner now, while just 13.5 percent said their spaces were messier. (This is a no judgment zone.)
Additionally, while Zoom fatigue got the better of many Americans during these past few months, there has been one (relatively) bright spot to the technology overload: nearly 73 percent of respondents said they cleaned or tidied up their spaces prior to a virtual Zoom call. (Whatever gets the job done, right?) Alternatively, 18 percent of respondents said they used a digital background to hide messes or untidy backgrounds. (The ultimate life hack.)
While the act of cleaning and decluttering can sometimes feel overwhelming, much of the respondents cited positive impacts. About 75 percent of respondents, mostly millennials, cited cleaning as an act of self-care. Nearly 68 percent said cleaning increased feelings of productivity, about 65 percent cited feelings of control, and nearly 58 percent said cleaning provided motivation. Tell us: have you cleaned and/or decluttered more or less since the start of the pandemic?