This Simple Pantry Staple Makes Cloudy Glasses Look Brand New
We independently select these products—if you buy from one of our links, we may earn a commission. All prices were accurate at the time of publishing.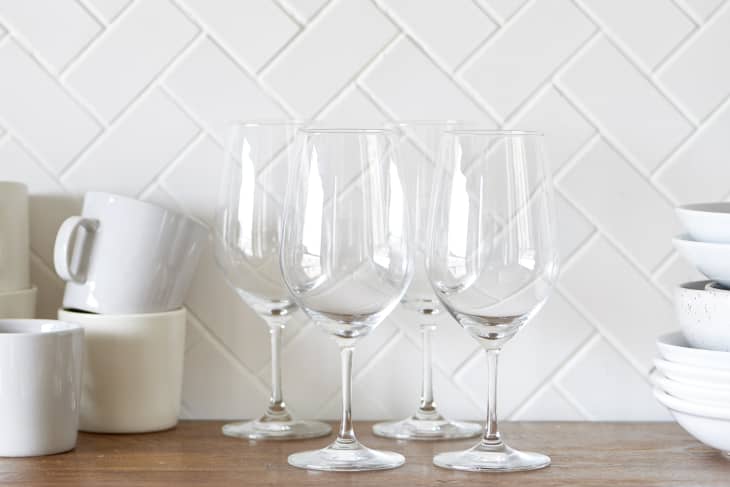 Picture this: You're preparing to have guests over for the first time in a long time. You've readied all the appetizers and finger foods. You've chilled the wine and made sure you have enough ice. You've been to the grocery store anywhere from one to four times for last minute odds and ends, set the music, and made sure you have enough plates and napkins. Just before people start arriving, you reach for the wine glasses and tumblers on the shelf to display them for visitors. But there's a problem: the glasses are cloudy and stained, making them look old and dusty at best and flat-out dirty at worst.
Follow Topics for more like this
Follow for more stories like this
If you've found yourself in a situation that sounds similar to this one, then you probably know just how frustrating it can be to go through the trouble of washing and drying glasses only to realize they're cloudy when you're finally ready to use them. If you deal with hard water at home, this can be an especially frequent problem. Hard water means that the minerals in your tap water leave behind a residue on glasses. Though they're harmless, they can be pretty stubborn and unsightly. Luckily, though, there's a simple solution to these types of stains and smudges that can likely be found in your kitchen cabinet: vinegar.
By using a simple vinegar soak on glasses, you can quickly eliminate any cloudiness present on wine glasses or any other type of glassware. According to the Kitchn, the easiest way to eliminate stains is to start by filling a container with a diluted vinegar solution (equal parts water and vinegar). Next, soak the glassware in the vinegar-water solution and let them sit for 30 minutes or so. After the time has passed, take one of the pieces out of the solution, and give it a rinse under the tap. If it's still cloudy, repeat the process for another 30 minutes. Finally, dry the glasses off with a clean cloth (flour sack cloths are particularly great at drying glassware safely, according to Southern Living).
This simple soaking method will cost you almost nothing and will almost certainly work to remove any hard water stains. If you go through this whole process and the stains still remain, though, it's worth considering that your glassware may have an etching issue. According to the Kitchn, etching can look like hard water stains and cloudiness, but it's actually a permanent mark caused by extremely hot water, overly soft water, too much detergent, or over-cleaning your dishes. Unfortunately, etching can't be removed the same way hard water stains and cloudiness can, and the damage it causes is likely permanent. 
Odds are, though, that you're dealing with a hard water problem, so be sure to stock up on white vinegar the next time you're at the grocery store. Even if you've never dealt with hard water stains or cloudy glasses before, it's better to be safe than sorry and have it handy for the next time you need to prepare for a dinner party or get-together.