Paul's East Village Apartment With a Sense of Adventure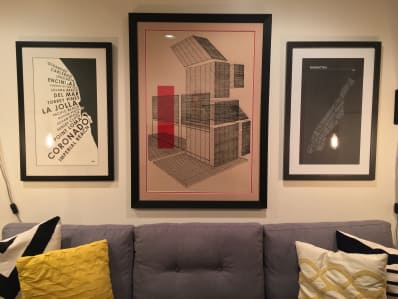 (Image credit: Submitted by Paul)
Name: Paul
Location: East Village — New York, New York
In a pink building nestled on the only quiet street in the East Village neighborhood of New York City, Paul lives in a 650 square foot, one bedroom apartment that blends modern, music, surf, street art and wanderlust in a way that is both inviting and aspirational. His style combines vintage design with different materials and imagery that lets him feel comfortable while providing a sense of excitement.
(Image credit: Submitted by Paul)
With the first statement being a Hemingway-inspired vintage Spanish bullfighting advertisement, Paul wants his visitors to feel the rush of excitement as well as a sense of wanderlust when they first enter the apartment. He continues the tour with a pair of antique Turkish Kilim rugs creating divided spaces between the dining area and living room with the modern furniture bringing together the clean lines with the unfinished sense the rugs provide. The art is only the beginning of Paul's songline from the West Coast to Manhattan, all while the immersion of music starts to take shape.
(Image credit: Submitted by Paul)
Into the bedroom, you start to get a sense of Paul's passion. A pair of guitars hangs next to a pair of motorcycle helmets that combines the calmness of music with the adrenaline of the open road. The vintage Cuban cigar box holds the accouterment for the guitars while the sunrise picture from Zurich creates a longing for escape. The combination of Buddha, the surfboard and succulents creates a calming sanctuary where Paul can relax, as well as work. On the floor sits a combination of rugs, an Australian sheepskin and a Pueblo rug that give texture to the wood floors.
(Image credit: Submitted by Paul)
To wind down the tour, over the bed (and in the Kitchen) hangs a trio of street art watercolors from an unknown street artist in Southern California named Bert. After each stop in the World Surf League championship, Bert creates street art masterpieces of the winner that shows the personality of the winner with an action of how they won. Bert then creates limited edition watercolors of each winner. These are some of Paul's prized possessions.
(Image credit: Submitted by Paul)
In the swirl of chaos that is Manhattan, Paul has figured out a way to stay calm while keeping his sense of adventure in his East Village apartment.
Thanks, Paul!
• Interested in sharing your home with Apartment Therapy? Contact the editors through our House Tour & House Call Submission Form.