Maria and Tristan's Colorful, Art Filled Home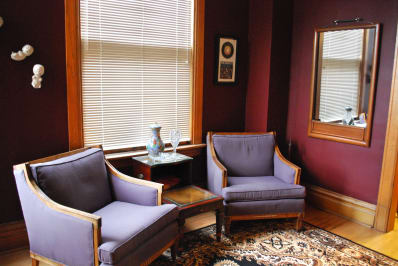 Name: Maria and Tristan
Location: Chicago, Illinois
My husband Tristan and I have shared this classic Chicago graystone apartment together for a little over 3 years. It is roughly 1,200 sq. ft. with 3 bedrooms and 1 bath, featuring a giant kitchen, and separate dining room. We moved here from a very small garden apartment with low ceilings and little light, so we instantly fell in love with the 12' ceilings, giant windows, and nearly double the floor space.
I am not a huge fan of blank white walls so ours are filled with color and texture and art. My favorite decor element is all the art and objects we have collected over the years. We are both graduates of the School of the Art Institute of Chicago and are surrounded by a community of creative people. I am proud to display the artwork of many of our close friends as well as some of our own (like the 3 bicycle prints in our bedroom made by Tristan). We also love finding pieces from local art fairs and galleries, thrift store, and of course Chicago's famously extensive alley system. I am a big believer that anything can be beautiful if you put it in a nice frame or present it well. Art is often about context.
Much of our furniture is sourced from back alleys and craigslist. Although some of it is not very attractive by itself, we do our best to spruce things up with smart decorating. Like the dining room table, which was found in an alley looks, looks much nicer with fresh flowers, a table runner, and ceramic collection as a centerpiece.
We have also just bid our apartment a fond farewell, when we moved out mid-August. We recently purchased a gorgeous 3-flat nearby that we will be rehabbing and converting into our family home. We are documenting our progress at thehummelhouse.tumblr.com. We have made a lot of memories in this apartment, and I can't wait to make more as we embark on our new adventure as homeowners.
Thanks, Maria and Tristan!
Interested in sharing your home with Apartment Therapy? Contact the editors through our House Tour & House Call Submission Form.