Piñatas, A Christmas Tradition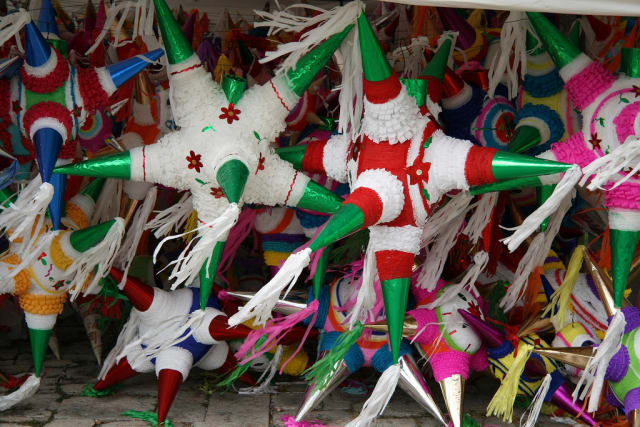 In Mexico, Christmas festivities officially begin with the Posadas, a series of nine parties occurring every day from the 16th until the 24th of December. Posadas are said to have been invented by the Spanish priests who in their attempt to convert the locals to Catholicism began holding nine masses before Christmas due to the similar timing of the celebration of the birth of the Aztec god of war, Huitzilopochtli. This gave way to the syncretism of both traditions, melding both the Aztec and Catholic holidays into one.
Posadas occur in the evenings, consisting of a reenactment of Mary and Joseph asking for lodging before arriving at the manger. During this reenactment, half of the people stay inside, these are the innkeepers, and the other half goes outside singing and asking for lodging in a candlelit procession that lasts until they reach the place of the party (where the innkeepers are). Once they let them in, the party begins. During the party, Christmas carols are sung, fruit punch is consumed, and a star-shaped piñata is broken. This is the original use of a piñata, a custom that was later adopted for use in birthday parties and other festivities.

Although piñatas have largely lost their religious connotations and are now made in a wide variety of shapes, the traditional piñata is star-shaped and has 7 points, symbolizing the seven deadly sins that are broken by the stick, representing the strength and faith in God. The person attempting to break the piñata must be blindfolded. Once the piñata is broken, the filling, consisting of traditionally candy, fruits and peanuts, is released for everyone to enjoy.

Traditional piñatas are made with a clay pot that is covered in paper maché and decorated with colorful paper. To take a closer look at how they are made take a look at this Piñatas! post on Mexico Cooks!

To make your own piñata for the holidays, you can use a balloon covered in paper maché as a base, adding different shapes and decorations to that. Detailed instruction on how to make one at home: How to make a piñata
If you are looking to buy a piñata online, you can sometimes find them on eBay (like this one) or we really like these piñata-style ornaments (above) on Etsy.
Apartment Therapy supports our readers with carefully chosen product recommendations to improve life at home. You support us through our independently chosen links, many of which earn us a commission.