There's a Pirate Ship House Boat For Sale in Virginia, and It's Only $49,000
We
independently
select these products—if you buy from one of our links, we may earn a commission. All prices were accurate at the time of publishing.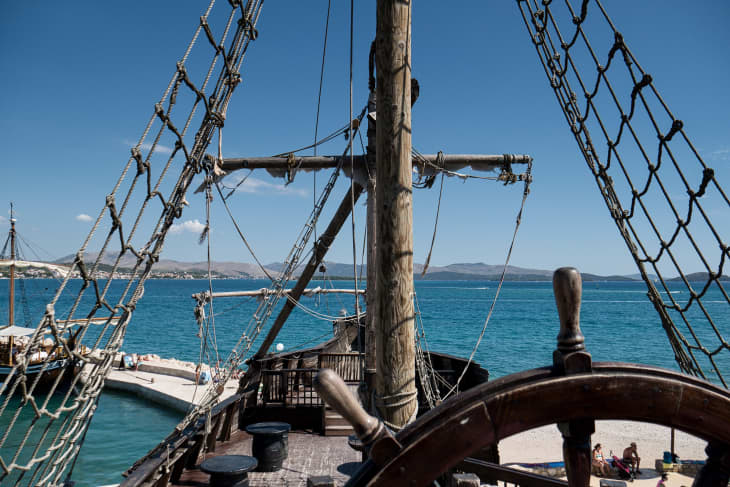 If you're on the hunt for your dream home and don't mind getting a bit lost at sea, one Virginia listing might just be the floating oasis you've been searching for. According to a listing posted in the aptly titled Facebook group Pirates, Mermaids, & Scallywags, there's a pirate ship house boat for sale located on the lower Potomac River, and it'll only cost you 49,000 doubloons to make it your own.
According to Fox 5 DC, the ship is based in Callou, Virginia and was built by Dan Corder, a retired Loudoun County firefighter. Corder told the local outlet that he has bought old boats that are "left for dead" for years, sprucing them up and turning them into something you might see out of "Pirates of the Caribbean." "It's an exercise in renewal," says Corder, "giving life to lifelessness." So far, he's lovingly worked on 33 boats, including the one currently up for grabs for $49,000.
After buying a boat from his neighbor and transforming it into a real-life pirate ship, Corder now calls it his hobby, doing it not for profit but to bring joy to those who are eager to own their very own swashbuckling ship on the high seas. He works day and night on each boat, with his latest viral listing taking three months to complete. 
Corder works with materials he finds around town, and the latest one up for grabs includes plenty of mermaids, cannons, and, of course, a skeleton crew. The only problem? He can never find enough skeletons to suit the theming of his ships. "The problem that I have with them is no matter how many you buy, I never have enough."
He has continued his passion project after the death of his wife Denise due to ovarian cancer five years ago, sharing that she always supported his "eccentric" habit. "Last thing she said to me was, 'I want you to be happy'. I'm happy. This is what I do," he says.
It didn't take long for the listing to appear on Zillow Gone Wild, with commenters joking about the unconventional house boat, which comes with a fully equipped kitchen, bedroom, and bathroom. "You can find this on AaarrrghBnB," joked one. Another wrote: "A.HOA MATEY?! 🏴‍☠️." Yet another asked: "Seriously, who says home owner-ship is out of reach?!" And others gave their stamp of approval, with one writing, "I could get on board with this."
Corder told Washingtonian that he's received hundreds of offers from folks who want to buy it sight unseen — some as far away as Australia — but as with all his projects, he's determined to find the right owner. As he put it, "I don't sell something to somebody that they don't come to see and feel. Anyone can own a boat, but you are the coolest kid on the block if you got a pirate ship."