Need Everyone to Chip in With Cleaning? The Answer is Pizza, Plus This Fun $50 Kitchen Accessory
We independently select these products—if you buy from one of our links, we may earn a commission. All prices were accurate at the time of publishing.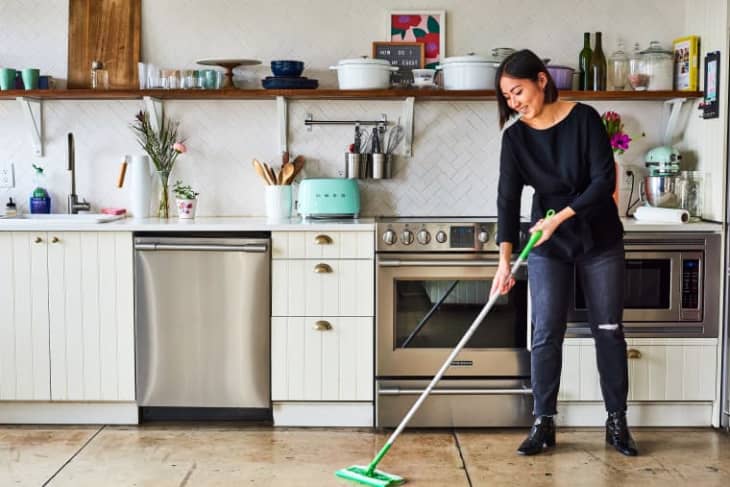 Pizza toppings are one of life's greatest debates, but what everyone can agree on is that the cleanup is never as fun as the eating part. If you've thought ahead, "after-dinner cleanup" is already on a chore chart. But if you're the type to play it by ear, you might need some help. Enter the Pizza Roulette Cut & Serve Board, an Uncommon Goods exclusive, designed to make the ever-looming task of cleaning up after dinner a lot more fun.
Follow Topics for more like this
Follow for more stories like this
The serving board features eight slice-shaped panels with individual instructions. Two lucky spaces give the benefit of enjoying another slice while the six that remain direct eaters to their post-pizza chores. The duties that could be revealed are: clean the floor, clear the table, wipe the counters, take out the trash, and wash the dishes. Additionally, there's one "Trade Your Chore" slot that gives the option to relinquish cleanup responsibility to another. Is there constantly a battle over who gets the last slice of pie? Don't worry, there's a panel for that, too.
Reviewers say that it's "a perfect way to get the kids to help in a funny way," and aside from the family aspect, it could solve more than a few housecleaning debates between roommates. Piling up the dishes for a week and then settling the score with a game of roulette isn't recommended, but what better way to solve a problem than with pizza? Having food tell you what to do just might make housework a little easier to swallow.
One criticism of the board is that it's a bit of a challenge to clean, which may be due in part to the grooves between each panel. However, with the right cleaning tools, you'll be able to get that cheese and pizza sauce right out with the help of warm water and soap. Because it's made out of bamboo, pat it down with clean cloths to dry immediately. The board is half an inch thick, so you're able to store it with your cutting boards or prop it up against the inside of a kitchen cabinet to preserve space under the counter.
The Pizza Roulette Cut & Serve Board comes with a pizza dough recipe to get you started. If making your own pizza isn't your thing, the board measures 13.5 inches in diameter, making it the perfect size for the Medium 12″ pizza you'd get when ordering out. No matter which way you slice it, the pizza roulette is a fun method of chowing down and passing the time. With the chores getting doled out while everyone eats, there's not much left to do other than simply enjoy your meal in good company. May the odds be ever in your favor.