This Renter's Apartment Is a Love Letter to Her Ancestors, Homeland of Punjab, and Social Justice Work
We
independently
select these products—if you buy from one of our links, we may earn a commission. All prices were accurate at the time of publishing.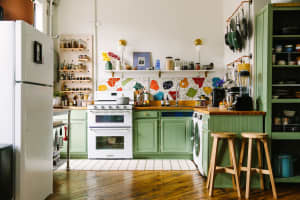 Can't-Miss House Tours Straight to Your Inbox
Keep up with our latest house tours each weekday with our House Tour of the Day newsletter
Name: Sonya Soni
Location: Playa Vista, California
Type of home: Apartment
Size: 912 square feet
Years lived in: 2 years, renting
Tell us a little (or a lot) about your home and the people who live there: Over the last decade my experience of home amounted to a suitcase, working in war zones and rural communities across South Asia and East Africa. And so I was deeply grateful to finally dream up a home that became my consistent refuge, especially amidst the sociopolitical turmoil I experienced in my work and with the personal uncertainties we all faced in the pandemic. As a child rights policymaker, I work with youth who have been separated from their homes and families and relocated to orphanages and foster homes, and so I never want to take for granted what having a stable, safe sense of home feels like. Day in and day out listening to the stories of foster youth, from South LA to South India, have allowed me to reflect deeply on the themes of home, identity, belonging, and ancestry, and so each wall tells a story about where I come from and what I value. I aspired for my space to evoke an aesthetic of both deep poetic meaning and playful, whimsical joy.
My studio is both a museum and an altar to my family's memories of partition, migration, and cultural richness, with indigenous art, sepia tone photos, and Indian block print textiles dotting every nook and cranny. Almost every piece of furniture or social justice artwork was sourced by local artists or artisans to honor the local communities I have worked in. I also wanted to elevate the indigenous aesthetics of the Global South, which are often used as "handicraft" accents rather than as sophisticated, complex main features of a home. In India, hospitality is in our DNA; we have a saying, "Guest is God." Despite my nerdy love for the technical aspects of design, I always wanted to prioritize warmth and coziness, and the way a guest feels welcome when first stepping into my home.
As an anthropologist, activist, and daughter of an Indian immigrant family, my home is a love letter to my ancestors, my homeland of Punjab, and my social justice work that has gifted me the opportunity to expand my definition of home, living for the past decade across many borders and time zones. I cannot separate my understanding of home without infusing identity, memory, and ancestry into every design opportunity: heirlooms from my work travels in East Africa and South Asia, such as a wedding milk pot from Mbarara, Uganda gifted to me that sits on my coffee table; a bench at the foot of my bed that is a modern take of the "charpai," a traditional bench made of jute and wood that is used as a bed and gathering place in villages across India; a repurposed Indian daybed (aka "diwan") as a sofa; sepia photos of my great-grandmother protesting British colonial empire as a freedom fighter; poems on love and longing written by my grandfather; the Indian drums ("tablas") in my bedroom as an ode to the music my grandfather filled my childhood home with; watercolor portraits of rickshaw drivers by Indian artist Rajkumar Sthabathy, who paints India's day laborers with dignity who are often rendered invisible; vibrant, colorful Indian block print pillows and blankets that reflect my country's indigenous dyeing and handloom techniques, such as ikat, which embed deep symbolism in every pattern, as well as our local materials, such as khadi (raw cotton that Gandhi and other freedom fighters used as a means to resist reliance on British colonial resources and promote self-sufficiency).
Describe your home's style in 5 words or less: Indian bohemian, nostalgic, organic, peaceful
What is your favorite room and why? It has always been my dream to create a cozy reading nook in my home since the presence of books are what make me feel most at home and connected to a space. As an avid book nerd, having a sacred, intimate corner to get lost in my favorite book spines and daydream with a cup of chai and mangoes brought me back to my childhood memories of finding the perfect quiet spot in our family home in New Delhi to hide out in and read my heart away. I used a vintage carved chest to serve as the base for the reading bench and I placed a few Indian pillows on the bench, alongside a Tibetan singing bowl and a stack of books, right next to an Indian carved bookshelf featuring poets, abolitionists, and social scientists who have shaped my world views in the most intimate of ways, from James Baldwin to Arundhati Roy. Since the reading nook faces floor-to-ceiling windows, trees from the outside fill one side of the space and an indoor jungle of vines, a fiddle leaf fig tree, and plants in African baskets and Indian pots fill the other side, in order to feel like I am reading in a forest under a tree.
What's the last thing you bought (or found!) for your home? The last piece I bought for my home was a vibrant Gond painting of an intricately painted elephant and bird under a large Mahua tree. The folk art tradition comes from one of the largest tribal groups in central India that dates back 1,400 years ago. Intricate lines, dots, and dashes comprise complex patterns in the animals and natural elements they paint as a means to symbolize and archive their history, dreams, and emotional landscapes. The Gond tribe covers their walls and floors with these motifs as a means of good fortune, and I thought to do the same with this painting. There is a movement of revolutionary Gond artists who are showcasing to the global art world that their indigenous communities are so much more than what they are traditionally thought to be.
Any advice for creating a home you love? I have found that the homes I have come to love the most are ones centered in the values and memories where I derive my deepest joy and meaning from. And for me, those values are love, childlike wonder, learning, laughter, community, and justice, and so I try to fill my home with photographs, objects, and furniture that will embody those values I hold most dearly. For instance, to honor community building, it was really important to me that even in my small studio, I create a dining area that would accommodate regular dinner parties with loved ones. In another instance, to honor laughter and playfulness, I intentionally placed the artifacts of my life throughout my home of framed photos and souvenirs from different eras and places that dot my life, and that made me chuckle or smile as I passed by them. I also believe that a home can transport you to those memories and parts of yourself beyond the physical furniture and decor, and involve all our senses — I often play Urdu ghazals and classic Bollywood music in the background, use tea lights and light incense, and fill my countertops with jasmine, marigolds, and tuberose, the flowers of India whose scent connects me so deeply to my homeland. I also believe that a home feels most comfortable to live in when it reflects the inhabitant authentically without the pressure to fall into interior design trends that can sometimes render a space technically perfect, but generic and sterile.