Playful Prints Meet Bold Colors in This Asheville Home
We independently select these products—if you buy from one of our links, we may earn a commission. All prices were accurate at the time of publishing.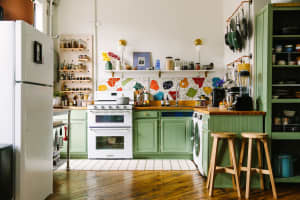 Can't-Miss House Tours Straight to Your Inbox
Keep up with our latest house tours each weekday with our House Tour of the Day newsletter
Name: Gwenn Frederick, husband Brian and mini Irish Doodle Winston
Location: Asheville, North Carolina
Type of home: House
Size: 2,340 square feet
Years lived in: 2.5 years, owned
Tell us a little (or a lot) about your home and the people who live there: We bought this house in July of 2020 — my husband was on the fence, but I knew I wanted it right away. We went to see it once and then headed out of town — me writing an offer from the passenger seat. Even though it was renovated (newer kitchen, updated bathrooms, finished upstairs suite) I had all kinds of plans to make it ours. We started renovating homes for resale not that long ago and because it wasn't a full reno (we didn't have to do new plumbing, electric, HVAC, roof, etc. like we normally do), I really had fun jumping right into the design with this one.
The kitchen had great elements: good space, quality cabinets, a farm sink, and quartz countertops, but it was definitely what I would describe as neutral. At first I wanted to paint the cabinets but then decided to embrace the dark knotty Alder wood. Now I can't imagine it any other way. We replaced a pot rack with floating shelves, added a blue penny tile backsplash and dark, moody floral wallpaper. New brass pulls, brass light fixtures, and a black faucet made it feel just right.
We went on to add wallpaper touches and to re-paint almost every room. I painted the fireplaces and added starbursts to the exterior doors. I have a staging business and I had big plans for the basement, which I wanted to use as my storage unit. We had the garage doors removed (it was a tuck-under garage) and added mid-mod style double doors and multiple windows. The outside was eventually painted black using mineral paint, which is actually good for brick. That paint job transformed the outside completely! While I really liked the inside of the house when we bought it, I was pretty indifferent to the outside. Paint is a miracle worker!
About four years ago, I made the leap from teaching to real estate. We have renovated five of our own houses, each unit of a beautiful old fourplex and four additional homes (three we sold and the fourth we kept as a short term rental). I didn't hold back much when designing the houses we sold, and to my delight, people reacted very positively! I think there are quite a few people out there who don't aspire to live in a neutral setting. They want a vibrant, colorful space that makes them feel inspired and playful. Besides the renovations, I started a staging company that I really enjoy. I didn't really know if it would take off, but it has and I like being able to help sellers and other agents make houses more appealing to buyers using colorful furniture and accessories.
My latest interest is kitchen design for others — we'll see how that goes! I love all aspects of design — from figuring out how to make a floor plan better to choosing finishes. To answer the question, I think my personality comes out in the design choices I make, especially in my personal homes and I really do tend to identify with the spaces. I recently realized that every wallpaper I have chosen in this house and in our rental feature animals of some sort. Animals, flowers, unexpected patterns — I love them all!
Describe your home's style in 5 words or less: Playful prints meet bold color
What is your favorite room and why? That's a tough question and I think it changes from time to time. I think currently my favorite room is the upstairs sitting room. I just love how it came together — we added a closet, a rabbit wallpaper accent wall, sconces with antlers, painted the stairwell pink and added a runner. I am also proud to say I made the window seat cushion in an upholstery class that one of my sisters and I took. I love sitting in that room and being able to see into the bathroom and the bedroom (more wallpaper!). It all just makes me happy.
What's the last thing you bought (or found!) for your home? The sweetest little green vase from At Home. It lives on the mantel in my office and looks awesome in front of the lynx wallpaper by Emma J Shipley in the pink colorway.
Any advice for creating a home you love? Make sure you genuinely like everything you choose to put into your home. Pick things not only based on how they look but on how they make you feel. I know I like a wallpaper pattern when it makes me swoon a little lol. Make mood boards so you can see all the design elements together. Pick a color scheme for your home but don't be surprised if the plan changes over time — trust your gut. Don't be afraid of color and pattern. Don't be afraid to use paint on almost anything — just research how to do it the right way. We painted wood floors in our rental and I just love how they turned out. I think the main point I want to make is to take some chances. Another example: I used a stencil (daunting for some reason!) on two patios now with really fun results because I realized the worst thing that could happen is I might have to paint over it!