Poet Morgan Parker's LA Apartment Features Great Art, Cool Books, and One Seriously Sexy Sectional
Poet Morgan Parker's LA Apartment Features Great Art, Cool Books, and One Seriously Sexy Sectional
We independently select these products—if you buy from one of our links, we may earn a commission. All prices were accurate at the time of publishing.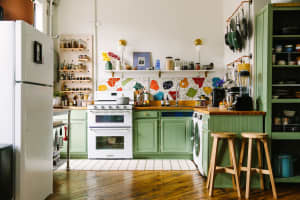 Can't-Miss House Tours Straight to Your Inbox
Keep up with our latest house tours each weekday with our House Tour of the Day newsletter
Name: Morgan Parker and dog Shirley
Location: Los Angeles, California
Size: 1000 square feet
Years Lived In: 1.5 years, renting
Morgan moved to this Los Angeles apartment from New York only one and a half short years ago, but in that time she has outfitted the place almost entirely with new (to her) furnishings. Being a writer to the core, she couldn't bear to part with her books/bookshelves in the move, but pretty much everything else was purchased locally once she arrived. Loving the hunt of a good vintage find, she scoured the city for pieces that matched her historic apartment's storied vibe and her personal taste. Between Craigslist, thrift stores, vintage shops (like Sunbeam Vintage, where she scored her sexy green sectional), and a few clever sources, she designed an inviting home that represents her unique personality.
While pulling her home's decor together, she also completed her recently published poetry collection "Magical Negro" (Tin House, February 5, 2019) and her forthcoming debut young adult novel "Who Put This Song On?" (late 2019). Writing from home, Parker admits she draws inspiration from the things she is surrounded by, which is why art and her home's aesthetic has always been important to her.
Walking into her home on a dark and rainy Los Angeles day (like the day of this Apartment Therapy photo shoot), was the kind of experience one would expect to pay for at a literary museum that offered a romantic peek into the "life of a writer." The lighting was dim and moody, the walls were lined with books and thoughtful art, Billie Holiday was playing on vinyl, and the coolest sofa that's ever existed seemed to be posing for a centerfold in the middle of the living room. It felt a little like an underground beatnik hideaway circa late 1960s, which seemed very appropriate, given its current resident.
Apartment Therapy House Tour Survey:
My Style: Post-mid-century modern, Black Wes Anderson; 1972 Black Literati Poetry Salon
Inspiration: Mixed patterns, Black Americana objects, Mickalene Thomas, vintage jazz album cover designs, libraries, bossanova jazz, the Black Panthers, "Mad Men"-era cocktail parties and the episodes where Don goes to California.
Favorite Element: Space! I moved into this apartment from New York, and needless to say it feels huge in comparison to my Brooklyn apartment. There's even space for a little laundry room, and a couch in the bedroom. Most importantly there's wall space for art and books; it's a fun place to work.
Biggest Challenge: Layout. Because there is so much open space, I wanted to make good use of it. My mom and I tried about eight different layouts in the living room when I first moved in. The living room space is also an office and also a dining area, and I wanted it to feel open but function as separate rooms. I move my furniture around a lot, as I integrate new pieces.
What Friends Say: My apartment has been described as "1970s Black Supremacist," and like being inside of one of my poems. My mom calls it "the museum," and "definitely a writer's home."
Biggest Embarrassment: I mean, there's a naked drawing of me in my bedroom, done by my roommate at art camp when I was 17.
Proudest DIY: My IKEA LACK table hack; re-igniting the pilot light on my ancient heater (for the record, I do not recommend doing this alone).
Biggest Indulgence: My vintage sectional. It was sort of an impulse buy; as soon as I saw it I had to have it. I wasn't even sure if it would fit in my living room! But come on, it's the original fabric and everything.
Best Advice: Make your space reflect you, completely and unabashedly.
Dream Sources: My favorite used furniture store in L.A. is Wertz Brothers. I'd love to go there with an unlimited budget.
PAINT & COLORS
Not sure! The apartment happily came painted as-is.
ENTRY
Shoe Rack — IKEA
Nightstand — Wertz Brothers
2×3 Rug — Pier 1
LIVING ROOM
Glass Table — Craigslist
2×4 Shelves — IKEA
Coffee Table — Salvation Army
Side Tables — Salvation Army
Couch — Sunbeam Vintage
Small Bookshelves — Target, Amazon
Tall Oak Bookshelves — Craigslist
Prints and Posters — Museum stores
Poster Frames — IKEA, Target, Macy's
Lamps — Thrift stores
Vintage Jet Magazines — The Melrose Flea
Faux Fur Throw Pillow — Urban Outfitters
Bright Floral Throw Pillow — Urban Outfitters
Panther Throw Pillow — Target
Grid Throw Pillows — Anthropologie
Lounge Chair — Craigslist
Ottoman — West Elm
Vases — Thrift stores and repurposed IKEA glass
Cowhide Rug — IKEA
Curtains — IKEA
DINING ROOM
Dining Table with Four Chairs — Craigslist
Sideboard — White Buffalo Furniture
Caboodle — Urban Outfitters
Desk — Hand-me-down
Barware — Thrift stores
Floor Lamp — IKEA
Black 2×2 Shelf — IKEA
Desk Chair — Literally $5 at goodwill
Bell Jar — IKEA
Rug — Target
Small Black Table — IKEA
Cart — IKEA
4×4 Shelves — IKEA
KITCHEN
Kitchen Cart — IKEA
Curtains — Target
Floor Lamp — IKEA
Table — IKEA, but I got it from Craigslist
BEDROOM
Bed Frame — IKEA, but I got it from Craigslist
Couch — West Elm
Curtains — IKEA
Shoe Racks — IKEA
Standing Mirror — Target