This TikToker's Ingenious DIY Created Incredibly Cool, Custom Knobs
We independently select these products—if you buy from one of our links, we may earn a commission. All prices were accurate at the time of publishing.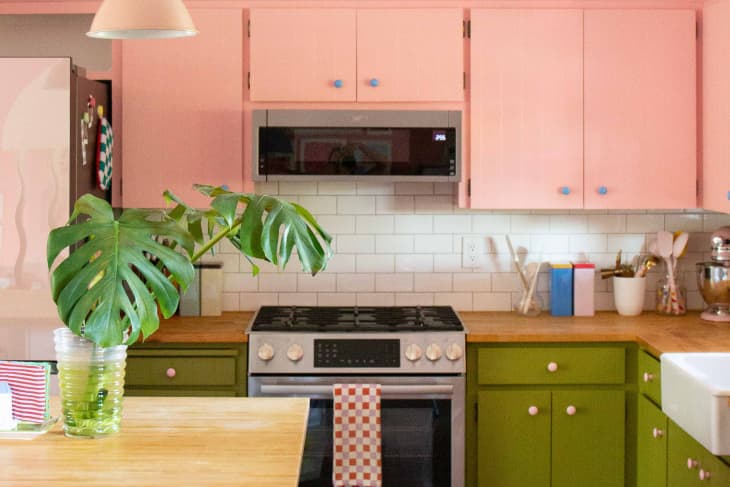 Updating the entire look of your kitchen or bathroom cabinets, or even a piece of furniture like a dresser, can be as easy as simply replacing door and drawer knobs. Buying a new set is an option, as is DIYing your own. Upgrading the door and drawer pulls can be a way to extend your personality into your home as well as create a one-of-a-kind-space, and the incredibly adorable DIY fruit-shaped door pulls by Kaitlin of Room in Bloom NYC are the perfect example of how to do it.
Follow Topics for more like this
Follow for more stories like this
Kaitlin, a self-proclaimed NYC-based plant parent offering guides and consultations all about plant care on her website, first posted about her fruit knobs on TikTok. Featuring a peach, cherry, watermelon, lemon slice, orange slice, strawberry, blueberry, avocado, pomegranate, corn, apple, mini pumpkin, and a bunch of grapes, commenters were quick to demand that she begin making and selling them.
I'm still hoping Kaitlin does end up making more and selling them, but in the meantime, she's graciously offered up a fruit knob tutorial on TikTok, and while the end result is gorgeous and looks complicated to make, I predict the process is actually doable for most folks.
I started playing around with oven-bake polymer clay last year (I was buying WAY too many pairs of clay earrings and decided to try my hand at making them myself), and while it can be sometimes frustrating to get the perfect texture on your finished piece, the actual mechanics of polymer clay aren't that hard to get the hang of. You can pick up polymer clay from most craft stores or online — two top brands that I've used before are Sculpey and Fimo. The clay comes in a variety of colors and is soft and pliable right out of the package. I can also tell you from experience that while some tools made for clay can be helpful, it's not a requirement to spend a ton of money — you can also just use tools you have around your home to shape and sculpt shapes like fruits.
After Kaitlin finished sculpting her sweet masterpieces, she very brilliantly made screw holes in the fruit while they were still soft. After baking the knobs in the oven (you can often find directions for oven-bake polymer clay baking temperature and time on the package) until they were hardened, Kaitlin protected her knobs with a clear coat of spray, and then screwed them on using what she says is a "tiny bit of glue and that's literally it."
Look, I don't know if I have the talent to make little miniature fruits that look as good as Kaitlin's do, but I can promise you that polymer clay is easier to work with than you might think. And if fruits aren't your thing, the best part about clay is it's available in every color of the rainbow, so you're only limited by your own imagination (and your ability to sculpt realistic looking shapes) — so this idea could be used for 3D vegetables, animals, flowers, shapes, anything, really! And, thanks to the popularity of clay earring crafts in recent years, you can find clay cutters in a TON of different shapes, meaning you could even make stylish 2D clay door knobs, too!