How This TikToker Covered Up Their Popcorn Ceiling on a Budget
We
independently
select these products—if you buy from one of our links, we may earn a commission. All prices were accurate at the time of publishing.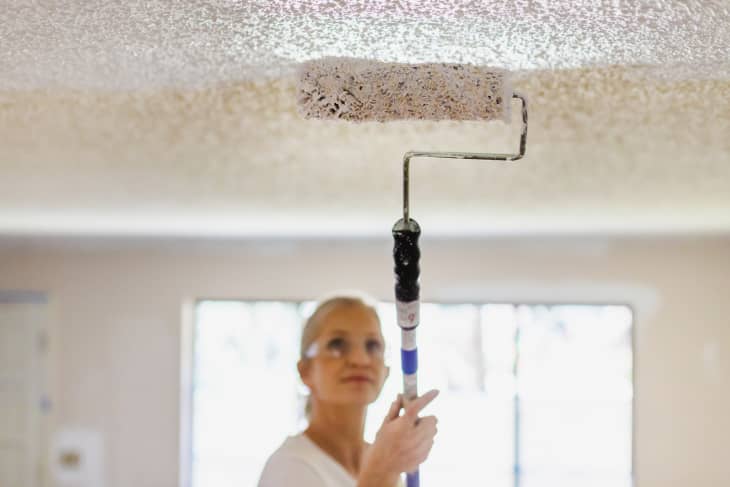 Popcorn ceilings are the bane of every new homeowner's existence. They're ugly to look at, impossible to clean, and a real pain in the neck to scrape and remove. So when one pair of new homeowners moved into their 1970s-era popcorn ceiling-plagued home, they knew they wanted to cover up the popcorn-ness rather than remove it. And they did so using plywood, which doesn't sound great, but the finished result is super impressive.
"When we bought our house last spring, we knew this popcorn ceiling had to go," Sarah Gonzalez of the Sway + Sarah Build TikTok account (@swayandsarahbuild) said in a March video. "But we didn't have a ton of money so we had to get a little creative with ways to cover it up."
She and her partner Josue loved the look of hardwood slat ceilings but knew that hardwood was totally out of their budget. So, they decided to make their own slats out of 1/4-inch plywood boards ripped down into four-inch planks.
"And before you all doubt the plywood, just hang on until the end to see the results," Gonzalez said.
Before installing the planks, the couple painted their popcorn ceiling black to give the slats more dimension once installed. Then, the planks were stained and installation began using liquid nails and brad nails.
The total cost for this project was just under $1,200, according to Gonzalez, which is about $5,000 less than it would have cost them if they had gone with hardwood — and that estimate doesn't include labor.
And after sanding and staining, the plywood looks just as beautiful as any hardwood. The project may have required a bit more work, but the result was totally worth it.
This DIY slatted ceiling definitely puts that old popcorn ceiling to shame, and the best part is that there was absolutely no scraping necessary.