These Are the Most Popular TV Shows Over Thanksgiving
We
independently
select these products—if you buy from one of our links, we may earn a commission. All prices were accurate at the time of publishing.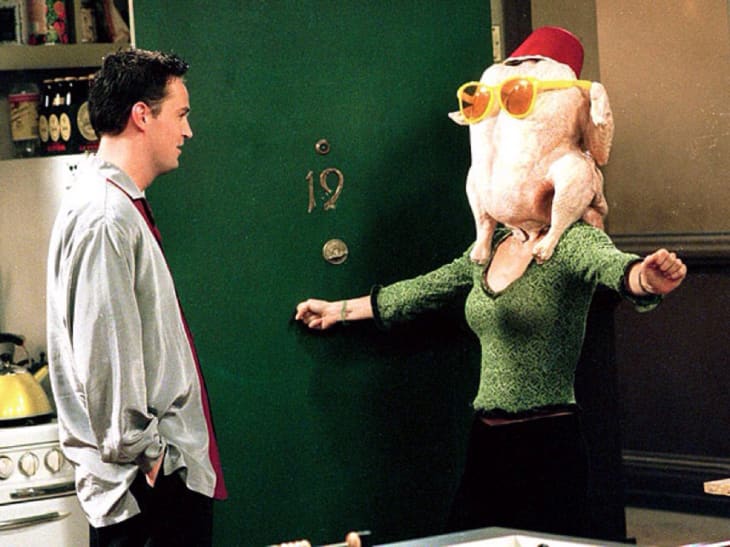 As Thanksgiving traditions go, watching reruns on television is something that many of us enjoy doing after we've demolished our turkey and sweet potatoes, whether it's a much-loved sitcom of yesteryear or one of the older classics that all the family can enjoy.
The team at USDISH set out to discover just how television plays a role during the Turkey Day celebrations that are just around the corner.
Unsurprisingly "Friends" is as loved today as it was back in 1994. During the holiday season, many Americans grab the remote to join Rachel, Ross, Monica, Chandler, Joey, and Phoebe across Thanksgiving—the show proved the most popular in a whopping 18 states, and it was the most-searched-for show overall in November 2020. Want to take your love of "Friends" to the next level this Thanksgiving? Get your hands on the official "Friends" cookbook that Monica Geller would approve of.
"This Is Us" followed closely behind, with 15 states picking up the remote to tune in to an episode of the popular drama. Fans of the show will also be happy to know that the bittersweet final season will premiere on Jan. 4 on NBC.
Third on the list is "Seinfeld", with nine states enjoying the 90s classic the most, while "The Big Bang Theory" is favored in six states—Indiana, Iowa, Mississippi, Missouri, Nebraska, and New Mexico.
USDISH also found the most popular Thanksgiving episodes in America. "Friends" dominated the list, with the iconic festive episodes taking 10 out of 15 places on the list. The top episode? Season two's "The One with the List", where Ross compiles a list of Rachel's good (and mostly bad) qualities. Check out the chart below to see if your favorite Thanksgiving episode made the cut.
Overall, the most popular genres for Thanksgiving TV are comedy, romance, or both. It's also a time when people enjoy the nostalgia of throwback shows, with the majority of the shows airing before 2005.