This TikToker Found an Ingenious Way to Preserve Old Birthday Cards — And I'm Definitely Copying Her
We
independently
select these products—if you buy from one of our links, we may earn a commission. All prices were accurate at the time of publishing.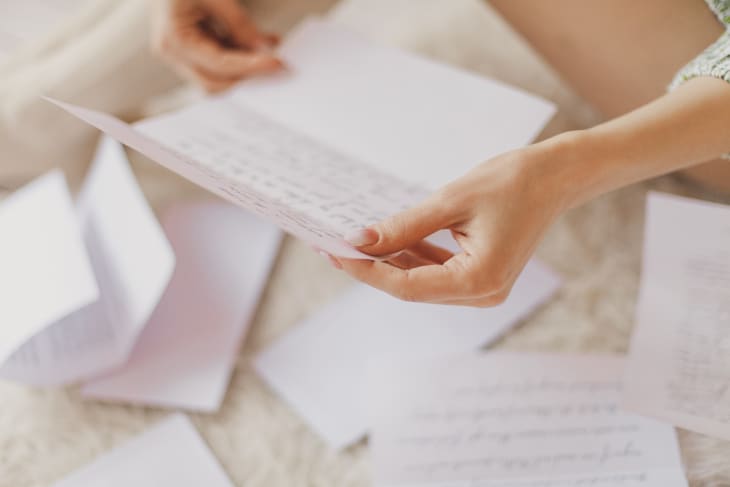 If you're anything like me (and I imagine you are, if you're reading Apartment Therapy), you love cute little papers. Cards, stationery, snail-mailed letters, notebooks, old ticket stubs, really any sort of ephemera — they're all high on my list of things that I adore. This is immediately evident to anyone who sets foot in my home. I have birthday cards plastered all over my refrigerator, and I have a rather large display of notes and letters from friends hanging on a wall grid panel in my room.
And yet it's not enough. I simply love to surround myself with the kind words and quirky handwriting of my friends and family. To walk past my fridge and read the phrase "I'm so proud to call you my best friend," on a card from my best friend? It makes my day every dang day!
So when I saw this TikToker post a video about how she displays old birthday cards and letters in her home, my face turned into the "holding back tears" emoji. It's ingenious! It's adorable! I'm livid that I didn't think of it earlier!
The gist is this: You take old cards, letters, or other goodies and stick them behind framed prints. The collage of papers acts as a sort of matting for your existing print. This method requires displaying your art in a frame that's a good deal larger than the print itself (so there's room to see your cards and letters). It's incredibly precious, and I can't wait to copy the idea.
Personally, I think this way of preserving old birthday cards works best with art that's not too busy. Otherwise you'd end up with a frame filled with a complex-looking print and lots of scrawled words — a wall hanging that's not so easy on the eyes, in other words. My mission now is to find a simple-enough art piece to display some cards behind. And what a glorious mission it is. 
Here's the other thing: You don't just have to throw a random assortment of cards behind a photo of a beach or something. You can create themes! And the possibilities are seemingly endless! You could display a fun photo from your birthday party with all the accompanying birthday cards behind it. Or, like another TikToker pointed out in the comments of this video, "Okay but imagine doing this with wedding cards and your wedding photos."
Sentimental friends, it's our time to shine.