Prince Harry and James Corden Visit the "Fresh Prince" House in a Delightful New Segment
We
independently
select these products—if you buy from one of our links, we may earn a commission. All prices were accurate at the time of publishing.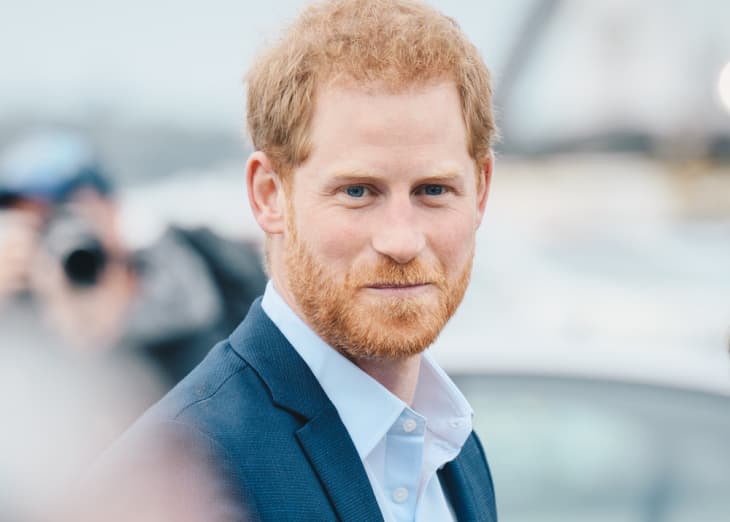 Prince Harry knows the words to the "Fresh Prince of Bel-Air" theme song. We repeat: Prince Harry knows the words to the "Fresh Prince of Bel-Air" theme song. The royal appeared in a new "The Late Late Show with James Corden" segment on Feb. 25, where he received a tour of Los Angeles from Corden on an open-top tour bus. Harry got candid about his and wife Meghan Markle's decision to step back from the British royal family, the move to California, and more — all while enjoying English tea over the 405 freeway and visiting the "Fresh Prince" mansion in Brentwood. (The home isn't actually in Bel-Air.)
In the clip, Corden presented a house proposition: "I know you are very settled in Santa Barbara, but I do feel like you might need a base in Los Angeles, and I actually found the perfect house," Corden said as the bus rolled to a stop in front of the "Fresh Prince" mansion. "The very house that Will Smith turns up to as the Fresh Prince is good enough for a real prince," the host continued. (Prince Harry then rapped the first few lines of the theme song when Corden asked if he remembered it.)
The duo then made their way to the front door to ask the (rightfully stunned) owners how much they would sell their home for. Elsewhere, the two even FaceTimed Meghan from the home to pick her brain about the residence. "I think this is where you should live," Corden said. "I don't think there is anything cooler. You'd be the Fresh Princess of Bel-Air."
Harry also spoke frankly about the decision to step back from royal life, the "toxic" British press, and even weighed in on "The Crown." He told Corden, "It was never walking away — it was stepping back rather than stepping down. It was a really difficult environment." The royal continued, "We all know what the British press can be like. It was destroying my mental health. I was like, 'This is toxic,' so I did what any husband and what any father would do, and I was like, 'I need to get my family out of here' — but we never walked away." 
When asked about his thoughts on the Netflix series based on his family's life, Harry told Corden, "I'm way more comfortable with 'The Crown' than I am seeing the stories written about my family or my wife or myself." The duke continued, "[The show doesn't] pretend to be news — it's fictional, but it's loosely based on the truth." Watch the segment in full above.