7 Secrets to Repainting Furniture the Right Way, According to a Pro Furniture Flipper
We
independently
select these products—if you buy from one of our links, we may earn a commission. All prices were accurate at the time of publishing.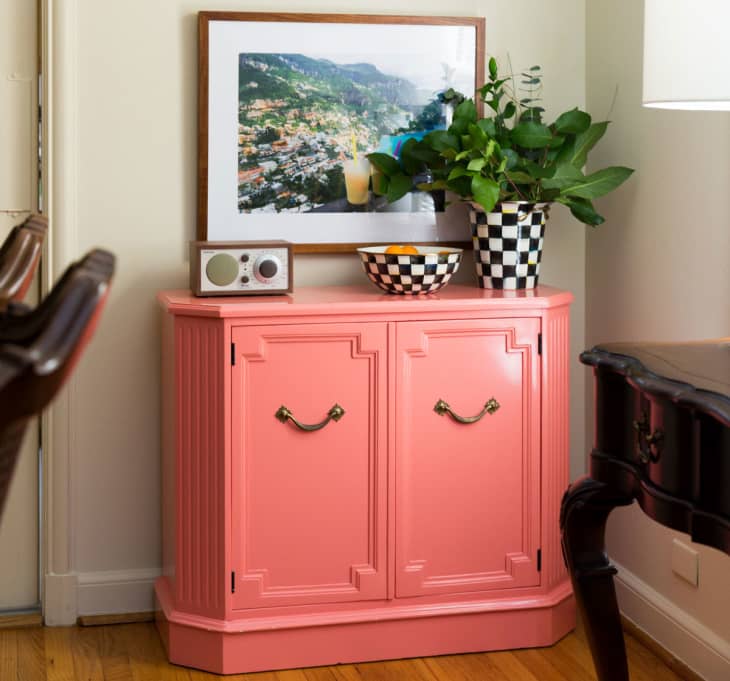 Have you ever stumbled upon a discolored or ugly-colored, but otherwise perfect, dresser at a garage sale or <a rel="noreferrer noopener" href="flea market? Or maybe you inherited a beautiful, but chipped credenza from a grandparent? Before you pass it by or put a potentially fabulous piece on the curb for bulk pickup, you should know that, equipped with the right tools and a few tricks, it's relatively easy to rehab that questionable piece. But don't just take our word for it. To set you up for success, we asked a professional furniture flipper to spill her top tips for repainting furniture. 
Want to make over a piece of furniture with a couple of coats of fresh paint? With a little elbow grease and these seven expert tips, you can make sure you paint your furniture correctly the first time.
First: Know where to shop. Flea markets, garage sales, and second-hand stores are great places to look, says Elizabeth Obeso, a furniture flipper from Haledon, New Jersey. But don't discount online sources, like Facebook Marketplace, Craigslist, and even eBay. 
Once you find something intriguing, evaluate whether or not the piece in question really does have potential. "I know something has potential just by looking at the details and the piece itself," says Obeso. Vintage or antique pieces are the best pieces to refinish or restore because they are usually of the highest quality, she says. 
Beyond that, some questions to ask yourself include: Is it solid wood? Are there any damages? Is it fully functional? "Sometimes the piece has good bones, but the drawers aren't very good, or there's missing veneer." Though not total deal-breakers for some, consider whether or not you have the DIY know-how to fix whatever the issue may be before finalizing the transaction. 
2. Gather the best supplies
When it comes to paint brushes, options abound, but not all function the same way says Obeso. "Round brushes work great for curved detailed parts, while flat brushes are amazing for flat surfaces and even on detailed furniture, depending on size."
No matter the shape, Obeso prefers synthetic bristles, which come in many different sizes suitable for projects of varying scales, but many furniture flippers also rely on foam rollers for stenciling, she explains.
There are also many different kinds of paint, from latex, to chalk paint, to mineral paint, to milk paints (and beyond), but Obeso says you can't really go wrong. "If you've properly prepped a surface, your piece should last for years—no matter the paint you use," she says.
Some pros and cons: Latex paint gives great coverage and yields a pretty smooth surface but does require ample prepping. Chalk paints, mineral paints, and milk paints, on the other hand, are better for those in a time crunch, since they technically require little to no prep (though that prep step is something Obeso still recommends for the best finish).
3. Don't skip the prep work
"Prepping your pieces is one of the most important steps," says Obeso. While sanding and priming are important steps, there's something else you have to do first: clean. "Cleaning is a step that cannot be skipped," she says. "You want to remove all those years of grime before painting, otherwise, your paint won't adhere correctly." 
Next, move on to sanding. "Sanding might not be the most fun, but it really does give you a smooth, clean surface to work with," she says. It removes scratches, minor damages, and loose bits of old finish. For best results, Obeso suggests an extra step in the process: sanding the bottoms and sides of the drawers in addition to exposed fronts.
Finally, you can get out that paintbrush—but not for paint, for primer. "Primer gives you a barrier between your furniture and paint that really helps with adhesion and gives you a blank canvas to work with," says Obeso. Another reason to use primer: wood—especially varieties like redwood—contains tannins that can rise to the surface and bleed through color if you haven't properly primed, she explains. 
4. Don't be afraid of more intricate pieces
Complex carved designs aren't as daunting as they may seem, says Obeso. The trick is having the right tool for the job. Use corner brushes, angled brushes, and really small brushes to really get into all those nooks and crannies, she says. 
And to really make the piece pop, consider layering paints. Start off with a dark paint—like black (yes, black!)—then start adding colors and dry brushing, she says. "To make details stand out, add a bit of gold." 
"A sealant is a must," says Obeso. "I use Minwax Polycrylic, a water-based finish, to seal my pieces." While it may be tempting to call it a day after one round of sealant (your piece is starting to look so good!), it pays to persevere: "I normally put three to four coats of sealant on all my pieces, lightly sanding with fine sandpaper between coats" says Obeso. "I want my painted pieces to be protected and always look as good as new in their forever home."  
6. Add wax to any drawers
Though painting is the main task at hand, a little wax can really add to the functionality of your piece, says Obeso. "Add wax to the slides of the drawers and runner of your piece to provide lubrication when sliding the drawers in and out," she says. This will not only make regular use easier, but it will also prevent friction that can cause wear and tear. 
7. Overestimate drying time
"A newly painted piece can appear dry to the touch, but it takes 30 days to truly cure," says Obeso. Resist opening and closing drawers or doors, and don't place anything on top of the finished piece—especially heavy objects. "The piece must be handled with extra care for the first month to avoid inflicting damages," she says. Otherwise, you run the risk of dings and dents in your newly painted piece. Patience pays off!