6 Pro Tips for Prepping for a Winter Weather Emergency, No Matter Where You Live
We independently select these products—if you buy from one of our links, we may earn a commission. All prices were accurate at the time of publishing.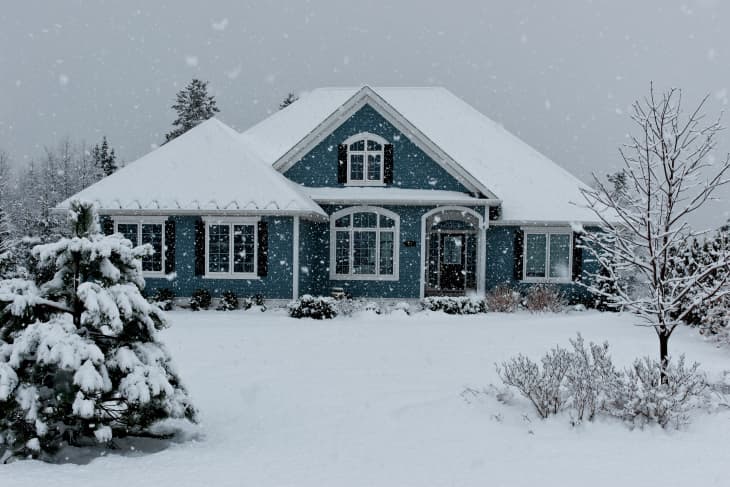 This winter has been a brutal one for much of the country — especially across Texas, where a historic winter storm has left millions without power. Of course, Texas is no stranger to other extreme weather, such as hurricanes and tornadoes, but snowfall is a rarity and extreme cold even more so.
In any emergency, it's important to be prepared with the basics: plenty of drinking water, batteries, flashlights, non-perishable foods, medications, and pet supplies, and other essentials. But a winter weather emergency requires a few extra items that are worth having on hand just in case, even if you live in an area where snow or ice is infrequent. Here's what pros advise to keep you and your family safe at home and in your car.
Button up your home with insulation.
Some small steps can help keep your home warm in case extreme winter weather is imminent. Caulking and weatherstripping around doors and windows can help keep out cold air, as can door sweeps — and, in a pinch, so can rolled-up towels or blankets. Pipe insulation can help keep pipes from freezing, and can also help prevent condensation in summer.
It's also important to check smoke detectors and carbon monoxide detectors, says FEMA. Space heaters, fireplaces, candles, and other emergency heating elements can increase the risk for both fire and carbon monoxide poisoning, so these protective devices need to be functional.
Stock a winter weather emergency kit in your car.
The best thing to do in winter weather is to stay home, a FEMA spokesperson says. However, if you're stuck in your car, you'll need some winter-specific protections. Angie Hicks, co-founder of Angie's List, recommends keeping an emergency kit in your car with the following items:
Non-perishable food: "Something like a pack of protein bars is perfect to keep in your car in case of a snow emergency," Hicks says. "They won't spoil, are easy to store, and can really help you in a pinch."
Case of water: Hicks recommends wrapping it in blankets to help keep it from freezing so you can use it when you need it.
Blankets and towels: These are essential for keeping warm and dry. "They're a little bulky, but you can store them wrapped around your case of water when not in use and, if you're caught in a winter storm, you'll be so glad that you have them," Hicks says.
Change of clothes: "If you're stuck in a winter weather emergency, extra layers will help you stay warm or give you an option to change into if for some reason you get wet," Hicks says. "For winter storms in particular, things like hats, gloves, socks and waterproof clothing can be really helpful if you need to dig out your car or wait for a long time without heat."
Flashlight: A battery-operated flashlight will easily fit in your glove compartment, and means that you won't have to drain your phone's battery for light.
Cash: "It may seem obvious, but this is something people usually forget," Hicks says. "Having cash on hand ensures that if the power goes out and ATMs aren't available, you aren't left without a way to pay for things. Remember to replace your car's cash if you use it."
First aid kit: You can buy pre-assembled kits or make your own. Here's what the Red Cross recommends you include.
You should also consider adding some winter weather equipment to your car, including an ice scraper for your windshield, a small shovel to dig out tires if you get stuck, and a bag of sand or kitty litter to help give your tires traction if they need it.
Keep a shovel, even if you don't need one.
Even if the odds are low that you'll ever need one, it's good to have a snow shovel on hand just in case — that way, you'll be able to clear a path for entering and leaving your home. "Snow shovels can be relatively cheap and easy to store, so it's definitely better to have one than not, even if you live somewhere that doesn't typically get snow," Hicks says. "If the past year has taught us anything, it's that anything can happen, so when it comes to your own safety, it's always best to over-prepare."
In a pinch, you can reach for some almost-as-good alternatives.
Of course, you may not have the exact right supplies for winter weather — especially if it's unusual in your area. Some clever substitutions can help you bridge the gap until you can get your hands on the exact things you need.
"While it's not a perfect alternative, a spatula can be used as an ice scraper in a pinch," Hicks says. You might also be able to use a push broom to help clear walkways if you don't have a shovel.
Some "hacks" are more dangerous than helpful, though. For instance, Hicks says, "never pour hot water directly onto the windows of your car to help melt ice, as the quick change in temperature could cause the glass to break."
Also be wary of using hot water on frozen locks; while it might help in the short term, the water will only freeze again and will cause further damage. The same goes for steps and pathways.
Include cold weather items in your winter emergency kit.
Aside from the emergency kit standards, your home emergency kit should include some cold weather-specific items, says Hicks. Make sure to include a hat for every member of your family, gloves, extra socks, and hand warmers.
Remember to keep warm safely.
If your winter weather comes with power outages, as it did for many in Texas, it's important to take safe steps to keep warm. Wear lots of layers, close doors to areas that are not in use, and cover windows at night to help keep out cold air. Remember not to use grills or propane heaters in enclosed spaces, as both are meant for outdoor use and can cause carbon monoxide poisoning.