The Property Brothers Hate Open Shelving In Kitchens — Here's Why
We
independently
select these products—if you buy from one of our links, we may earn a commission. All prices were accurate at the time of publishing.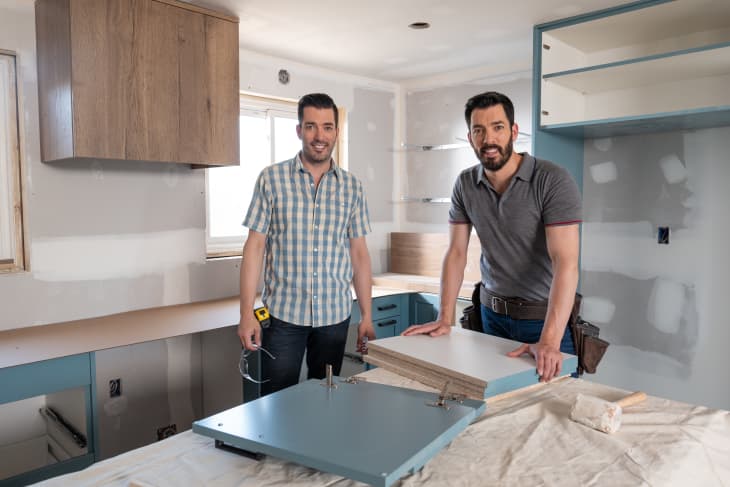 Open shelving has become a hot kitchen trend in recent years. It provides a way to display fancy dishes, antiques, and cookbooks you've collected over the years for your visitors to see and admire. And while that sounds like a no-brainer, HGTV stars Drew and Jonathan Scott say pump the brakes before get rid of your cabinets to make way for open shelving because — quite frankly — it doesn't end up working in most homes.

The open shelving concept started with the good intentions: to display beautiful items. The problem, according to the Property Brothers, is that real life isn't always beautiful, and sometimes you want to tuck the mismatched sippy cups and quote mugs away. But if your open shelving takes away cabinet space, then it results in putting your second set of plates in the living room closet and taking up valuable real estate in another room — all because you didn't have enough storage.
"Let me just say nooooo [to open shelving]," Jonathan told Apartment Therapy. "You have to have upper cabinets, unless you have a huge abundance of storage in a pantry. But for families, for people in real life, anytime I've had a client who forced me to design a kitchen with no uppers, everyone has come back in six months saying they regret it." He went on to explain that he recently worked with a family of five who wanted no upper cabinets, but they also didn't have a pantry. He swiftly talked them out of it.
The issue, the brothers concluded, was that without upper cabinets or a spacious pantry, you will have to go into another room, such as the basement, to retrieve things on a daily (maybe hourly) basis. "Home should make life easier. If you take the emotion out of it and think 'What would help me save five minutes,' that's how you get it,'" Jonathan said. 
Solving these types of disagreements, such as open or closed cabinets, between housemates is part of what the Property Brothers are looking forward to doing more of on a new upcoming digital learning and live-video conversation platform, Bright, where they chat with more homeowners who have design questions in their new series "Room X Room."  "With sessions on Bright this is what I love, is someone asking 'This is what I want to do, but my husband disagrees.' We are therapists of the home space," Jonathan said.