The Property Brothers Pitched Some Hilarious Updates to the White House
We independently select these products—if you buy from one of our links, we may earn a commission. All prices were accurate at the time of publishing.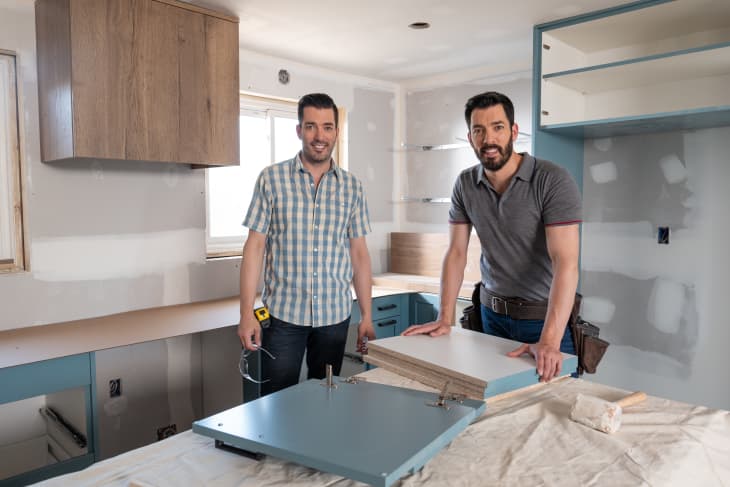 The White House might be one of the most iconic American homes, but even the First Family's residence isn't safe from some "Property Brothers" nitpicks.
Follow Topics for more like this
Follow for more stories like this
The famous design duo appeared in a parody skit that aired during the annual White House Correspondents' Association Dinner, an event known for its lighthearted jabs at all things Washington, D.C.
In the skit, Drew and Jonathan Scott presented their ideas for refreshing the White House press room to White House Press Secretary, Karine Jean-Pierre; "Infrastructure Czar," Mitch Landrieu; and First Lady, Dr. Jill Biden.
Prior to the video, White House Correspondents' Association President, Tamara Keith, announced that the press room will be officially remodeled in the next few months in an attempt to modernize the space.
"The press workspace is cramped and the furniture is literally falling apart. The briefing room seats are mysteriously sticky," Keith joked. "We have this room that we affectionately call 'the lavateria,' that is a combo lunch room bathroom. And the last time any of this was updated was when George W. Bush was president."
While the brothers referred to the White House as "a bit of a fixer-upper, to put it nicely," Drew didn't mince words when it came to the press room.
"It's dirty, it's dingy, it's moldy," he said. "It's a s– hole!"
At first, the Property Brothers' plans to spruce up the press room with "new flooring" and "new lighting" designed to give everything a "new modern, positive vibe" were well-received. But things all went downhill when they pitched some comically strange renovation suggestions for the White House as a whole, from lining the press room walls with "tasteful nudes" of past presidents to turning the Oval Office into a Dave & Buster's.
Shockingly, this didn't go over well with the White House crew, who Jean-Pierre claimed originally commissioned Martha Stewart to redesign the press room … until she suggested building a lake and filling it with 24 swans.
Stewart herself appeared at the end of the skit in an apparent FaceTime call, which showed her stroking a swan stuffed animal in front of her lavish kitchen.
"I knew you'd come back," Stewart remarked. "They always do." 
You can check out the full video here.