This Innovative Hybrid Mattress Makes Me Feel Like I'm Being Cuddled While I Sleep
We
independently
select these products—if you buy from one of our links, we may earn a commission. All prices were accurate at the time of publishing.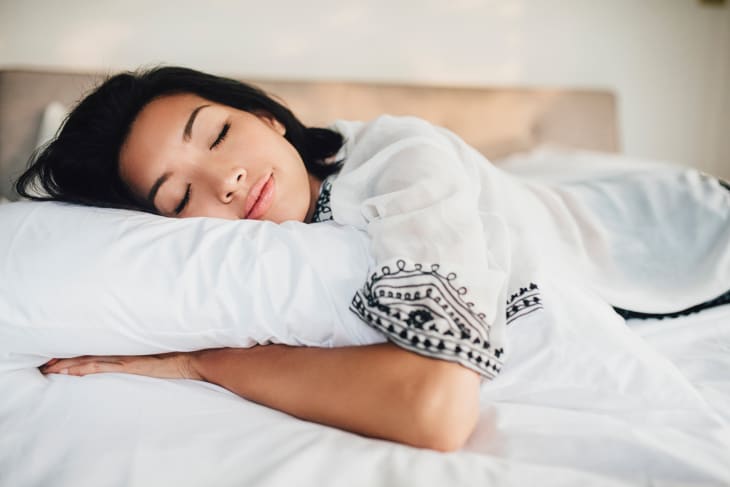 I never thought a mattress could truly surprise me. Sure, I like some more than others, but in my experience, they all seemed relatively similar. And that's not a bad thing — who doesn't want a dependable mattress that they can enjoy every night? So when Purple reached out to me about testing one of their hybrid mattresses, I was excited to give it a try. Purple had already impressed me with their double-sided TwinCloud pillow, so I had a feeling I was in for a treat. However, I had no idea of the comfort that was in store for me when Purple's Hybrid Premier 3 Mattress showed up at the door.
The Purple Hybrid Premier 3 Mattress comes rolled in a (fittingly) purple bag. The bag has handles, which make it easy(ish) to move it from room to room, but I recommend having someone else to assist with carrying it if at all possible. My friend and I took the mattress out of its purple bag, then lifted it onto my platform bed frame. From there, we began the gradual process of opening the plastic wrap to release the mattress so it could unroll and expand to its full glory. Altogether, it took around 15 minutes to set up, maybe 20 if you count us discussing the best strategy for lifting and positioning the mattress.
Usually, I can tell if I'm going to like a mattress or not based on how the edges of it hold up. If they're too soft and dip low, it's way too soft for me. The edges of the Purple Hybrid Premier 3 have just the right amount of firmness, so I was pretty sure that I wouldn't be complaining about backaches any time soon. When I first laid down to rest, it really did feel super soft, but the longer I was on it and the more I moved around, I realized how supportive it actually is. What I was mistaking for extreme softness was actually the flexibility and stretch of the mattress' GelFlex Grid as it adjusted to accommodate my weight.
Yes, the Hybrid Premier 3 conforms to your body, but if you're thinking that it sounds similar to memory foam, think again. According to Purple, "the Grid's columns give way under shoulders and hips, but remain supportive for the back and legs."
But what really blew me away about the Hybrid Premier 3 Mattress was the feel. This beauty is made up of five layers: a transitional foam base, responsive support coils, another layer of transition foam, the innovative 3" GelFlex Grid, and a premium StretchMax Cover at the top. Together, these elements add up to a flexible and durable mattress that feels absolutely amazing, with a comfortable pressure that feels like a cuddle (if it were possible for a mattress to hug you, that is… ).
There's a buoyancy to this mattress that Purple compares to the experience of a trust fall. And trust me — I would fall onto this mattress over and over again! It's supportive, breathable, and like nothing I've ever slept on before. It's no wonder that it's one of Purple's most popular mattresses. It certainly lives up to the hype.