How to Socially Distance When Your Home Feels Unsafe
We independently select these products—if you buy from one of our links, we may earn a commission. All prices were accurate at the time of publishing.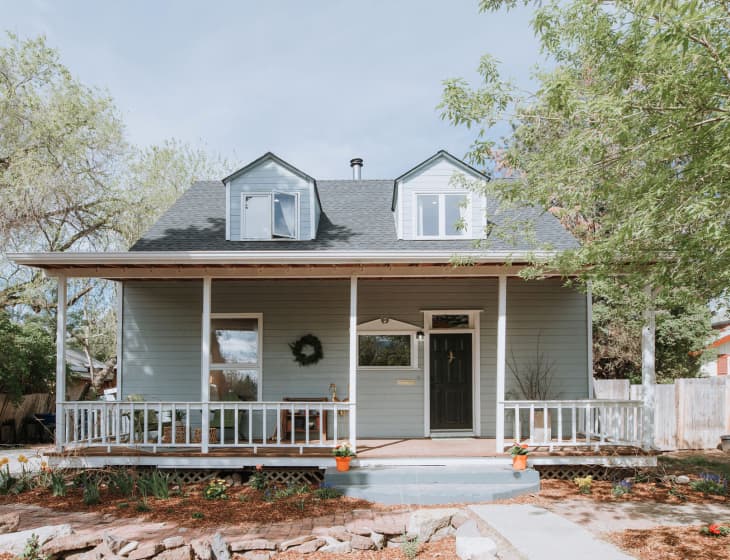 Thanks to COVID-19, phrases like "self-quarantine," "stay home," and "shelter in place," have quickly become part of the collective vernacular. For most people, these directives—which have demolished routines and thrown lives into general disarray—are challenging, but not necessarily difficult. Yes, there's uncertainty. But there's somewhat of a silver lining: Many folks can be anxious and filled with panic in the relative comfort and tranquility of their own homes. 
But what happens when staying home is part of the problem? Whether it's a bad marriage, a toxic parent, an abusive relationship, or something else, home isn't an equally safe refuge for all. The online therapy company Talkspace tells Apartment Therapy that it's seen user growth increase by 65% since mid-February. Women Helping Women, an organization in Ohio working to prevent gender-based violence and empower survivors, has reported a 30% increase in hotline calls since last week. In Omaha, police found a 50% increase in the number of domestic violence calls. In Salt Lake City, that number is up by 33%. The Boston-based Samaritans, a suicide prevention group, said it's fielding roughly 350 calls a day.
Amy Cirbus, a Talkspace therapist in New York City, says that no matter the situation, a few key strategies are important to keep in mind. "Try to create as much of a physical and emotional boundary as possible," she explains. "Stick to a loose routine with specific times throughout the day you can be by yourself in your own space. The physical space doesn't have to be large—it just has to be a comfortable space of your own."
Ahead, experts share their advice for living in quarantine when home life is unhealthy, and potentially even dangerous. 
What if my marriage is falling apart? 
Gathering the courage to leave a marriage—or being told your partner is leaving you—is painful and radical even in relatively "normal" times. And if you were going through this before the pandemic began, you may now be contending with an additional layer of turmoil: having to remain in the home you'd resolved to leave (or live in alone).
"Families who may be in the midst of separating, or recently reunited and attempting to live together under one roof are being challenged," Cirbus says. 
In these situations, it's best to prioritize the tasks at hand and avoid going any deeper than that for now. As much as possible, try to establish a status quo, setting up boundaries and tabling bigger conversations until you can take more concrete action. If kids are in the picture, figure out how to create some stability in their lives before opening up the Pandora's Box of issues involved with a failing or floundering marriage. 
"This is a time to focus on what can be done to maintain a healthy routine for children," Cirbus shares. "Try to keep the conversation limited, light, and focused on functional operations." 
What if my parents are toxic?  
"For some, this can be an opportunity to start understanding their own needs, preferences, and boundaries," says Elizabeth Eiten, a licensed master social worker and holistic psychotherapist. "Therapy can be an excellent opportunity for young adults to practice authenticity, assertiveness skills, and develop self-worth and confidence." 
For anyone who doesn't feel like themselves due to toxic relationships, Eiten suggests creating a list of values, personal needs, and relationship needs. This list can be a roadmap for beginning to navigate conflict and difficulties at home. 
"When someone is in a toxic situation, finding ways to tap into authenticity, confidence, and compassion can help that individual feel empowered," Eiten says. "If you're struggling to identify your needs, values, and boundaries, a licensed therapist can help you tap into your internal wisdom—even if you don't think it's there." 
She also recommends forums and support groups online, including Out of the Fog (for loved ones of people who suffer with personality disorders) and Al-Anon (for loved ones of alcoholics).
What if I live with an abuser? 
Richelle Whittaker, an educational psychologist and licensed professional counselor, says if a situation has escalated, call 911. Try to make other living arrangements with a friend, loved one, or local shelter when possible. "A person does not want to be isolated with their abuser for days on end," she says.
If alternative arrangements aren't an option, Whittaker suggests carving out a space within the home that can function as a retreat, even if only temporarily. "Listen to music or use a meditation app to help you remain calm and centered in the midst of chaos," she says. "Spend time outside if possible to give yourself a break from the noise."
What if I'm a senior who needs help? 
The elderly may be feeling particularly vulnerable right now because of their age and lack of social connection. Whittaker emphasizes the importance of seniors maintaining communication and interaction with loved ones. "Stay socially connected with neighbors, family, and friends," she says. "If they are living with someone else, have them assist with social connection through social media and other internet platforms." 
And that goes both ways: Be sure to check in on the seniors in your life, whether they're family members or neighbors. Volunteer with programs that help seniors get groceries and other necessities. 
What if I'm struggling with suicidal thoughts? 
First, call the National Suicide Prevention Lifeline at 1-800-273-8255 if you're feeling suicidal or 911 if your life is in immediate danger. Beyond that, here's one way to consider reframing those thoughts: Times of crisis and uncertainty are opportunities to improve our mental health, explains Eiten. After all, people typically don't reach out to therapists when everything in their life is going well. 
"They reach out when they're struggling," Eiten says. "If you are struggling right now with fear, anxiety, depression, or isolation, you don't have to wait until the crisis is over to start feeling better. Prolonging your suffering can cause your symptoms to exacerbate and lead to other forms of illness." 
She advocates for support groups, psychotherapy services, and community mental health—all of which can be accessed online, often free of charge or at reduced costs. 
"Many insurance plans are allowing telehealth visits for mental health," Eiten explains. "A licensed therapist can help you increase your feelings of being safe while helping you set necessary boundaries. Navigating these situations with a therapist is important because it ensures your safety." 
For those experiencing domestic violence, contact the National Domestic Violence hotline at 1-800-799-7233, text LOVEIS to 22522, or visit hotline.org. For those struggling with suicidal thoughts or ideation, contact the National Suicide Prevention Lifeline at 1-800-273-8255. If your life is immediately in danger, please call 911.