We Dare You To Try Watching the 'Queer Eye' Season 4 Trailer Without Shedding a Tear
We independently select these products—if you buy from one of our links, we may earn a commission. All prices were accurate at the time of publishing.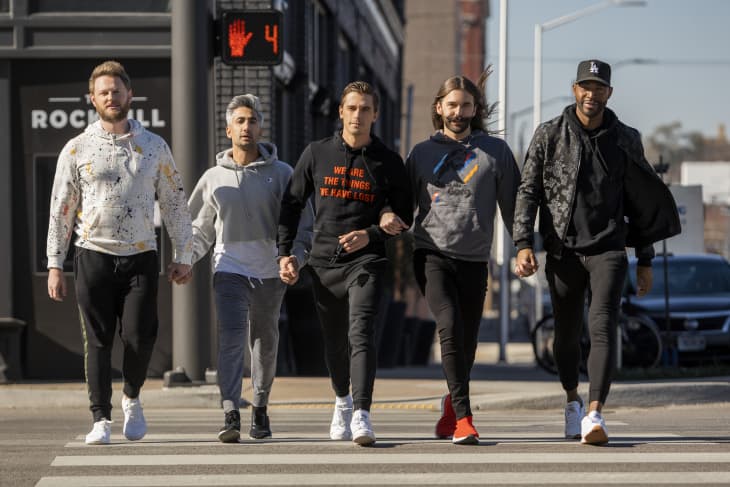 Just last month, we received the glorious news that season 4 of Netflix's "Queer Eye" will be airing on July 19. And now, we have visual evidence of the emotional roller coaster coming for us, as seen in the season's first trailer that dropped today.
Follow Topics for more like this
Follow for more stories like this
The Fab Five is returning to Kansas City, Missouri, and by the looks of it, it's going to be a tear-jerker. During the trailer, which clocks in at a minute and 44 seconds, we get a preview of the new heroes the gang will be helping—from a community-giving local who gets a long-overdue return, to a woman who rocks a '90s look and has the hairspray to prove it. And, of course, the highlight of the reel: Jonathan Van Ness' former high school teacher who helped him get through his teenage years.
The sneak peak kicks off with Van Ness speaking on the intercom at Quincy Senior High School, where he was once a student. We quickly learn that the gang is giving JVN's old orchestra teacher a Fab Five makeover. He shares an emotional moment with her in the trailer, saying "You have literally saved peoples lives, mine included."
We then see various scenarios to come, some of which allow us to piece together loose storylines, while others are left to the imagination—at least for another 11 days. From the trailer, we can rest assured that the season will have classic pep talks from Karamo, epic makeovers from JVN, food support from Antoni, fashion advice from Tan, and, last but not least, behind-the-scenes home transformation from our guy, Bobby.
Additionally, it was also announced last month that season 5 of "Queer Eye" was filming in Philadelphia and will be airing in early 2020. At the speed they're going, we wouldn't be surprised if it was sooner.
Based off of the other three seasons that have left us in tears, we can only imagine how good this upcoming season is going to be. And in the words of the beloved JVN, "Try not to cry, try not to lose it."