When Tan France From "Queer Eye" Is In a Bad Mood, He Goes to His Candle Closet (Yes, a Candle Closet)
We
independently
select these products—if you buy from one of our links, we may earn a commission. All prices were accurate at the time of publishing.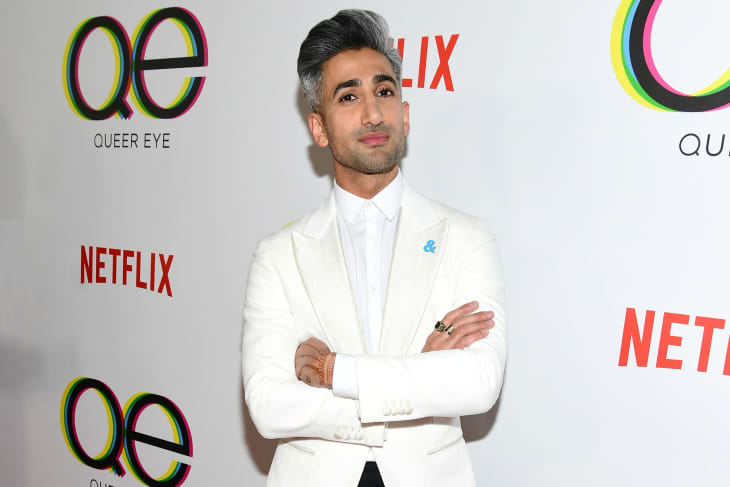 After a bad day, sometimes all it takes is going home, getting into comfy sweats, and lighting your favorite candle. The aroma of your favorite scent and the warm glow of the fire can be a calming sensation. And while Tan France from "Queer Eye" couldn't agree more, he doesn't just limit himself to one candle, but instead turns to his candle closet. 
On his recent house tour with Architectural Digest, France walked through his home in Salt Lake City, UT, revealing that he has a closet full of candles. After showing his guest room, France starts walking and quickly turns around, exclaiming "I didn't even think I was going to show you this" and opening the white door to his scented sanctuary (and we're really glad he did.)
Complete with five shelves, the entire closet is stashed with an abundance of candles—plus a few glass candle holders. Among the bunch: Mountain Summit and Falling Leaves from Shoppe 815, Roam London from 42 Pressed, and an assortment of unopened DIPTYQUE candles (we counted over 15 boxes from the video). 
"I wish you had smell-o-vision, because it smells, just so so good," France said as he revealed his candle collection. "If I'm in a bad mood, which is very rare, my husband knows where I am," France said. "I'm usually just here, sniffing in the closet." 
And we're not alone in our celebration of France's candle closet. Twitter showed serious approval of this shrine on social media:
We feel the SAME (but also hope that @braineechugs is seriously OK)
A candle closet is a wish your heart makes…
Stars, they're just like us!
Just when you thought you couldn't love him more…
As France showcased his prized collection, he said that it's the emptiest it's been in a long time. Considering all the shelves had something on them, that's not too shabby. Imagine what his candle closet looks like when fully stocked?
Cue Oprah: Candles for everyone!