4 Quick, Easy Paint Jobs That Real Estate Agents Always Recommend Doing Before You Sell
We independently select these products—if you buy from one of our links, we may earn a commission. All prices were accurate at the time of publishing.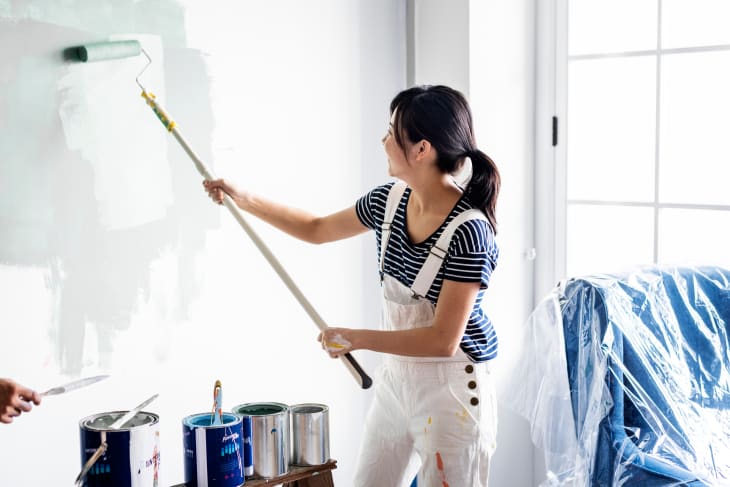 Painting is a great entry-level DIY project because it doesn't require a ton of know-how or money. And since it's relatively low-lift and low-cost, it can be a real estate secret weapon — a quick way to convince a buyer to choose your home, with its pristinely painted, no-touch-ups-needed walls. 
"Despite the current market, first impressions are still very important," says Tim Hur, a Realtor, broker, and team manager at Point Honors Associates & Realtors in Atlanta. "We highly recommend painting the main living areas — living rooms, hallways, and bedrooms."
Hur says it's especially important to make sure paint is touched up if you've already begun moving out your furniture because "you'll see every scuff and blemish on the home."
Here are four spots to prioritize painting when your house is on the market, according to real estate agents.
"For easy projects, painting front doors is always trendy," Hur says. (After all, first impressions start at the front door!) His professional advice? "Just make sure you're in compliance with any rules and regulations with the HOA." 
As a good rule of thumb in real estate, Hur says, pops of color are certainly fun, but they might hurt a sale. "Any strong, bold colors should be reconsidered into a neutral color… strong, dark colors may be acceptable for accent walls, but make sure the home showcases brightness and [any] furniture matches with the color scheme."
Aviva Kamler, a real estate agent with Sotheby's International Realty in San Francisco, recently had a listing that benefited from a few paint jobs. The most noticeable was a new coat of deep green exterior paint, which better matched the house's surroundings. Her clients also opted to paint the garage, garage door, as well as in the inside of the garage "to make it look crisp and clean." 
"When a buyer is touring, rather than being distracted by dirt and dust, they can see the space," she says of a freshly painted garage.
Kamler's listing also got a new coat of paint on the kitchen cabinets — white paint for the uppers and gray paint for the lowers. It "changed the entire look and feel of the home," she says.
And finally, guest bathrooms are a budget-friendly place to go all out with finishes because they're small in size. Compass real estate agent Paula Rose recommends getting even more specific and choosing one or two areas to paint in the bathroom. 
Her recommendations? Tubs and tiles. (And yes, there are special tub and tile kits with epoxy that will stick to these porcelain or porcelain-like surfaces.) "Sellers don't want to spend unnecessary funds on a large-scale bathroom remodel that the buyers may very well gut after purchase," Rose says. Painting the tub or tile is "a great middle ground" that "can safely cover and neutralize any shade of bubble gum pink or the like," she says.
By choosing to focus on one (or all!) of these smaller surface areas, embarking on a paint project to modernize, streamline, and eventually sell your home seems a little less daunting.