I Never Thought I'd Love a Suitcase as Much as My Away Carry-On — Until I Tried This Constantly Sold-Out One That's Half the Price
We
independently
select these products—if you buy from one of our links, we may earn a commission. All prices were accurate at the time of publishing.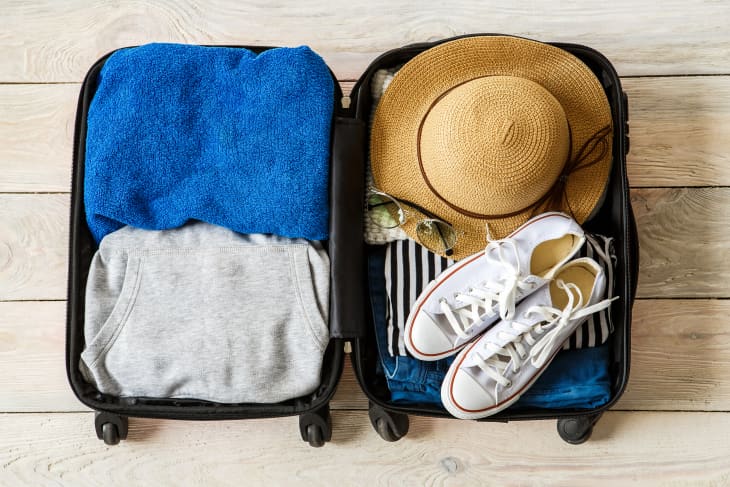 Quince's suitcase looks a lot like my Away carry-on, right down to the tan color of its polycarbonate shell (it's also available in black and a larger check-in size). At 22″ H x 14.5″ W x 9″, it's a hair smaller than the Away, but it has the same interior measurements (21" x 14.5″) and holds the same number of outfits (6-9). Like the Away, the Quince also features spinner wheels, a TSA-approved combination lock, a removable laundry bag, and an interior compression system; it does not, however, include a battery for charging smartphones and laptops. By all appearances, the Quince seemed fantastic. My only concern? The $130 price tag (compared to Away's $295). Though I am notoriously frugal, I did worry that this bargain suitcase might fall apart during my travels. Would it make it through my vacations to London and Italy in the spring? To find out, I took it for a spin (so to speak) on two separate trips in the States.
My first adventure was a four-day getaway from NYC to Rhode Island with friends. I was able to to fit two pairs of jeans, two button-down shirts, a hoodie, four tees, a sleep shirt and pants, a pair of eyeglasses, a scarf, and four days' worth of underwear and socks in one compartment. In the other, I packed all of my toiletries, plus my nightguard, contact lens solution, an umbrella, my brand-new Quince sunglasses (just $50 — check 'em out!), and a bunch of snacks, with plenty of room to spare. In the zippered mesh panel, I stashed some instant-coffee packets, in case of a caffeine emergency.
Once everything was compressed and the suitcase was closed and zipped up (note that zippering can get tricky if the two shells are not aligned properly), it was easy to maneuver as I made my way in and out of my apartment and the Rhode Island rental, and it worked perfectly for the purposes of the trip. The carry-on mostly traveled with me by car, so I didn't quite get a feel for how well it would handle being wheeled on the streets or how it would fit into an overhead compartment. That test, however, came a few weeks later, when I made a four-day visit to see family in Boston.
For the Boston trip, I pretty much packed the same clothes and essentials. The suitcase handled the 20-minute walk to Penn Station nicely, gliding smoothly across the bumpy pavement of the sidewalk and streets, and taking knocks from going up and down curbs like a champ. Once on board my train, the lightweight luggage easily fit into the overhead compartment and still looked good as new. The return trip was pretty much the same experience, though this time I trekked through slushy, salted streets as I made my way back to my NYC apartment in bad weather. Once home, I did notice some black scuff marks on the tan outer shell of the carry-on, but they were barely visible after a quick cleaning with the included magic eraser (see below).
Overall, I was thrilled with the performance of the Quince Carry-On Hard Shell Suitcase, and I can't wait to take it on more adventures. So far it's turned out to be a sturdy, reliable travel companion that I'd highly recommend to anyone who is looking for a cheap carry-on that looks expensive, holds a lot of items, and packs quite a punch!